Bookselling in the 21st Century
by Craig Stark
12 April 2010
Part XIV: Visualizing What You Need to Do
to Make Bookselling Work: $5 Books
Responses to last week's installment of Bookselling in the 21st Century were both interesting and numerous, and one pattern in particular caught my attention. Several of you noted that, while overall competition in your scouting areas hadn't fallen off yet, much of your competition (some of it comprised of booksellers who had been at this game for years) didn't understand what needed to be done to make bookselling work going forward. In other words, much of the observed competition consisted either of inexperienced sellers who hadn't caught on yet or experienced sellers who were doing exactly the same thing they had been doing last year or several years ago or longer - that is, essentially the same thing that inexperienced sellers were doing - and often lamenting that things just weren't working as well as they once had.
When I write about bookselling - more specifically, when I write about how to make bookselling work, I sometimes wonder how effective I am at communicating things. This hits home with a resounding thud when I get emails from booksellers who say they've been reading my junk for years and ask for advice on how to improve their sales - and then I subsequently discover that their ASPs are $5 or $10!
Your ASP (average selling price) speaks volumes about where you are and especially about where you are headed.
Today and in several subsequent articles in this series I'm going to revisit the fundamentals and, instead of going over the same ground with words exclusively, attempt to show you visually what you need to do to make bookselling work - and why. And why there's some urgency now.
Let's start with ASPs. If you tell me that your ASP is $5, this in turn tells me that, if you aren't actively, vigorously working to raise this number, your business will head south quickly if it hasn't already and likely no longer be viable within six months to a year, perhaps two years at best. Why? First, look at this graph: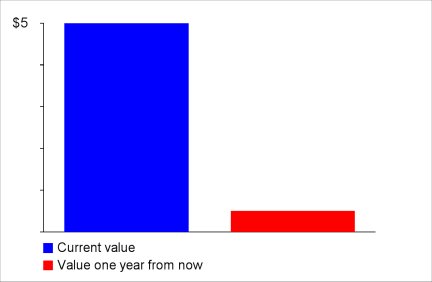 $5 books are by necessity common books, and if a book is selling for $5 today, you can be almost certain that within a year, as more and more copies come onto the market - and oh, yes, they will - its value will drop to well under $1, perhaps even lose its value altogether. Don't ever lose sight of this: In general, low-dollar books are by far the most likely books to quickly lose most or all of their value.

<! col. two ends> <! space>