<!spacer>

Buying and Selling Vintage
(and not So Vintage) Magazines
Part I: Collectible Covers

by Michele Behan

#127, 25 August 2008
Art startles.
Far from being a stark imitation of reality, the beauty of art lies in its ability to provoke emotion and evoke a spectrum ranging from conscious intellectual thought to subconscious primal yearnings.
So when the July 21, 2008 issue of The New Yorker magazine made its debut with cover artwork satirizing Presidential candidate Barack Obama and his wife Michelle - and, in the process, pushing the boundaries of religious and racial taboos - it did not go unnoticed.
Indeed, two weeks later, copies of The New Yorker with that controversial cover are selling briskly on eBay for prices averaging between $20-$25 per copy; this for a mass-produced magazine with a cover price of $4.50.
In this multi-part series on the ephemeral appeal of magazines, we will examine three separate facets of magazine collectibility. First and foremost is the magazine cover, followed by magazine content (stories or articles originally printed in magazine format) and concluding with collectible magazine advertisements.
Why are magazine covers so important? As a visually oriented species, humans are easily seduced by imagery. It was Friedrich Nietzsche who said, "For it is only as an aesthetic phenomenon that existence and the world are eternally justified."
Certainly, history bears out the importance of visual stimuli. According to Grecian legend, the long running Trojan War ended when the Trojans were deceived by the alluring appearance of a massive wooden horse left at the gates of Troy. Unknown to the inhabitants of Troy, the wooden horse concealed hundreds of Greek warriors in its hollowed interior. Trojans spent the night drinking and feasting in celebration of their perceived victory, only to be taken by surprise when hundreds of enemy soldiers spilled from the wooden horse to torch the city of Troy.
Modern mankind is not immune to such visual subterfuge. How better to get consumers to pick up that magazine than to cloak its contents in an eye-appealing cover?
Granted, a 9" x 11" page may not have the size advantage of the Trojan horse, but a look at collectible covers reveals the ingenious ways publishers have strategized to gain entry of their magazines through the gateway of our wallets.
When dealing in vintage magazines, it helps to understand who collects vintage magazines - and why.
Perhaps the most widely collected magazine covers are those illustrated by popular artists. Maxfield Parrish and Norman Rockwell covers are consistent best sellers. While the artwork of Parrish has long had a hold on the market, the values of Norman Rockwell covers are now ascending to, and even surpassing, those of Parrish in the cultural landscape of eBay.
In the last two weeks alone, 27 magazines with Norman Rockwell covers realized prices on eBay in excess of $50 per individual issue, with 14 of those sales reaching or exceeding $100 per issue. The highest price paid was $350 for the May 20, 1916 edition of The Saturday Evening Post, despite its described flaws of, "wear around the edges and soiling on the cover ... small tears around the staple." This issue featured Norman Rockwell's first illustrated cover for The Saturday Evening Post.
The ubiquitous Norman Rockwell reproduction prints, calendars, plates, coffee mugs and so on belie the scarcity of authentic Norman Rockwell magazine covers. In a strange twist of supply and demand, the very popularity of this artist's work resulted in much of his cover art being ripped from their magazines to be squirreled away in scrapbooks or framed on the wall. As a result, complete and intact magazines with Rockwell cover art - particularly older issues - are now scarce and desirable.
When I listed the January 18, 1930 issue of The Saturday Evening Post on eBay a couple of years ago, I felt sure that Norman Rockwell would pale in comparison to F. Scott Fitzgerald, author of The Great Gatsby, whose short story "Two Wrongs" was printed inside the magazine. I focused my marketing efforts on F. Scott Fitzgerald, composing my auction title around that particular flashpoint and only fitting in the word Rockwell to use up the remaining letter spaces.
After several days of very little activity on the auction, including no bids and very few watchers, I decided to shake things up by focusing on Norman Rockwell instead of F. Scott Fitzgerald. I revised the auction title, eliminating mention of the famous writer and, instead, spelling out illustrator Norman Rockwell's name in full. Within hours, the auction got a bid ... then another and another.
By the time the auction ended with a closing price of $62, I was convinced that, as far as eBay was concerned, Norman Rockwell had trumped F. Scott Fitzgerald.
The artwork by Norman Rockwell was titled "Stock Exchange Quotations" and was painted within months of the stock market crash of 1929. It depicted a group gathered with great interest around the daily Wall Street news, including an elegantly dressed lady, a grocery clerk, an affluent man, an older woman and even a dog.
Apparently no one noticed until after the cover artwork was published that the painting contained one of Rockwell's few errors: The grocery clerk has three legs.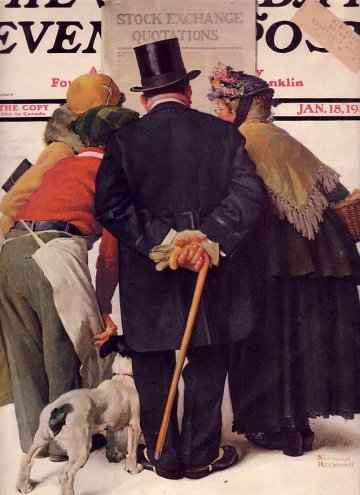 Donald Stoltz, author of books on Norman Rockwell, states that Rockwell, "... first was troubled with the picture, but later the situation proved amusing to him and even humorous as he pointed out to friends the extra leg hidden under the apron."

<! col. two ends> <! space>

<! col. four begins>