<<< Continued from previous page
Back issues of fashion and home design magazines also have a strong following among collectors. In fact, "vintage home magazines" were seventh in Country Home magazine's annual ranking of the Top Ten Collectibles, as listed in their July 2008 issue.
Vintage home décor magazines immerse the reader in an aura of nostalgia that is almost palpable, depicting rooms and homes exactly like the ones where we lived our childhoods. Who can forget the space age furniture of the 1960s or the avocado green and harvest gold color schemes of the 1970s?
Collectors of mid-century modern enjoy seeing the furniture that was actually sold, how it was arranged in a room, and the shades of upholstery that were in fashion. For those who collect pottery, glass or ceramics of the period, such magazines depict how the accessories were displayed.
Product designers, decorators, graphic artists and architects rely on vintage home magazines to provide an endless source of inspiration.
Michael Gallagher, of Gallagher's Vintage Magazines, the paper dealer profiled in Country Home, also does a brisk business in fashion magazines and books. Gallagher began his career as a magazine dealer by renting magazines and props to set designers who needed period pieces for theatrical productions. Now he caters to collectors interested in assembling complete libraries of magazines in specific genres, such as fashion or photography.
In the world of fashion magazines, Vogue is the undisputed champion. There is a steady market for issues of Vogue dating from the teens to the thirties. Recently, issues of Vogue from the sixties and seventies are escalating in popularity, in keeping with the current fascination with that era. Just as the cyclical nature of fashion ensures that everything comes back in style eventually, magazine covers reflect the national consciousness of their era and preserve through their artwork the political climate of the day.
Seven months after the United States entered World War II (following the bombing of Pearl Harbor), magazine publishers participated in an unprecedented collaboration with the U.S. Treasury Department to feature the American flag on every cover of every magazine published in July of 1942. The campaign was titled "United We Stand" and presented a stunning display of national patriotism
Today, collectors seek copies of the more than 500 magazines that featured the American flag on their July covers.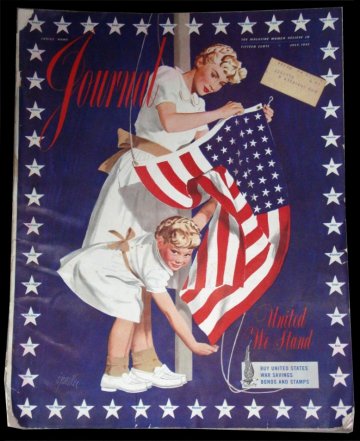 In half a century, will the July 2008 political cover of The New Yorker continue to be a collector's item? Only time - and vintage magazine collectors - will tell.

If you liked this article, Digg it!

< to previous article to next article >

Questions or comments?
Contact the editor, Craig Stark
editor@bookthink.com

| Forum | Store | Publications | BookLinks | BookSearch | BookTopics | Archives | Advertise | AboutUs | ContactUs | Search Site | Site Map | Google Site Map

Store - Specials | BookHunt | BookShelf | Gold Edition & BookThink's Quarterly Market Report | DomainsForSale | BookThinker newsletter - free

Copyright 2003-2011 by BookThink LLC

<! col. two ends> <! space>

<! col. four begins>