<!spacer>

The Paper Chase for Literary Ephemera

by Michele Behan

#108, 19 November 2007
Perched on a shelf in an antiques store, the 1930s volume lacking a dust jacket looked like any other nondescript book of its era. Years of exposure to sunlight, together with the household dust that tends to float wherever people gather, had darkened the spine to the point that the red block lettering was difficult to read. I pulled out the book to examine its cover, but, alas, no title.
There was nothing left for a book addict to do but open the book to peruse the title page. I flipped the cover open and there, on the front pastedown, I saw it … no, not the title, but the bizarre bookplate of A. Herr Brubaker.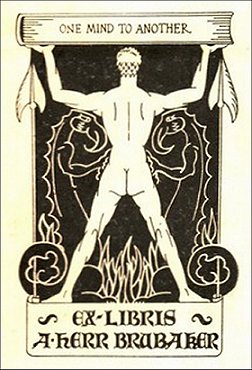 The book, a common 1934 printing of Renoir: An Intimate Record by Ambroise Vollard, would have gone back on the shelf immediately were it not for the strangely compelling bookplate. A nude man, arms extended and hands aloft upon which rested a huge book labeled One Mind To Another, stood with legs wide apart while two fierce dragons pressed on either side of him and flames burned between his feet.

While doing the research for Part I of this series on Literary Ephemera, I became extremely interested in bookplates as an art form, so seeing this bizarre bookplate immediately piqued my curiosity.

Who was A. Herr Brubaker? Did he design this bookplate himself? If not, why did he choose this unusual design for his personal bookplate? The classically nude man was a common Art Deco theme, popularized by Rockwell Kent, but the inclusion of flames and dragons hinted at a deeper meaning.

I purchased the book solely for the bookplate and brought it home for further research. That evening, I searched the internet for A. Herr Brubaker and was rewarded with a link referencing a mysterious "Brubaker Project."

My eyes eagerly devoured any crumb of information about my bookplate and so I read, "My dad recently asked me to send him a link to the website I'd set up a few years ago, to document the art of my grandfather, Amos Herr Brubaker ...."

So, A. Herr Brubaker was Amos Herr Brubaker - and he was an artist! This was getting better and better.

Through a series of dead links (the Brubaker website had apparently been hosted on a free service that subsequently expired) and enigmatic blog posts, I finally was able to locate the brains behind the "Brubaker Project" - Ben Ullman, grandson of Amos Herr Brubaker and himself a graphic designer.

I solicited information from Ben about his grandfather, the man whose name adorns my bookplate, and Ben was extremely helpful.

Amos H. (Bud) Brubaker was born in Lancaster County, Pennsylvania in 1913, the son of a blacksmith. He got his start in commercial art as a young man, working at Hunt's Casino Theater on a pier in Wildwood, New Jersey, painting and lettering signs and billboards for upcoming attractions.

<! col. two ends> <! space>

<! col. four begins>