<<< Continued from previous page
Brubaker dabbled in watercolors, but by the time he moved to Atlantic City in his late 20s, his style had evolved into abstract art. He met his future wife at DuPont's Atlantic City boardwalk exhibit, where he was employed as an exhibit display artist, she as a model for DuPont, gaining fame as Miss Nylon at the 1939 World's Fair in New York, where DuPont introduced nylon stockings.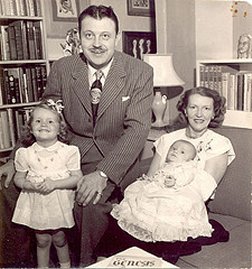 Brubaker was also involved with the artists of the WPA (Works Progress Administration) painting murals. He was stationed from 1940 to 1945 with the Army Air Corps at Santa Monica, California.
In 1955, he was employed with DuPont's in-house advertising department in Wilmington, Delaware where he continued his abstract painting and was the subject of the first one-man art show at the DuPont Experimental Station in 1959. Brubaker left DuPont in 1965 to open his own design studio. He died in 1976.
Although no one knows for certain, Ben's family believes that Amos Herr Brubaker designed his enigmatic bookplate himself.
Brubaker's son, Ben's uncle, said, "I've always thought that the biggest influence on his style was from the books he searched out ... I would often drive Mom and Dad to old book sellers in the area. He'd spend hours going through old books for anything about artists he was interested in. Besides book dealers, he also always enjoyed the art museums in Philly, New York, Baltimore and Washington. We had a lot of trips to museums when there was a show of one of his favorites. Picasso was definitely an artist he admired and knew a lot about. He had more books on Picasso than just about anybody else."
Brubaker's daughter, Ben's mother, had a humorous take on the subject, "It was Dad's adaptation of DaVinci's famous male front pose with astrological spheres. With his humor and skill, he turned the man around and mooned the viewer."
Ben is not convinced that the Brubaker bookplate is a variation of DaVinci's Vitruvian Man but has no ideas what the dragons and flames represent, "other than the fact that they look cool ...."
The bookplate mystery is still waiting to be solved, but finding the man behind the bookplate definitely adds a rich dimension to the quest.
A funny footnote to this story is that, when I found the bookplate, I thought it would make a wonderful contest entry for the Bizarre Bookplate Contest hosted by collector Lewis Jaffe on his blog.
However, not knowing my intentions, Ben beat me to the punch and entered his own copy of his grandfather's bookplate in the contest! Whether A. Herr Brubaker wins the contest or not, his bizarre bookplate will always be a winner in my book.

If you liked this article, Digg it!

< to previous article to next article >

Questions or comments?
Contact the editor, Craig Stark
editor@bookthink.com

| Forum | Store | Publications | BookLinks | BookSearch | BookTopics | Archives | Advertise | AboutUs | ContactUs | Search Site | Site Map | Google Site Map

Store - Specials | BookHunt | BookShelf | Gold Edition & BookThink's Quarterly Market Report | DomainsForSale | BookThinker newsletter - free

Copyright 2003-2011 by BookThink LLC

<! col. two ends> <! space>

<! col. four begins>