<!spacer>

The Hair-Raising Prices of
Dennison's Bogie Books

by Michele Behan

#106, 29 October 2007
In the world of collectible ephemera, Halloween is the current king of holidays. Of course, Christmas memorabilia will always retain its desirability. The nostalgia associated with iconic childhood symbols such as Santa Claus, together with the religious significance of Christmas, ensures a large and steady customer base for the flourishing Christmas collector's market.
By contrast, Halloween - a holiday rooted in Celtic traditions and brought to this country by English, Irish and primarily Scottish immigrants during the period following the American Civil War - was for many years the neglected stepchild. Whereas Christmas decorations became family heirlooms over time to be carefully packed away and preserved for future generations, Halloween memorabilia was frequently discarded as soon as the holiday was over. The ephemeral nature of vintage Halloween items cannot be overstated, which is why quality Halloween material is so difficult to find and prices have escalated rapidly in recent years.
In Victorian times and throughout the first three decades of the 20th century, Halloween parties were immensely popular. Because these parties were targeted specifically toward adults, many of the earliest Halloween decorations employed frightening and highly complex imagery of devils, witches, skeletons and ghosts. In later years, as the holiday became increasingly geared toward children, Halloween imagery was toned down by manufacturers to appeal to a broader market and "cute" decorations gradually replaced the scary themes. The heyday of Halloween parties in the early 1900s gave birth to a commercial market for Halloween memorabilia. Dazzlingly designed candy containers, noisemakers and decorations were imported from Germany and eagerly purchased by American hostesses planning their annual parties.
Beginning in 1909 and continuing through 1934, Dennison Manufacturing Company of Framingham, Massachusetts entered the Halloween party niche with their colorful party supply catalogs, appropriately named Bogie Books. The 1909 Dennison's Bogie Book is the first and rarest issue, with only a handful of copies extant. The profusely illustrated pages introduced the hostess to party menus, game suggestions and innovative decorating ideas all made possible with paper products manufactured and sold by Dennison.
Dennison manufactured a variety of decorative crepe papers (now collectible in their own right), from which costumes, favors and table decorations could be fashioned.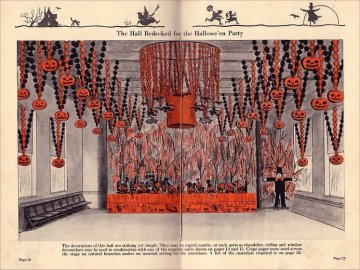 An excerpt from the 1909 Bogie Book reads, "Any hostess can easily select from this little book the scheme of decoration, the games and favors that will best entertain the guests she wishes to please. All the articles described are easily made. With Dennison's Crepe Paper and a little effort, any one can accomplish the results desired. If any difficulty arises, the paper experts at the various Dennison stores will be glad, by correspondence or personally, to explain and demonstrate."
If you are lucky enough to run into a copy of the 1909 Bogie Book, thank your black cat for not crossing your path. According to the second edition of Vintage Halloween Collectibles by Mark B. Ledenbach, its value is currently estimated at $2,000 to $2,200.
The second Bogie Book wasn't issued until 1912. From that time on, an annual issue was released every year through 1934, with the exception of a brief interruption in production during World War I.
Because Dennison's Bogie Books were issued on a more or less annual basis with new merchandise and prices, the books were not intended to be permanent publications, despite being published in both hardcover and softcover formats.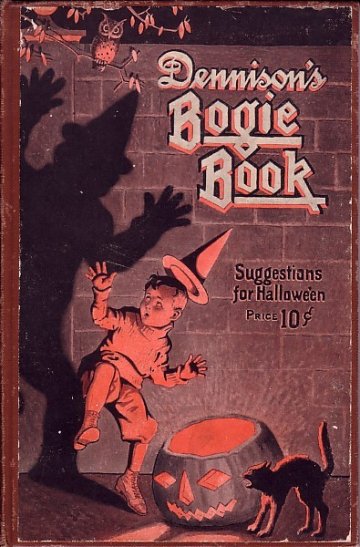 Like most paper ephemera, these books were generally thrown out when their usefulness had expired. There was no anticipation that future collectors would covet Dennison's Bogie Books, both for their colorful graphics as well as their informative data on contemporary prices and products, which in turn help collectors establish manufacture dates of vintage Halloween articles.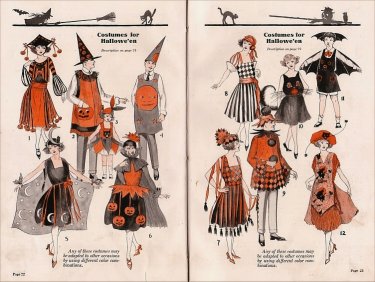 Dennison's Bogie Books in hardcover format tend to be more elusive and command higher prices than the softcover versions.

<! col. two ends> <! space>

<! col. four begins>