<<< Continued from previous page
One year ago, I had the good fortune to acquire two hardcover Dennison Bogie Books at auction. The heirs contracted with a local auction house to liquidate the estate of their parents and clean out the family home so it could be placed on the market. Along with the customary household contents, a large quantity of vintage Halloween memorabilia dating from the 1920s was found in the home's basement. The heirs didn't recognize the holiday stuff and theorized that it may have been left in the house by previous owners.
Since they saw no value in all this paper "junk," it was promptly dumped into the nearest trash can. Luckily, the auctioneers arrived on the scene to transport the home's contents to auction before the garbage men made their rounds. When they noticed the bulging trash, they asked the heirs what had been thrown out and then discovered the vintage Halloween memorabilia.
I was told by the auctioneers that the Halloween items alone - retrieved in the nick of time from the garbage - netted the heirs $3,500 at auction! The chilling reality that these papier-mâché lanterns, old masks, costumes, crepe paper and books were within minutes of being carted to the dump and incinerated highlights the fate which often befalls vintage Halloween material, contributing to their genuine scarcity and dwindling supply.
I purchased the 1922 and 1923 Dennison's Bogie Books at that auction in the scarce hardcover format. Each book was literally crammed with colorful examples of Halloween costumes, lanterns and crepe paper decorations in the guise of witches, cats, bats and jack-o'-lanterns all made from Dennison's extensive line of Halloween décor.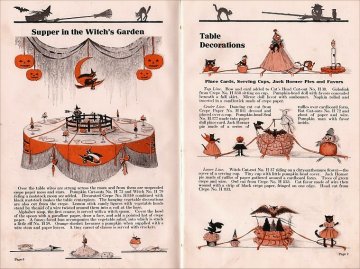 I promptly listed the Bogie Books on eBay in September of 2006. The 1922 hardcover Bogie Book sold for $223.61, while the 1923 hardcover Bogie Book brought an astounding $570.00!
Originally costing 10 cents and made to last only a season, Dennison's Bogie Books have become a prized Halloween collectible.
Here are recent sales prices realized in October, 2007 on eBay for softcover editions of the Bogie Book:
1917 Dennison's Bogie Book $109.99
1924 Dennison's Bogie Book $70.00
1925 Dennison's Bogie Book $130.00
1931 Dennison's Bogie Book $49.51

The good news for booksellers is that not everyone recognizes these little cross-collectible gems which overlap the fields of books and ephemera. So keep your wits about you, your eyes wide open and don't be afraid of the Bogie Book! It's guaranteed to scare up some nice profits for you.

If you liked this article, Digg it!

< to previous article to next article >

Questions or comments?
Contact the editor, Craig Stark
editor@bookthink.com

| Forum | Store | Publications | BookLinks | BookSearch | BookTopics | Archives | Advertise | AboutUs | ContactUs | Search Site | Site Map | Google Site Map

Store - Specials | BookHunt | BookShelf | Gold Edition & BookThink's Quarterly Market Report | DomainsForSale | BookThinker newsletter - free

Copyright 2003-2011 by BookThink LLC

<! col. two ends> <! space>

<! col. four begins>