<!spacer>

Patriotic Paper

by Michele Behan

#98, 2 July 2007
The Firecracker Hot Market for Real Photo Postcards
In the world of ephemera, cross-collectibility abounds. One of the hottest collecting trends to surface in the last quarter century is the collecting of photographs, first becoming an accepted art form in the late 1970s. Derived originally from a small field of interest encompassing collectors of illustrated books and prints, photography collectors have grown to become a flourishing mainstream market.
In 1979, the art world was shocked and records were shattered when Margaret Weston paid what was then the unfathomable sum of $10,000 for a single iconic image of a seashell taken in 1927 by photographer Edward Weston. Just 28 years later, the record price for a single photograph is held by an Edward Steichen landscape photo sold at Sotheby's last year for $2,928,000.
The May 3, 2007 issue of The Wall Street Journal reported that three major photography auction houses realized the following revenues from photography sales held in the month of April, 2007 alone:
Sotheby's - $15,915,500
Christie's - $11,176,200
Phillips de Pury & Co. - $10,412,365
Photography has risen rapidly from the bottom of the art chain to claim its spot as the new darling of the art world.
Combine this relatively recent interest and explosive growth in photograph collecting with the long established hobby of postcard collecting - formally known as deltiology - and you can begin to understand the soaring popularity of real photo postcards.
Real photo postcards, also known as RPPC, are a very specific type of picture postcard. Whereas most of the postcards commonly encountered in old albums and dusty attics are mass-produced printed images, real photo postcards are different because they are true photographs produced chemically from negatives onto photographic paper. Other than the postal markings on the back of the images and the standard postcard sizing of 5 ½" x 3 ½", real photo postcards are real photographs with postcard backs, produced in limited quantities and providing a remarkable view of ordinary life in the early years of the 20th century.
For this reason, photograph collectors - collectors who have no interest in postcards, per se - have come to notice and appreciate the real photo postcard and embrace its photographic form as one of their own. Prices have risen astronomically as well-heeled photo collectors now regularly frequent postcard shows, asking specifically for examples of real photo postcards to add to their photography collections.
At the same time, long established postcard collectors and dealers are casting a more appreciative eye toward the once-lowly genre of real photo cards, which formerly were relegated to the "cheap" boxes in comparison to the beautifully chromolithographed printed postcards that traditionally commanded the highest prices.
The domino effect that photograph collecting has triggered in the desirability of real photo postcards has rocked the sphere of the postcard world. Real photo postcards were produced in very limited quantities, enhancing their current collectibility. Many real photo postcards are truly one-of-a-kind snapshots, capturing a fleeting moment in time with authentic simplicity through the medium of black-and-white film.
In 1907, new postal regulations permitted messages to be written on the back side of picture postcards and sent anywhere in the United States for the cost of only a penny in postage. Postcards were sent through the mail as often as several times per day, soon becoming the early 20th century equivalent of today's prevalent text messaging.
Responding to the postcard craze that was sweeping the country, Kodak introduced an affordable and easy to use camera that printed photographs directly onto thick postcard stock paper. This technological innovation inspired a flurry of amateur photo postcards taken by non-professional photographers. While local photographers specialized in real photos of town views and printed perhaps several dozen copies of small town street scenes, buildings and special events to be sold in stores, the majority of real photo postcards were produced by ordinary people recording scenes of everyday life with the ubiquitous camera. These vernacular photos capture images which evoke an idiosyncratic charm often found lacking in the professionally staged studio shots.
Okay, so you're now sufficiently motivated to start digging through that old box in the attic for the postcard album kept by Great-Grandma. Not to burst your bubble, but be aware that out of any random untouched postcard album, less than 5% of the postcards may turn out to be real photo cards. How do you spot one?
First of all, nearly all real photo postcards are black-and-white photos. If you use a magnifying glass and see lots of tiny dots on the surface of the picture, the postcard is a printed card and not a real photo. If the photo is captioned (many are not), real photo postcards will often have captions that look handwritten. The caption may consist of all white lettering, which means it was written directly onto the negative. Captions on printed cards look professional and do not appear to be handwritten.
Next, check the address side of the card. Real photo postcards usually have the brand name of the photo paper manufacturer printed directly on the stamp box. Some examples of brand names to look for: AZO, CYKO, VELOX, ARTURO, KRUXO or DEFENDER. If the postcard has been postally used and the stamp box is covered with a postage stamp, look for the words POST CARD on the back of the card in block lettering that appears to be rubber-stamped. Another clue to a real photo card is the stamped name of a photographer or photograph studio on the back side of the card. However, most of the amateur real photos do not bear a photographer's name, and even many photographers who sold their cards for a living did not label their work.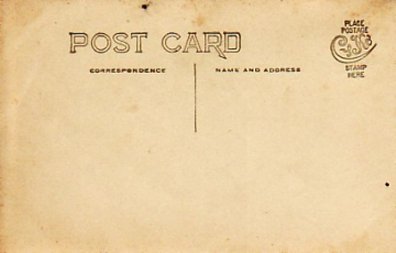 A little experience in handling real photo cards will go a long way toward learning to easily recognize one.
Out of the less than 5% of postcards in a stash which may turn out to be real photo cards versus printed postcards, perhaps less than 5% of those will be extremely desirable to photograph collectors.
There are several main groups of real photo postcard collectors. The first and largest group of collectors has an historic or genealogical interest in a specific place, and they are searching for photographic view cards of buildings, streets and scenes of life as it existed in a particular locale many years ago. Find an elusive real photo of their hometown, and you may have a goldmine on your hands.
Yet another group of collectors has a topical interest in a particular subject, such as railroads, transportation, animals, fashion or any of a myriad assortment of topics avidly sought to complete a themed collection. Such collectors will search for any photo card that matches that interest. According to Real Photo Postcard Guide by Robert Bogdan and Todd Weseloh, the top five real photo postcard collecting categories are:
Storefronts and Store Interiors: Exteriors and interiors of commercial establishments.

Transportation: Horse-drawn and animal-drawn vehicles, cars, trucks, bicycles, trains and aviation.

Occupations: People dressed in occupational garb and posing with occupational tools.

Social History: Photos documenting child labor, substandard housing, the temperance movement, poor wages and working conditions, social diseases, labor unions, civil right movements such as the women's suffrage movement, and political campaigns.

Advertising: Billboards, signage and other advertising, either general advertising or that for a specific product, such as Coca-Cola.
Of the topical collectors, there are a few that collect a particular niche so narrow that it doesn't fit neatly into any of the major topical categories - collectors of hamster photos, for example, or photos of ladies wearing feather plumed hats.

<! col. two ends> <! space>