<<< Continued from previous page
Another group of real photo postcard collectors are the aesthetic collectors. This group is a direct offshoot of photography collectors. They are more interested in the beauty, composition and artistic lighting of a photo than in the subject it conveys. Any aesthetically pleasing photograph will be fodder for their collections. This type of collector is primarily interested in and appreciative of photography as an art form, rather than a means of historical documentation.
Finally, there is a small group of real photo postcard collectors who collect the work of specific photographers, usually regional photographers who worked and plied their trade within a limited geographic area.
Real photo postcards are HOT, and postcard dealers are reacting by pricing accordingly and, at the same time, realizing prices never even imagined just a few short decades ago.
As in bookselling, recognition of current trends and flashpoints in real photo postcards is necessary to maximize your profits when listing a real photo postcard for sale on eBay. A particular sub-genre of real photo postcards that is enjoying escalating prices on eBay, as well as at conventional auction houses dealing in postcards and ephemera, are real photo postcards with patriotic themes.
According to Real Photo Postcard Guide, "Patriotic refers to cards that show symbols of love of country, mainly American flags draped over people, stores, floats, what have you. It is an amorphous category. Many cards in this category cross over into other categories, such as parades, celebrations, Main Streets, and the military ... The height of photo postcard popularity stretched across World War I, so many of the patriotic images show a citizenry mobilized for war…
"Other American symbols on display in these patriotic cards include Uncle Sam, fireworks, the American eagle, and various images of past patriots such as George Washington. Many of the images are so overembellished with symbolism that, according to present standards, they look silly. That aspect is part of their charm."
Here is an example of a real photo postcard so "overembellished with symbolism" that there are not one, but two, Uncle Sams present in the photo!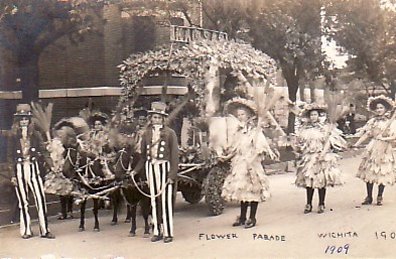 The photographer marked the postcard "Flower Parade Wichita 190," giving us a helpful clue to the date. In his handwritten captioning on the negative, he erred and wasn't able to fit the full date within the margin of the photo; however, someone helpfully wrote 1909 in ink on the surface of the card, solving the mystery of when the photo was taken. The horse drawn float displays signage reading "Kansas," which tells us that the photo captures a scene of patriotism in Wichita, Kansas in 1909 - most likely, a Fourth of July parade.
Here is another elaborate parade float with Uncle Sam astride an extravagant swan while holding the reins of a swing dangling from the swan's beak on which two small children are riding.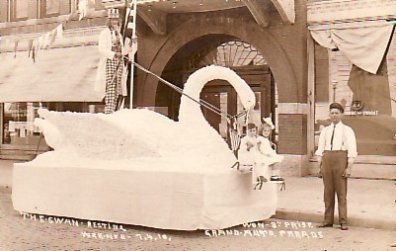 The photographer's handwriting appears as white captioning on the surface of the photo: "The Swan Resting, York, Neb. 7-14-10, Won 3rd Prise [sic], Grand Auto Parade." The photo was apparently processed quickly by a local photographer and offered for sale within days. It is postmarked July 9, 1910 from York, Nebraska. The sender's message on the back reads in part, "Dear Mother & All, I will send you a picture of one of the Autoes [sic] that were in the parade on the fourth, had a big crowd and lots a doing."
Uncle Sam isn't always riding on floats in these charming patriotic real photo cards. He can also be found on horseback with Lady Liberty alongside.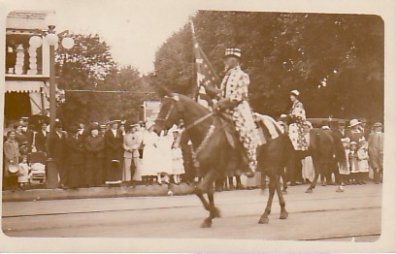 Sometimes, Uncle Sam takes on the guise of a child dressed in appropriate patriotic costume.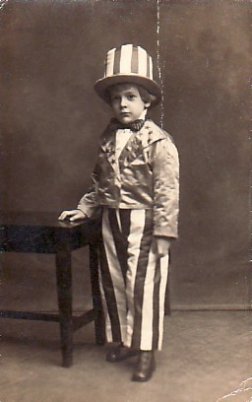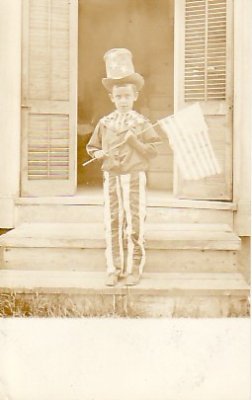 Other patriotic real photo postcards depict people displaying the American flag, such as this scene of an adolescent in costume posing with an oversize flag.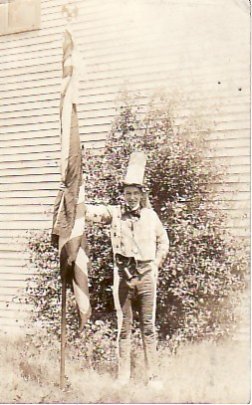 The display of patriotism can be simple and heartfelt.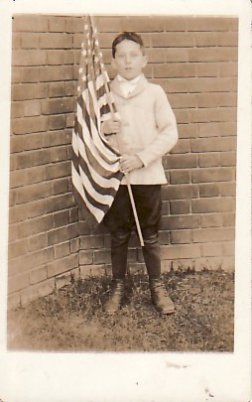 Here is a swimmer who found an unusual way to display his American pride.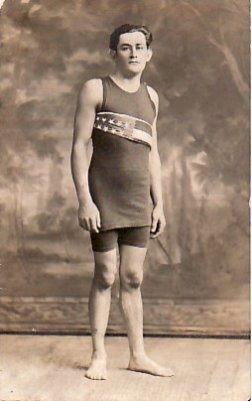 In the waning days of the Old West, men enjoyed dressing as cowboys in photographers' studios, with a huge backdrop of the American flag.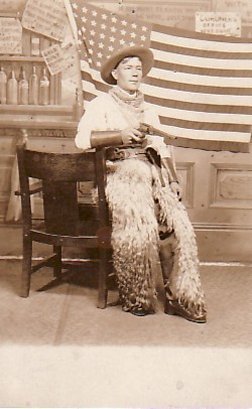 All of the above images fall within the category of patriotic real photo postcards and are extremely desirable. However, many of the cards are cross-collectible and would appeal equally to other topical collectors.
In selling any real photo postcard on eBay, be sure to examine every detail within the photo. You may inadvertently discover another flashpoint that would help sell the card.
Point out any flashpoint that may appeal to a potential buyer. If a photograph displays multiple aspects of interest, its cross-collectibility will inspire two different sets of collectors to vie for it, thus pushing up the demand and ultimate value of the postcard.
For example, the real photo postcard of the swan float depicts a detail that is not readily apparent on first glance. If you look carefully at the storefront behind the float, you will notice an all-seeing eye painted on the window glass.
The mystical all-seeing eye is a symbol of Freemasonry. The partial wording of "Nose and Throat" can be read under the eye,and one can assume that the full signage reads, "Ear, Nose and Throat," advertising a doctor's services. The all-seeing eye above the words implies that the doctor is advertising his status as a Freemason to solicit business from fellow Masons.
Although the postcard's value appears to lie predominantly in its patriotic theme, this little detail of Masonic imagery can be used in a listing description to interest yet another set of potential bidders - those who actively collect historical artifacts of Freemasonry. When you discover multiple facets of cross-collectibility in a real photo postcard, you should use each one as a flashpoint to attract varied sets of collectors to your photo. This will result in a greater demand and a higher final value.
What prices do real photo postcards with patriotic themes bring on eBay? In the month of June, 2007, the following were realized:
A real photo postcard of a pet guinea pig posed on a table with draped U.S. American flags as a backdrop, no identification, circa 1908-1915, un-mailed, with significant crease on lower right corner - $37.99.
A 1909 real photo exaggeration postcard - an exaggeration card consists of two or more real photos combined and superimposed on a photo background to make a single card - captioned "A Kansas Air Ship," depicting what appears to be a giant grasshopper flying through the air carrying a basket with a human passenger and a large American flag, postmarked from Emporia, Kansas - $67.67.
A real photo postcard of a little girl with an American flag draped over her shoulder posing as the Statue of Liberty, circa 1910 - $129.39.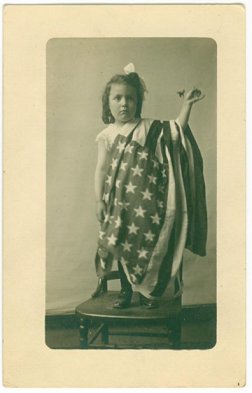 s
(Photo used with permission, courtesy of eBay seller: medwards.)
As you celebrate this Fourth of July, be sure to remember the patriotism of your ancestors whose love of country was so well expressed and charmingly captured in these real photo postcards of the past.

If you liked this article, Digg it!

< to previous article to next article >

Questions or comments?
Contact the editor, Craig Stark
editor@bookthink.com

| Forum | Store | Publications | BookLinks | BookSearch | BookTopics | Archives | Advertise | AboutUs | ContactUs | Search Site | Site Map | Google Site Map

Store - Specials | BookHunt | BookShelf | Gold Edition & BookThink's Quarterly Market Report | DomainsForSale | BookThinker newsletter - free

Copyright 2003-2011 by BookThink LLC

<! col. two ends> <! space>