<! col one starts>
<! col one ends> <!spacer>
<! col two starts>



BookThink is the #1 ranked resource provider for online and open shop book dealers, book collectors, and serious readers. Resources include:
The BookThinker, a free twice monthly newsletter covering a wide range of bookselling and collecting topics.
BookThink's Gold Edition, a monthly newsletter supplying profit-generating insider information to booksellers.
BookThink's Quarterly Market Report of Common, Profitable Books, a market report targeting high-profit, in-demand books that are likely to surface on scouting trips.
Moderated book forums; an extensive library of active and pertinent book-related links; book reviews; interviews with authors and other notables; and intensive tutorials on practical book repair, grading, terminology, buying for resale, selling books online and off, building a personal book collection, and more.
The BookThinker Newsletter


ISSN 1547-9501

#84, 18 December 2006
BookThink Update
25 December 2006>>>




An End of Days
Identity and Meaning in the Shadow
of the Dying Earth
Collecting Science Fiction
Well, I hope you brought your thinking caps with you today - or, in the immortal words of P.G. Wodehouse's Bertram Wooster, "ate fish." Science Fiction Editor Timothy Doyle takes on some fundamental philosophical topics today in his monthly column, among them eschatology. Don't know what eschatology is? You'll soon find out, and what's more, there's bookselling profits afoot.

A Novel Approach
Dan Martin's Journey Back
Second up is Dan Martin. Dan originally approached me several months ago and requested that BookThink review his first novel, Journey Back. Though we weren't able to accommodate him, I suggested instead that he pen an article on his experiences getting his book published. The resulting piece is an unusually interesting insider's look at the struggle many writers face when attempting to make it in a business that, ultimately, we booksellers profit from on the back end.
How To Package Books
Part I: Making a Case for B-Flute
Part II: Packaging with B-Flute
In Part I of "How to Package Books," I suggested the use of b-flute for packaging books on the basis of three criteria: a high protection level for contents, high packaging speed, and low materials cost. Today, I'll explain how to use b-flute in as much detail as I've ever written about it. I think some of you may be surprised to see how useful it is in meeting not only conventional packaging needs but also those that arise out of special applications.
Buying and Selling Children's Books
A Modern Day Christmas Carol
(Internet Style)
BookThink's Children's Books Editor Guusje Moore is here today, but the topic isn't children's books. I think most of us could share stories about how books and other items we've sold have had a powerful impact on the lives of their buyers. As I've said before, I think the highest purpose a bookseller serves is to return books to their rightful owners. Guusje experienced something like this recently, and I think you'll agree that the outcome was indeed special.

50/50 Issue #19
Dogs, Dogs and More Dogs
Now Available
Issue #19 of 50/50 is now available for purchase; its focus is "Dogs Dogs and More Dogs." Subscribe today here.
Introducing .... BookHunt
Software Designed for
Buying Inventory Online
The bookselling theme we pound the hardest at BookThink is this: Sell better books. Agreed, some of you don't live in inventory rich areas, and this may be easier said than done. One solution I've suggested is to start buying some of your inventory online. After all, where are most of the best books located? For most booksellers, however, especially those new to the business, buying online is significantly more difficult than buying books in the field. Or was until now. Software developer Ian Ashbury has come to the rescue. Ian has designed a tool for BookThink that will greatly enhance your ability to not only locate inventory online but also save you countless hours you otherwise would've spent slogging through listings at eBay. It's called BookHunt, and here's more information.
Previous BookThinker update- BookThink Update
11 December 2006>>>
BookThink's Bookseller Profile
Travis McFarland is our brave bookseller this month - braving, that is, a Bookseller Profile. Would that all of you were so brave. In any case, Travis, though only two years in the business, has also braved something else - a business model that requires some sophisticated bookselling knowledge. He specializes in modern signed first editions, collectible children's books and other hard to find items. As always, it makes good reading, and don't forget to click into his eBay Store when you're done and buy a book or two. I guaranteed that it would happen!
<! col two ends> <!spacer>
<! col. three begins>






<! col. three ends> <!spacer>
<! col. four begins>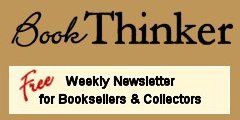 <! col. four ends>