<! col one starts>
<! col one ends> <!spacer>
<! col two starts>



BookThink is the #1 ranked resource provider for online and open shop book dealers, book collectors, and serious readers. Resources include:
The BookThinker, a free twice monthly newsletter covering a wide range of bookselling and collecting topics.
BookThink's Gold Edition, a monthly newsletter supplying profit-generating insider information to booksellers.
BookThink's Quarterly Market Report of Common, Profitable Books, a market report targeting high-profit, in-demand books that are likely to surface on scouting trips.
Moderated book forums; an extensive library of active and pertinent book-related links; book reviews; interviews with authors and other notables; and intensive tutorials on practical book repair, grading, terminology, buying for resale, selling books online and off, building a personal book collection, and more.
The BookThinker Newsletter


ISSN 1547-9501

#82, 20 November 2006
BookThink Update
27 November 2006>>>

How To Package Books
Part I: Making a Case for B-flute
Is it too early to start thinking about 2007? Heck no, and if you've been kicking around some ideas for growing your businesses next year, I have a zinger for you to consider: Upgrade your packaging method. If you're spending too much money on packaging materials or too much time packaging - or both - and still sending books off with a prayer that they'll arrive safely, the method I've used with success for almost seven years addresses all three issues better than any I know of.







When Less Is More
Some Observations on eBay Stores
After the Fee Increases
We're almost three months out from the August 22 eBay Stores fee increases - a good time, I think, to evaluate how things are going. Did you make any changes? Slash your inventory? Your prices? Close your Store? I'm totally ashamed to confess that I didn't make a single change to one of my Stores (though I did lower prices in another, which helped), and am I ever glad that I didn't. Find out why in today's article.
BookThink's Bookseller Profiles
Profile of Julie Anna Schultz
When my boys were young, I worked out of the house, and some days it was a major triumph just to get to the end of them with at least some work accomplished and all of us intact. Not all work-at-home situations are a good fit with small children - mine sure wasn't - but bookselling can be. If you'd like to see how this is done with, count them, 11 children (no kidding!), you've come to the right place. BookThink's Contributing Editor Julie Anna Schultz and power mama explains the process in detail in her Bookseller Profile.

50/50 Issue #18
One Author, So Many Possibilities
Now Available
Issue #18 of 50/50 is now available for purchase; its focus is "One Author, So Many Possibilities." Subscribe today here.
Introducing .... BookHunt
Software Designed for
Buying Inventory Online
The bookselling theme we pound the hardest at BookThink is this: Sell better books. Agreed, some of you don't live in inventory rich areas, and this may be easier said than done. One solution I've suggested is to start buying some of your inventory online. After all, where are most of the best books located? For most booksellers, however, especially those new to the business, buying online is significantly more difficult than buying books in the field. Or was until now. Software developer Ian Ashbury has come to the rescue. Ian has designed a tool for BookThink that will greatly enhance your ability to not only locate inventory online but also save you countless hours you otherwise would've spent slogging through listings at eBay. It's called BookHunt, and here's more information.
Previous BookThinker update- BookThink Update
13 November 2006>>>
The Ballad of the Whiskey Robber
Writers often lead quiet lives, though clearly there are exceptions to the rule. One glaring exception is journalist Julian Rubinstein. Rubinstein has not so quietly fashioned a career out of getting stories nobody else could, one of which he parlayed into a 2004 Little, Brown best seller, Ballad of the Whiskey Robber: A True Story of Bank Heists, Ice Hockey, Transylvanian Pelt Smuggling, Moonlighting Detectives, and Broken Hearts. Rubinstein himself regards the life of Attila Ambrus, on whom the book was based, "as just about the best story I ever heard in my life." Interested? So were we. BookThink's Catherine Petruccione interviewed Rubinstein recently, and I think you'll find it fascinating.





BookThink's Top 10 on eBay
September 2006
Pop quiz: Who is Ed Ruscha? The first installment of BookThink's Top 10 on eBay appeared in September 2005. If you've been subscribing to the BookThinker at least that long and don't know the answer to this question, shame on you. Counting today's Top 10, he's made three appearances, and each time I've made a point of mentioning him in my introductory remarks. Both his paintings and photographs, collections of which often appear in book form, are hotly collected, and this is a bookselling flashpoint that should be committed to memory once and for all.
<! col two ends> <!spacer>
<! col. three begins>






<! col. three ends> <!spacer>
<! col. four begins>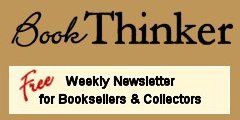 <! col. four ends>