<! col one starts>
<! col one ends> <!spacer>
<! col two starts>



BookThink is the #1 ranked resource provider for online and open shop book dealers, book collectors, and serious readers. Resources include:
The BookThinker, a free twice monthly newsletter covering a wide range of bookselling and collecting topics.
BookThink's Gold Edition, a monthly newsletter supplying profit-generating insider information to booksellers.
BookThink's Quarterly Market Report of Common, Profitable Books, a market report targeting high-profit, in-demand books that are likely to surface on scouting trips.
Moderated book forums; an extensive library of active and pertinent book-related links; book reviews; interviews with authors and other notables; and intensive tutorials on practical book repair, grading, terminology, buying for resale, selling books online and off, building a personal book collection, and more.
The BookThinker Newsletter


ISSN 1547-9501

#81, 6 November 2006
BookThink Update
13 November 2006>>>

The Ballad of the Whiskey Robber
Writers often lead quiet lives, though clearly there are exceptions to the rule. One glaring exception is journalist Julian Rubinstein. Rubinstein has not so quietly fashioned a career out of getting stories nobody else could, one of which he parlayed into a 2004 Little, Brown best seller, Ballad of the Whiskey Robber: A True Story of Bank Heists, Ice Hockey, Transylvanian Pelt Smuggling, Moonlighting Detectives, and Broken Hearts. Rubinstein himself regards the life of Attila Ambrus, on whom the book was based, "as just about the best story I ever heard in my life." Interested? So were we. BookThink's Catherine Petruccione interviewed Rubinstein recently, and I think you'll find it fascinating.








BookThink's Top 10 on eBay
September 2006
Pop quiz: Who is Ed Ruscha? The first installment of BookThink's Top 10 on eBay appeared in September 2005. If you've been subscribing to the BookThinker at least that long and don't know the answer to this question, shame on you. Counting today's Top 10, he's made three appearances, and each time I've made a point of mentioning him in my introductory remarks. Both his paintings and photographs, collections of which often appear in book form, are hotly collected, and this is a bookselling flashpoint that should be committed to memory once and for all.
Who Is Your Competition?
And Why It Matters
Have you ever thought much about who your competitors are? By this I don't mean all booksellers; I mean only the ones who sell books in the same price range you do. Are they better or worse at it than you are? A better question: What can your competitors tell you about the current state of your business? Believe it or not, they can tell you a lot. Read today's first article for an explanation.
The Case of the Shrinking
Online Bookstore
Selling on Amazon
It's official. Amazon's zShops are gone. And of course they've replaced them with something better - uh, well, not so fast. Steve Weber begs to differ. Though the transition isn't complete, Amazon's Pro-Merchant storefronts are hardly powerhouse selling tools and in fact may produce next to none or no sales for you, at least until some promised changes happen. If they happen. Steve elaborates on this and also discusses something that may help in the meantime - Google Base Store Connectors. Though still in beta testing, it's free, easy to set up, and will give you some additional exposure for the holiday season.

50/50 Issue #18
One Author, So Many Possibilities
Now Available
Issue #18 of 50/50 is now available for purchase; its focus is "One Author, So Many Possibilities." Subscribe today here.
Introducing .... BookHunt
Software Designed for
Buying Inventory Online
The bookselling theme we pound the hardest at BookThink is this: Sell better books. Agreed, some of you don't live in inventory rich areas, and this may be easier said than done. One solution I've suggested is to start buying some of your inventory online. After all, where are most of the best books located? For most booksellers, however, especially those new to the business, buying online is significantly more difficult than buying books in the field. Or was until now. Software developer Ian Ashbury has come to the rescue. Ian has designed a tool for BookThink that will greatly enhance your ability to not only locate inventory online but also save you countless hours you otherwise would've spent slogging through listings at eBay. It's called BookHunt, and here's more information.



BookThink Consulting - Phase I
BookThink's eBay Critique
FAQ
NEW! Are your eBay auction presentations lacking that certain something? Are you frustrated with listing high quality items again and again and not getting top prices for them? If so, BookThink's new consulting service, eBay Critique, may be the answer. eBay Critique consists of two elements - one, a detailed analysis of your existing eBay auctions identifying specific problem areas; and two, suggestions for improvements. Primary areas of concern include image quality, presentation layout and textual content. Read our FAQ for more details and get started today.
Previous BookThinker update- BookThink Update
30 October 2006>>>




Children's Picturebook Price Guide
A BookThink Review
In my never-ending quest to locate the best and brightest reference books for booksellers, I've found one that will be of special interest to children's books collectors and booksellers - Linda and Stan Zielinski's Children's Picturebook Price Guide. What initially piqued my interest about this book was that it contained issue points for Dr. Seuss first editions. However, flashpoints abound as well, and for once they don't have to be coaxed out of pages and pages of dull price listings; they're actually presented in ready-to-use lists. Find out why this book impressed me, and, if you have $15 or $20 to spare, buy it.
<! col two ends> <!spacer>
<! col. three begins>






<! col. three ends> <!spacer>
<! col. four begins>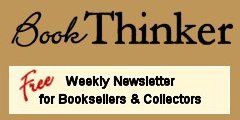 <! col. four ends>