<!spacer>

Contrived Nature




by Pamela Palmer

#72, 10 July 2006
Landscape Architecture & Its Role at Biltmore House
Life in the Gilded Age required exquisite settings and that was true in spades for a Vanderbilt. So when George Washington Vanderbilt set out to build his country house, he had plenty of role models among his relatives. Their mansions were only rivaled by their yachts and entertainments. For the grandchildren of the richest man in the world, spending came naturally. They set out to create splendor and to highlight their social position - and succeeded. But none reached as grand a level as George. Though younger and less wealthy, he built with the greatest excess of them all.
Though a 250-room French Renaissance chateau in the Appalachian region commands instant attention, the setting adjacent to George's county house was equally contrived to be eye-catching. He wanted pleasure gardens for himself and his guests to enjoy but that was only the beginning. Behind the formal gardens and artfully arranged landscapes, he wanted an estate that could be self-supporting. For a twenty-seven year old who still lived with his mother it was quite a stretch.
After a visit to the Asheville area with his mother in 1888, George began buying land in the area through an agent to conceal his identity. Most purchases were from poor farmers with small holdings that had been run literally into the ground. Any salable timber had been harvested to maintain a hardscrabble life. So George came away with acreage so lacking in natural beauty that even he was daunted.
Originally he had the notion of turning vast acres of his estate into parkland but voiced some doubts to preeminent landscape architect Frederick Law Olmsted. Olmsted already dominated American landscape architecture with credits including New York's Central Park and various other Vanderbilt properties. His advice to George was clear: Limit the formal landscaping to areas adjacent to the house and start with a major impact along the approach road from which the house comes suddenly into view. He looked at the sparse vegetation there and began to plan for a lush approach and a variety of gardens for family and guests. Above all, he focused on vistas, giving a sense of unity in nature to each as they came into view.
The Approach Road
A three-mile stretch of road with seven bridges joined the entrance gates to Biltmore House. Olmsted designed this forested road to transition guests from the commonplace into a quiet forest that unfolds until they suddenly came upon the esplanade and Biltmore House. Though appearing natural, the forest is a product of Olmsted's careful design. The hard worn farmland was transformed with meadows, water features, and an abundance of rhododendron and other plants. Vistas were revealed as the road curved upward.
To achieve the optimal impression, Olmsted planned the road in two portions. For the lower approach road, he diverted a stream for areas with intense low plantings and ground covers. The first stone bridge spans a stream. Then as the road rises, other bridges and vistas appear until with a sudden turn, guests glimpse the esplanade through the gates and beyond it see the mansion. After the forest interlude, guests are ushered into George Vanderbilt's world.
The Esplanade & Rampe Douce
At first the house dominates, but gradually guests become aware of other focal points. From the gates, the Rampe Douce forms a wall of stone pathways, rising high and crossing between parallel walls with recessed fountains. Shallow steps lead to a vista at the higher level but it primarily serves as an architectural balance across the esplanade opposite Biltmore House.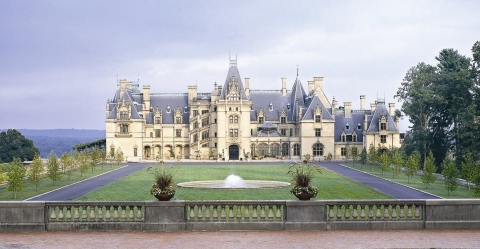 Guests standing at the balustrade of the Rampe Douce find their eyes drawn across the esplanade to where the chateau rises. Bordered by roadways and parallel stands of tulip poplars, its only architectural feature is a low fountain centered in the rectangular expanse of lush grass.
The esplanade is but one of what Vanderbilt and Olmsted called the pleasure gardens that are linked to the mansion. The other four are the South Terrace (also called the Library Terrace), Pergola, Italian Garden, and the Ramble.
The Library Terrace, Pergola & Italian Garden
Keeping in mind that Vanderbilt and his guests would be in residence primarily during winter and early spring, Olmsted provided areas adjacent to the south terrace on a lower level for outdoor activities. The Pergola with stone walls is warmed by morning sun and provides a cool sitting area later under a wisteria-covered trellis.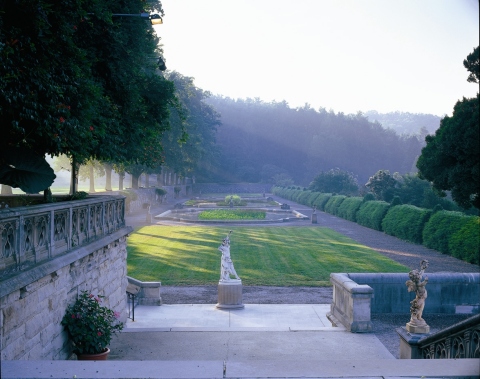 In front of the Pergola, the Italian Garden runs parallel to the esplanade. Here turn-of-the-century guests are pictured playing croquet in the flat grassy area at the base of stone steps. Three pools extend the length of the garden with its symmetrical design. Close to the mansion, the Italian Garden is sheltered by a stone retaining wall. To its south lies The Ramble.

<! col. two ends> <!spacer>