<<< Continued from previous page
The Ramble & English Walled Garden
Below the terrace area, The Ramble and Shrub Garden lead to the Walled Garden. Guests find the mood more casual and symmetry gives way to walking paths. The Ramble's walkways curve downward. Olmsted planned shrubs for this area but their planting was deferred for years. At the end of The Ramble, high stone walls rise to surround the English garden. In keeping with the English style, it is filled with flowers and excludes statues and fountains. The flowers vary with the season - tulips, summer flowers, and chrysanthemums. Originally planned as a vegetable garden, Vanderbilt insisted on a flower garden instead. Consisting of three terraces, the English garden is visually divided by an arbor.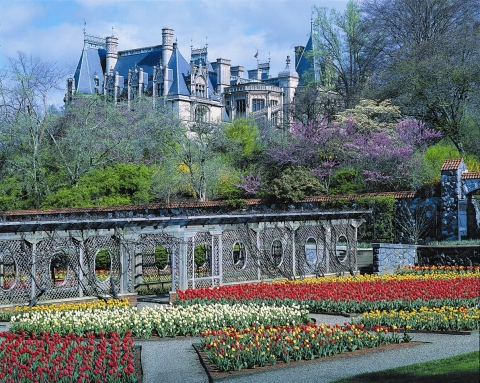 Espaliered trees and shrubs provide mid-level views. Beyond the Walled Garden, the Conservatory appears, restored to Hunt's design in the late 1950s.
Azalea Garden, Bass Pond & Spring Garden
Olmsted designed a spring garden to unite the shrub and azalea gardens. Though some of the plans were delayed, the current arrangement is basically his. The Bass Pond is a complex creation involving a dam with stone spillway merged into the natural surroundings. Restoring it proved to be a complicated undertaking. In 1991, the elaborate flume system Olmsted created was carefully restored.
Beyond the Spring Garden and across a road lies the Azalea Garden. Named for Chauncey Beadle, Biltmore superintendent, on the fiftieth anniversary of his employment, the garden covers fifteen acres of native and hybrid azaleas with stone steps and paths wandering throughout. The azaleas were Beadle's special interest and he enlisted friends to help him gather the many varieties for what is considered the world's most complete collection.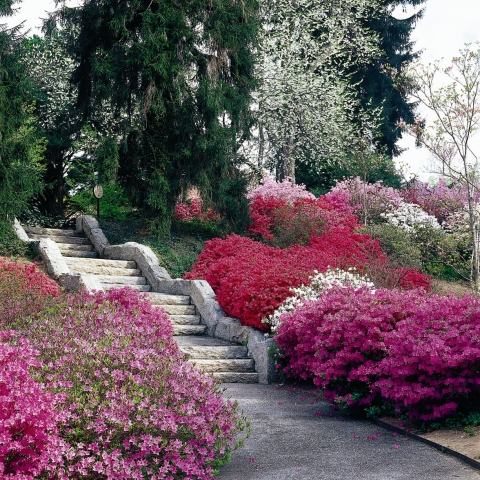 For Vanderbilt's guests out on a morning stroll, the area near the Azalea Garden was a distant goal only the most athletic would contemplate. In The Gilded Age at Biltmore Estate, a typical schedule shows that Victorian guests scarcely had time to wander far from the formal grounds. With obligatory clothing changes at least five times a day, strolls were most likely between 11:30 and 12:30 in the Italian and walled gardens. An afternoon ride would take them farther from the mansion, but in a different direction.

Vanderbilt and Olmsted each shaped Biltmore House's landscape architecture. In the end, it was Olmsted's plan - but Vanderbilt's vision.

<! col. two ends> <!spacer>