<! col one starts>
<! col one ends> <!space>
<! col two starts>



<!spacer>

Collecting Mystery & Detective Fiction

by Pamela Palmer

#54, 24 October 2005
As the hype heats up about the next James Bond, readers recall that before Pierce Brosnan there were others - Timothy Dalton, Roger Moore, George Lazenby, and Sean Connery. But before any of them, there was Ian Fleming. Perhaps the most interesting of them all, Fleming scarcely rivaled Bond's secret agent skill set. His time with British Naval Intelligence rarely put him in the steamy world of spies and chicanery.
He grew up in another setting. Family status positioned him in moneyed company where he learned the sophisticated style he later gave Bond, but Fleming himself was not wealthy. Failure to pass the Foreign Service exam and a disappointing stint as a journalist overshadowed his success as amateur athlete and lady's man, but he never abandoned the latter avocations. As early as his late 30s, Fleming's health was declining, precipitated by sixty to seventy cigarettes and hefty quantities of gin consumed daily. All in all, life was a bit of a letdown.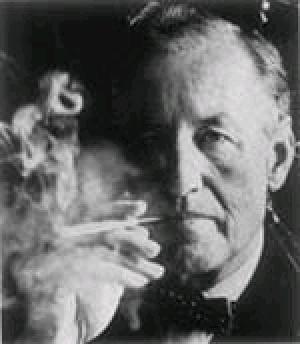 Then one day while sitting in his Jamaican house called Goldeneye, Ian Fleming realized he had a choice. He could dwell on his frustrations or twist them into a potent fiction. That's when he created the suave, successful - and sexy 007.
Though Fleming and Bond are not the same, they share interests and inclinations. Fleming's wife Anne recalled their meeting, "I thought Ian original and entertaining," Pearson quotes her as saying, "He was immensely attractive and had enormous charm. But it was as a character that he really interested me. He was totally unlike anyone else I had ever met. There was something defensive and untamed about him, like a wild animal.... he never wanted to talk about himself. Of course, I found it a great challenge to get through this barrier and find out what lay behind." [179]
Fleming's writing showed a dark side. The first Bond novel, Casino Royale, was published in 1953, the same year Playboy was founded. Both Bond and Hefner's magazine featured a sexual freedom and an urbane lifestyle far removed from the typical 1950s sensibility. More Bond novels and short story collections followed Casino Royale. In addition, Fleming wrote the children's book Chitty-Chitty-Bang-Bang (1964-65) and several other titles.
The Bond movie phenomenon, starting with Dr. No in 1962, stripped much of the torture and ugliness from Fleming's novels and shaped the public image of 007. By the time Fleming died two years later, his legacy was centered on Bond, and he had been called everything from a dirty-minded schoolboy to a Renaissance man. Less-well known was his skill in collecting antiquarian books. Fleming's acumen as a collector is evident from the forty-four books from his collection included in the noted 1963 "Printing and the Modern Man" exhibition held in London.
The next year, Fleming was dead at age 56. Though several writers penned Bond novels later, they met with indifferent success.
Values & Points
If you collect or sell Fleming's books, you'll find an active market at both traditional auction houses and on eBay. Sales are brisk and garner substantial prices on both venues. American Book Prices Current (ABPC), 2002-2003, reports eight copies of Casino Royale were sold. They range from $40,000 (£25,092 app.) down to £1,400 with six of the eight at or above £5,000. The highest price went for a first edition in a dust jacket with minor chipping. "Inscr to John Hayward: 'This pre-natal 1st Edition ...' with pencil corrections by Hayward. Rechler copy."

In August 2005, a Casino Royale first edition sold on eBay for $1,952.43 without a dust jacket. It had "bumps and rubbing to the edges, and the spine is slightly rolled."

But these auctions do not approach the prices set by two Abebooks sellers who each list a Casino Royale first edition for $67,979.98. Interestingly, both are boxed, inscribed presentation copies from Fleming to Ian Munro.

Though Casino Royale generally commands the top prices, other Fleming titles bring in high prices too. In August 2005, a copy of The Man with the Golden Gun sold on eBay for $2,282.57. It's described as "FIRST EDITION, FIRST IMPRESSION, FIRST STATE with proper points ('First Published 1965' at top of copyright page with no reference to subsequent printings or a month of printing, green & white patterned endpapers, list in front of book to "You Only Live Twice' and rear DJ flap to itself." The description states, "THIS IS THE TRUE ULTRA-RARE 1ST STATE OF THE 1ST PRINTING WITH THE 'GOLDEN GUN' IMPRINTED IN GOLD GILT INK ON THE FRONT BOARD." The seller writes that only 150 copies with this golden gun were printed making this "EASILY THE RAREST STATE OF ANY FLEMING BOOK...."

Two useful sources for points on Fleming first editions are readily available. Firsts: The Book Collector's Magazine for November 1998 (vol. 8, #11) focuses on Fleming and includes "The James Bond Books of Ian Fleming: A Descriptive Bibliography," by Lee Biondi and James M. Pickard. Including both the British and American first editions, the article contains pictures and many details. Casino Royale, for example, is shown with the hightest value of the Bond books.

<! col. two ends> <! space>
<! col. three begins>


<! button for rotating ads starts here>

<! col. three ends>