<<< Continued from previous page
For the 1953 first edition by Jonathan Cape of London, it notes in part, "Octavo. [1-4]5-6[7-8]9-218[219-220, blank]. [A]8 B-I8 K-N8 O6." The detailed description, says "The jacket is genuinely rare in fresh condition without general wear and tiredness and spine fading. The white back panel is easily subject to soiling. Near fine in near fine dust jacket, $10,000 Fine in fine dust jacket, $15,000" [p.40] The first printing in New York by Macmillan Company (1954) commands far less. Biondi and Pickard list its fine in fine dust jacket value at $2,000.
Another useful source for points is Goldeneye Rare Books' "Ian Fleming Bibliography: James Bond U.K. First Edition Books." The site includes color pictures of dust jackets and descriptions, as well as the size of the first print runs.
Fleming memorabilia sells too. In October 2005, a handwritten letter from Fleming to Jane (or Janet) Coats sold on eBay for $1,771.01. It was found at a Sussex England estate sale, and the eBay seller notes it had been with other Janet Coats papers and that a named U.K. expert authenticated it. The contents are rather mundane, dealing with a job she is considering with the British Council, but the seller notes it is unusual in being handwritten rather than typed. Other types of related merchandise includes movie and theatre posters, autographs, and facsimiles.
ABPC 2002-2003 reports the sale of the Chitty-Chitty-Bang-Bang typescript for £22,000 and a transcript carbon copy typescript of Diamonds are Forever sold for £32,000.
Fleming's Publications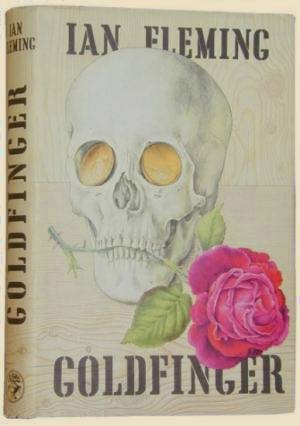 Casino Royale: London, 1953; New York, 1954; republished in paperback as You Asked for It: New York, 1955.
Live and Let Die: London, 1954; New York, 1955.
Moonraker: London, 1955; New York, 1955; republished as Too Hot to Handle: New York, 1957.
Diamonds Are Forever: London, 1956; New York, 1956.
From Russia, with Love: London, 1957; New York, 1957.
The Diamond Smugglers: London, 1957; New York, 1958.
Dr. No: London, 1958; republished as Doctor No: New York, 1958.
Goldfinger: London, 1959; New York, 1959.
For Your Eyes Only: Five Secret Occasions in the Life of James Bond: London, 1960; republished as For Your Eyes Only: Five Secret Exploits of James Bond: New York, 1960.
Thunderball: London, 1961; New York, 1961.
The Spy Who Loved Me: London, 1962; New York, 1962.
On Her Majesty's Secret Service: London, 1963; New York, 1963.
Thrilling Cities: London, 1963; New York, 1964.
You Only Live Twice: London, 1964; New York, 1964.
Chitty-Chitty-Bang-Bang: 3 volumes, London, 1964-1965; 1 volume, New York, 1964.
The Man with the Golden Gun: London, 1965; New York, 1965.
Octopussy, and The Living Daylights: London, 1966; republished as Octopussy: New York, 1966.
In addition, Fleming authored several book introductions, articles, and other brief works.
About Fleming and Bond
To learn more about Ian Fleming's life and writing, start with Andrew Lycett's Ian Fleming: The Man Behind James Bond (Turner, 1995) or John Pearson's The Life of Ian Fleming (Cape, 1966). Selected other titles about Fleming and Bond include:

Ian Fleming: A Catalogue of a Collection, by Iain Campbell. (the author, 1978).

"Interview: Ian Fleming," Playboy 11(Dec. 1964): 97-106.

The James Bond Dossier, by Kingsley Amis (New American Library, 1965).

Ian Fleming: The Spy Who Came In With the Gold, by Henry Zeigler (Duell, Sloan, Pearce, 1965.

<! col. two ends> <! space>