<! col one starts>
<! col one ends> <!space>
<! col two starts>



<!spacer>

Building a Book Website

by Catherine Petruccione

#44, 30 May 2005
Part II: Marketing
Printer Friendly Article
Important note:
This article includes html code. In order to prevent browsers from executing the code, rather than showing it as code, a period is inserted after each < To use the code in a html project, remove the period.
I'll soon talk about how to get customers to arrive at your website, but keep in mind that hits without sales are pretty meaningless. Although it is important to make your website appealing to search engines, it is imperative to make it appealing to human beings.
The most vital marketing tool, and perhaps the most overlooked, is website content. As with any well-run retail store, once your customers arrive you must give them a reason to stay - to browse and to purchase. You also want to give them a reason to return. This calls for both creativity and diligence on your part. "Here are some books to buy" is not enough, especially in today's competitive world of online bookselling. You must learn to think like a customer: "What am I getting out of visiting this store vs. any other store?"
Suggestions for Customer Incentives
The Gift of Knowledge. Give your customers knowledge they can refer to or take with them, and they will remember your site. They might even bookmark it. The possibilities are endless. It could a simple glossary of bookseller's terms or something more complex, such as a regular book-related feature that changes at least monthly. Topics for features may depend both on your areas of expertise (e.g., the history of cookbooks, collecting books on aviation, favorite authors, etc.) and your available inventory, which could effectively be presented along with it.

Useful Suggestions. If Father's Day is coming, post a small reminder on your home page with a link to some great gift ideas. Does dad like fishing, chess, hunting, barbecuing, horse-racing? Here are some books he might like. The same idea works for other holidays associated with gift giving.

New and Updated Inventory. Keep your inventory up to date by removing sold books daily and adding new books often. When you don't have time for a large upload, try to add at least as many books as you remove each day. It's frustrating to customers to purchase a book only to find out that it isn't really available, and it's no fun to go to a site that doesn't have a regular influx of new stock.

Detailed, Accurate Descriptions. Give a reasonable amount of detail in your descriptions. VG/VG isn't enough to describe a book's condition. Digital photographs are a tremendous tool for selling books because customers can see the general condition and appearance of the book. Consider photographs for your more desirable/expensive books at the very least, also for books with attractive selling points - for example, those with fine bindings, illustrations, maps, etc. Textual descriptions of a book's content or background may help as well.

Excellent Customer Experience. Be nice to your customers. Answer inquiries promptly and to the best of your ability, even if you don't anticipate a sale. Acknowledge orders promptly, and give customers shipping dates, shipping methods and tracking information. Package books in a professional manner so they will arrive undamaged. Enclose a business card with the order. Consider offering gift wrapping for books that are purchased and drop-shipped. Provide excellent customer service through ALL the venues on which you sell, and customers will seek you out at your website.

Follow-up. If a customer mentions that they are looking for more books by a particular author or of a certain genre, make a record of it and put it where you can find it later. We've made quite a few sales by contacting previous customers when we acquire stock we know they'll be interested in. We also offer online searches for customers who have immediate needs for books we don't have in stock, and we do our best to find nice, clean copies for them at reasonable prices.

Recognition. Successful businesses acknowledge their best customers. Consider rewarding them with free shipping or a special discount during the holidays, a small gift, or some other creative way to say "thank you" at any time of the year.
Keywords, Meta Tags and Spiders ... Oh, My!
We've talked about how to create a website and how make it appealing to human beings. The next step is to make it look good for the search engines. If, like me, you are much more interested in books than in computer lingo, this is a tougher assignment. It would be simple if everyone agreed on what works and what doesn't, but in my research, I haven't found that to be true. And, like everything else, what works and what doesn't work keeps changing. Here are the basics that we have used with some degree of success and some useful links which will connect you to much more detailed information.
Important Note: you do NOT have to be a computer wizard to establish a website. Our site was built for us by Chrislands. Instructions for entering meta tags were clear and simple, and support is always available. If you aren't familiar with html language, this won't be a huge obstacle, but it is important to know the purpose of the tags and the role they play in bringing customers to your site.
Title Tag
As shown in the example below taken from our website (in html language), the title tag appears at the beginning of the page under

. The text placed between <.title> and <./title> will appear in the reverse bar of a person's browser when they are on your webpage. The text placed here will also appear as a description when your page has been placed in a "Bookmarks" or "Favorites" list. Point your mouse at a web address on your list of favorites, and you'll see what I mean.

According to search engine guru Danny Sullivan, the Title Tag is crucial for search engines.

It's one of the most important factors in how a search engine decides to rank your site. Though the example below shows line breaks, make sure to put each element of metacoding on a separate line, so <.title> ... <./title> is on one unbroken line, <.meta name="keywords" content=....> is on a second unbroken line, and <.meta name="description" content ...> is on a third unbroken line of coding.
Meta Keywords Tag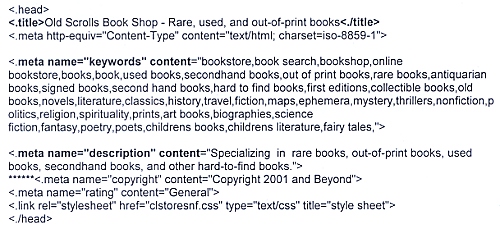 To see html language of Old Scrolls or any webpage while you are online at the webpage, click "View" and then "Source" \ if you are using Internet Explorer. If you are using Netscape Navigator, click "View" and then "Page Source."

The meta keywords tag is the fourth line down in our example. You have probably heard that the "keywords" used when submitting your website to search engines are very important. Well, some gurus claim that they aren't all that important anymore because few crawlers use them. What actually may be important is "key phrases." For crawlers that do use them, they can be useful to increase the chances that someone searching for, say, "civil war history" will make it to your page listing books on that subject.

To determine effective key phrases, once again you have to think like a customer. Imagine the words or phrases they will use when searching for books. "Book on gardening," "children's books," "horse stories," "French Language" ... get the idea? You can't possibly anticipate or use every possible phrase, but you can make a list of the ones which are the most likely to result in directing people to your books. Try searching yourself with various key phrases for different types of books, and see what results come up. This will help you understand what you need to accomplish with key words and phrases. But be warned: repeating any keyword too often (more than five times) can actually do harm to your page. Current advice I have read runs along the lines of "don't obsess over keywords." To learn more about search engines, I suggest visiting SelfPromotion.com and Search Engine Watch.
Meta Description Tag
Refer back to the example above. This is the last tag in bold letters in our example.

The text in this section will describe what your website is about and will impact how it is described in the search engine listings. Some search engines use the Meta Description Tag to generate a description, some use it partially (supplementing it with information gleaned from the page), and still others ignore the Meta Description Tag and generate a description exclusively from the body copy of the page itself. In our case, we are trying to convey that we sell used, rare and out-of-print books. Other possible descriptors could be old, antiquarian, first editions, books on exploration, etc. The words you use will depend on your specialty areas and, frankly, on what you discover works best for you through experimentation.

<! col. two ends> <! space>
<! col. three begins>


<! button for rotating ads starts here>

<! col. three ends>