<!spacer>

Building A Bookselling Reference Library

by Craig Stark

#28, 11 October 2004
Part III: Price Guides and How to Use Them
Price guides. Got any? My take on this is that, as a rule, booksellers don't attach much importance to them. Or buy them. I do - in fact, I amass them. Dozens are sitting quietly on my shelves an arm's reach away. I started buying them when I first got into this business, have relentlessly continued to grab them over the years, and still look for (and occasionally buy) titles I don't have. I consider them one of the best investments you can make in this business, but you know what? I almost never use them for the purpose they were written - pricing.
As long as a book has enough value to justify the time I take to get it sold, I'm not particularly interested in what an author thinks it's worth. Let's face it, in this volatile era we sell in most price guides obsolesce the moment they hit the store shelves. Assuming that quoted prices are grounded in reality at the time of publication, give it a few months, and are they still? A few years out, and I think you'll agree that it's probably time for a complete revision.
Book values are far more accurately arrived at by other means. Often, this can be accomplished online in a matter seconds and requires no investment whatsoever. But, if so, why bother with price guides? Here's the reason: unlike prices, niches don't change much. Sure, some come and go, heat up overnight, and disappear the next morning, but the truth is that most books that collect well today also collected well 5 or 10 or more years ago. If we can get our hands on this kind of information - what's collectible and what's not - we can convert it into profit-producing flashpoints. This is where price guides can deliver because they show us the all-important relative values, how one title stands in relationship to others in a defined grouping or genre.
Unfortunately, these guides are rarely user friendly for booksellers because they aren't written for booksellers. They're written for collectors, usually by a collector who may or may not be a seller. As much as you might want them to, price guides don't dish out flashpoints as flashpoints. The good news is that it doesn't take long to get at the vital stuff, make a pile of goodies, and sort it into something useful. This article will show you how.
The example I'm going to use for demonstration purposes is Steve Santi's Whitman Teenage Fiction Identification & Value Guide 1936-1972.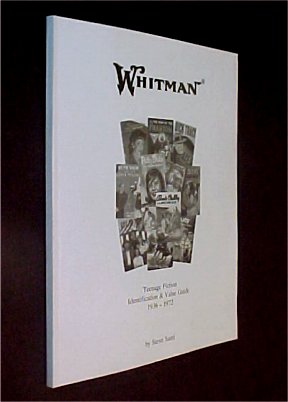 This is my most recent purchase; it's still sitting on my desk; and it's a manageable size. By the way, this particular guide is uncommon. I had to contact Steve personally to get it because there weren't any copies available online. See what lengths I'll go to? (He still has a few left if you're interested and has since posted them for purchase on his website.)
You might recognize Steve as the author of the far more common, often revised and reprinted Collecting Little Golden Books, one of the better niche guides out there.
Ok, the first thing to do with this thing is go plum picking, find the fruit, and to do this we'll first need to pick a price threshold. Suit yourself here, but if you typically buy books for about a buck, it makes sense to me to set the threshold at a current market value of at least $20 to $30. If the guide you're working with is a relatively recent publication, you should be good to go. (Steve's is reasonably close.) If not, you might need to do some calibrating first. Research a few of the higher priced titles online and look for trends. If most of the prices have dropped or risen significantly since the guide was published, ratchet your threshold up or down accordingly.
Assuming we're all at $20 then, go through the book page by page and mark the books that are valued at this amount and higher. Remember, we're looking at prices for first editions in collector grade condition - the kind that sell readily for top dollar - so if the guide quotes prices for differing condition, pick the highest. This usually means VG (Very Good) to F (Fine) with (if applicable) dust jackets. Here's my completed list:
I. 2300 Series (Dust Jackets) (1936-1954)
2300 Blondie and Dagwood's Adventure in Magic 1944
2301 Jane Withers and the Swamp Wizard 1944
2302 Gene Autry and the Big Valley Grab 1954
2303 Gene Autry and the Thief River Outlaws 1944
2302 Little Orphan Annie and the Gila Monster Gang 1944
2304 Rip Foster Rides the Gray Planet 1952
2305 Gregory Peck and the Red Box Enigma 1947
2305 Roy Rogers and the Rimrod Renegades 1952
2306 Betty Grable and the House of Cobwebs 1947
2306 Tarzan and the Forbidden City 1954
2307 Dorothy Lamour and the Haunted Lighthouse 1947
2307 Tarzan and the City of Gold 1952
2308 Judy Garland and the Hoodoo Costume 1945
2309 Roy Rogers and the Gopher Creek Gunman 1945
2310 Dick Tracy Meets the Night Crawler 1945
2311 Shirley Temple and the Spirit of Dragonwoo 1945
2313 The Blue Streak and Doctor Medusa
2318 Red Ryder and the Adventure at Chimney Rock 1946
2320 King of the Royal Mounted and the Ghost Guns of Roaring 1946
2322 The Son of the Phantom 1946
2324 Van Johnson, the Luckiest Guy in the World 1947
2325 Betty Hutton: The Romance on Palmetto Island 1947
2326 Gene Autry and the Redwood Pirates 1946
2329 Roy Rogers and the Riders of Sawtooth Range 1946
2330 Shirley Temple and the Screaming Specter 1946
2333 Blondie and Dagwood's Marvelous Invention 1944
2334 Red Ryder and the Secret of the Lucky Mine 1941
2343 Red Ryder and the Mystery of Whispering Walls 1941
2344 Red Ryder and the Secret of Wolf Canyon 1941
2347 Roy Rogers and the Outlaws of Sundown Valley 1950
2348 Roy Rogers and the Ghost of Mystery Rancho 1950
2349 Gene Autry and the Golden Ladder Gang 1950
2355 Gene Autry and the Bad Men of Broken Bow 1951
2355 Deanna Durbin: The Adventure of Blue Valley 1941
2356 Deanna Durbin: The Feather of Flame 1941
2356 Red Ryder and the Riddle of Roaring Range 1951
2361 Roy Rogers on the Trail of the Zeros 1954
2367 The Bobcat of Jump Mountain 1941
2368 Red Ryder and Gun Smoke Gold 1954
2373 Roy Rogers and the Enchanted Canyon 1954
2374 Blondie and Dagwood's Secret Service 1942
2381 Dick Tracy Ace Detective 1943
2386 Betty Grable and the House with the Iron Shutters 1937
II. 1500 Series - Cello (1955-1966)
1500 Roy Rogers and the Brasada Bandits 1955
1501 Roy Rogers on the Trail of the Zeros 1955
1502 Roy Rogers and the Enchanted Canyon 1954
1503 Roy Rogers King of the Cowboys 1956
1504 Roy Rogers and Dale Evans in River of Peril 1957
1505 Lucy and the Madcap Mystery 1963
1506 Dale Evans and Danger in Crooked Canyon 1958
1510 Gene Autry and the Ghost Riders 1955
1510 The Munsters and the Great Camera Caper 1965
1511 Gene Autry and the Golden Stallion 1954
1512 Gene Autry and the Arapaho War Drums 1957
1521 Tarzan and the City of Gold 1954
1522 Tarzan and the Lost Safari 1957
1526 Leave it to Beaver 1962
1535 Zorro 1958
1538 Annie Oakley in the Ghost Town Secret 1957
1538 Annie Oakley in Double Trouble 1958
1539 Rin Tin Tin and Call to Danger 1957
1540 Annie Oakley in Danger at Diablo 1955
1541 20,000 Leagues Under the Sea 1955
1547 Dr. Kildare 1963
1547 Red Ryder and the Thunder Trail 1547
1548 The Rebel 1961
1549 Circus Boy: Under the Big Top 1957
1550 Bat Masterson 1960
1566 Gilligan's Island 1966
1568 Have Gun Will Travel 1959
1569 The Rifleman 1959
1578 Circus Boy: War on Wheels 1958
III. 1500 Series - Matt Finish (1961-1975)
1544 F-Troop 1967
1549 Star Trek: Mission to Horatius 1968
1570 The Green Hornet: The Case of the Disappearing Doctor 1967
IV. 2100 Series - Classics (Dust Jackets) (1935-1952)
2125 Treasure Island 1942
2137 Robin Hood 1940
2140 Alice in Wonderland 1945
V. 2100 Series - Tom Swift (Dust Jackets)
2160 Tom Swift and His Television Director
2161 Tom Swift and His House on Wheels 1929
2162 Tom Swift and His Sky Train
2163 Tom Swift Circling the Globe 1927
2164 Tom Swift and His Ocean Airport 1934
2165 Tom Swift and His Planet Stone 1935
2166 Tom Swift and His Flying Airline Express 1926
2167 Tom Swift and His Talking Pictures 1928
2168 Tom Swift and His Big Dirigible 1930
2169 Tom Swift and His Giant Magnet 1932
There are 595 titles listed in this guide. Of those, 88 of them met my $20 or better criterion. What do we do with this information? First, there's absolutely no need to memorize the list. What is helpful, however, is to look for patterns and try to form intuitive groups from them. After examining the list, this is how I broke things down:
Children's Classics: 3
Comic Strip Characters: 7
Movie Stars: 12
Science Fiction & Adventure: 20
TV Tie-Ins: 5
Westerns: 41
Every title on my list fits into one of these categories. Some of them fit into 2, 3 or more. It's immediately apparent that "Westerns" comprise the biggest percentage by far. It's also interesting to note that many Westerns in Steve's guide just missed getting on this list (e.g., at $16 to $18), and very few Whitman Westerns have values under $10. For those of you who have looked at Gold Edition #6 (Profiting from the Fabulous 50's, Part I: 50's TV) or otherwise know your stuff, it should come as no surprise that Westerns attract great collector interest. "Science Fiction & Adventure" is no surprise either, nor are "Movie Stars" and "TV Tie-Ins" - if you pick your spots.
The other 2 categories seem less promising. Whitman published many, many children's classics, and the fact that only 3 of these titles have significant value doesn't support this category for status as a flashpoint, though it's important, I think, to make a mental note of the 3 titles that did make the cut. "Alice in Wonderland," for example, is a perennial flashpoint. Also, "Comic Strip Characters" doesn't strike me as an especially hot category either. It just so happens that Dick Tracy and Blondie & Dagwood are collectible entities in their own right.
So, let's toss the last 2 categories and distill this into something useful, something that will fit on a single page in a small notebook. Looking back at the list, there's one other pattern worth paying attention to: series. There are 3 exceptionally strong ones here - Tom Swift, Red Ryder and Tarzan - so strong that any title in any one of these series should be an automatic buy at a sale.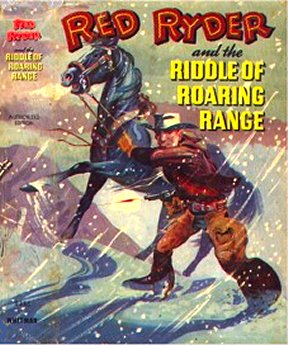 If you carry a notebook with you to sales, this is how I'd put together the page:
WHITMAN TEENAGE FICTION
GENRE FLASHPOINTS
Movie Stars
Science Fiction & Adventure
TV Tie-Ins
Westerns
TOPIC FLASHPOINTS
Blondie & Dagwood
Dick Tracy
Red Ryder
Tarzan
Tom Swift
There it is. 9 whopping flashpoints. The results might not seem like much at first, especially since I coughed up over $20 for this guide and spent almost an hour mining it, but the kicker is, if you memorize this short list, you'll be armed with every ounce of information you'll need to grab 99% of Whitman Teenage Fiction books worth grabbing; you'll come home with very little junk; and the first time you come across a winner, you'll pay for the expense of the guide, your time spent mining it, and probably have something left over.

The same process can (and should) be applied to any price guide. Some guides are much larger and require a more substantial investment of time, but every one of them is a gold mine of flashpoints.

<! col. two ends> <! space>