<<< Continued from previous page
Good catalogues also demonstrate our knowledge of a particular subject. Don't be afraid to show that you've done your research. Cite bibliographies that mention your book. Quote experts in the field who've written biographies of a particular author or illustrator you're featuring. There's no need to write a dissertation on the subject, but customers need to know about a book in the context of the historical period in which it was written or in which the author lived. Some of the best bookseller catalogues are de facto pieces of scholarship. In Nicholas Basbanes' book about book collectors and booksellers, Among the Gently Mad, the author, credits John Hill Burton, a nineteenth century Scottish bibliophile with this glib comment about collectors (and by extension sellers) of antiquarian books: "It is, as you will observe, the general ambition of the class to find value where there seems to be none, and this develops a skill and subtlety, enabling the operator, in the midst of a heap of rubbish, to put his finger on those things which have in them the latent capacity to become valuable and curious." A catalogue which allows a collector to discover the value in a particular book is a good catalogue.
Depending on the type of books he sells, a bookseller may need to include images of the books for his customers to examine. Catalogues with photos tend to be more appealing to customers. A good picture may be worth a thousand words, but a poor photo can also persuade a customer not to buy your books. Take good, clear, crisp photos, in color, if you can afford to print in color, that show any of your books' defects. The images in a good catalogue should be clear enough and large enough for your customer to see a book's beauty but also to show condition issues such as bumped corners or lightly soiled covers.
A good catalogue gives the customer some interesting books to examine and piques his curiosity for more. It also gives the bookseller a chance to cross sell, to point out related items to his customer. This can be done in the description itself, in a sidebar, or by placing companion products together on a page. In my Dante catalogue I offered a set of illustrated trade cards depicting the life of Dante and made sure to tell customers where to look in the catalogue to find a similar set of cards illustrating Dante's Divine Comedy. At the bottom of this page from my catalogue, in red font, it was easy for me to let my customer know about a related item in which he might be interested.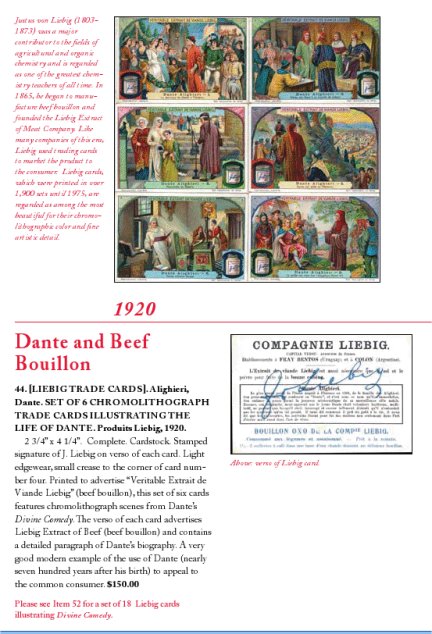 Are you an antiquarian bookseller? Then consider the appeal of issuing a good catalogue. When a catalogue is created with care, it gives a you a chance to showcase your books, to demonstrate your knowledge, to express your enthusiasm, and to distinguish yourself from the other booksellers.

Read Part I of this series here.

*For more commentary on the subject by another bookseller, read this enlightening article by Brian Cassidy, Bookseller, ABAA:

<! col. two ends> <! space>

<! col. four begins>