<! col one starts>
<! col one ends> <!space>
<! col two starts>



<!spacer>

by Chris Lowenstein

#150, 8 November 2010
What Makes a Good
Antiquarian Book Catalogue?
| | | |
| --- | --- | --- |
| Last month, I urged antiquarian booksellers to invest the time and effort needed to produce a catalogue of books for sale. Whether issued occasionally or regularly, in print or electronic format, catalogues are the calling card of a good antiquarian bookseller, a way of providing a tangible aspect to what can be, especially if you sell books online only, an intangible business. Catalogues help customers become familiar with the range of books you offer for sale and can also help those unfamiliar with your business to determine whether you have the skills necessary to sell them good books. | | |
Producing a catalogue is one of many ways to establish a reputation in the trade, and, if you choose to do so, you must take care to produce a good catalogue. The words of legendary 20th century bookseller Leona Rostenberg sum up best what makes a good catalogue: "A catalogue is a dealer's showcase. In it, he displays his wares; parades his knowledge; offers his expertise." Though I have considerably less experience than Rostenberg, I have my own ideas about what makes a good catalogue:
A good catalogue has good books that people can't find easily elsewhere.

A good catalogue demonstrates ample knowledge and careful research.

A good catalogue bears the stamp of its maker's personality while piquing the individual interests of its readers.
When you've amassed a group of books whose descriptions are long and detailed or which really must be seen to be believed, you have the books to produce a good catalogue. I want my customers to know why I think particular books are significant or important to their collections, and the type of description I feature in my own catalogue allows me to include that information. A catalogue's layout has a few advantages over listing books for sale on a website. It's difficult, for example, to read a lengthy description on a website that aggregates all kinds of books for sale. For one thing, the print is usually small. For another, many of the boilerplate templates often won't allow for multiple paragraphs and sometimes display lengthy descriptions as one bulky block of text. Catalogues allow a bookseller to present the important information about his books in a visually appealing and user-friendly format. Catalogues also allow for multiple images of a book and its illustrations or its author's signature where most websites allow for only one. For example, these images from my recent Dante catalogue allowed for a lengthy description and multiple images.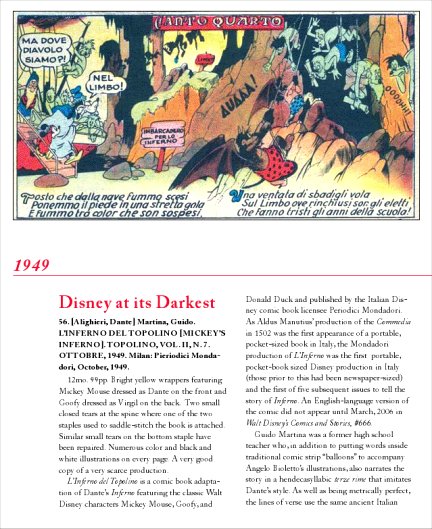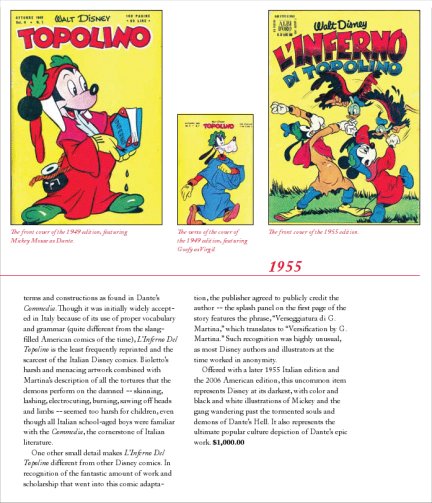 Had I listed this book as simply a Disney comic and described its condition without describing its relevance or showing a photo of it, many potential customers would not have immediately grasped a Disney comic's significance to a Dante collection or its rarity. Good catalogues allow us to present good books to our customers.

<! col. two ends> <! space>
<! col. three begins>







<! col. three ends> <!spacer>

<! col. four begins>