<<< Continued from previous page
Because of my familiarity with St. Louis University, I was able to recognize a small plaster Billiken figurine dating from 1908 among vintage merchandise at a local estate sale several years ago. A friend who attended the sale with me had no idea what a Billiken was and I found myself explaining the Billiken mystique to a complete neophyte. Of course, I wound up buying the antique Billiken.
Soon after, I began seeking out old Billiken postcards. As I acquired more and more examples, I was struck by the countless variations of sayings on the postcards - all charmingly upbeat and optimistic.
Billiken is depicted in various poses, with the most common card showing a smiling, red-haired Billiken sitting inside a green circle edged in gold above such sayings as, "I am the god of better things - my presence always laughter brings," or "My coming drives the blues away - 'Twill prove a bright red letter day," or "I am the God of Luckiness, Observe my twinkling eye - Success is sure to follow those who keep me closely by; I make men fat and healthy who were quarrelsome and thin; I am the God of Luckiness, My name is Billiken." The Billiken Company of Chicago copyrighted these postcards in 1908 (obviously, Billiken's popularity made their company very lucky).
In 1909, The Billiken Company published new designs showing Billiken in various poses surrounded by Art Nouveau floral patterns or sitting on a throne bordered with a checkerboard pattern. One unusual variation shows Billiken surrounded by thirteen small Billiken heads in a geometric design.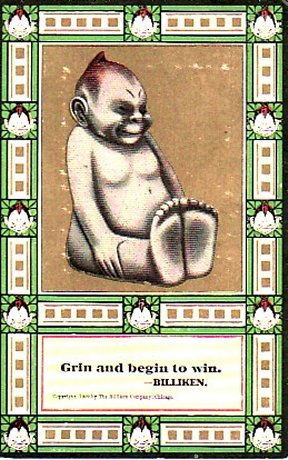 There was also an entire series of sports motif Billiken cards, which depict Billiken in a baseball uniform sitting atop a base. In those cards, Billiken is once again positioned above his sentimental sayings, but they are signed "Balligan." In addition to the usual upbeat poems, the Balligan cards feature sports oriented verses as well, such as, "Take third, then go on home."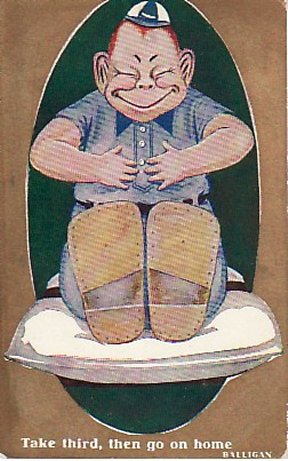 Due to Billiken's widespread popularity, other postcard publishers soon jumped on the Billiken bandwagon. An unusual pair of 1909 cards in my collection is copyrighted by the F.R. Company. Both depict Billiken on his throne, surrounded by a stained glass window created with brightly colored foil. They are both stand-up cards and, if you pull back the split end on the back of the card, you can prop Billiken up on any flat surface. Perhaps due to fear of copyright infringement, Billiken is named "Silligen, God of Laughter" on these cards, but is nevertheless accompanied by his customary cheerful greeting.
One card reads, "Good luck you'll always have, If you'll tickle my feet and laugh," and the other states, "A pleasant home you'll surely have, For even your 'Mother-In-Law' will laugh."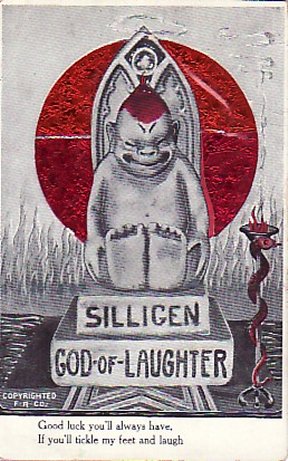 Another unusual pair of Billiken postcards in my collection was published by The Great Western Card & Novelty Company of Denver, Colorado. These cards depict a somewhat malevolent looking Billiken with separated toes and pointy ears. Both postcards were postmarked from the Western states (Texas and Colorado) at a time when anti-Asian sentiment was strong due to a large influx of Chinese railway workers in the previous decades. It is clear that regionalism and local prejudices played a part in the design of Billiken postcards.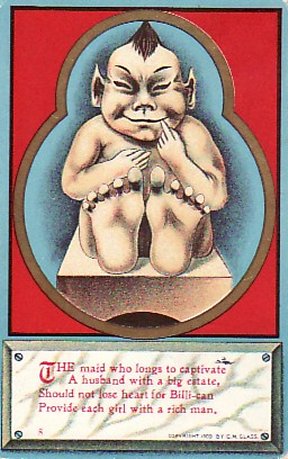 My favorite Billiken postcards are in the series I've named "Billiken on the Beach." I have four cards in this series and all are published by H. Sollott of Philadelphia. They were originally sold in summertime resort areas such as Atlantic City and Coney Island.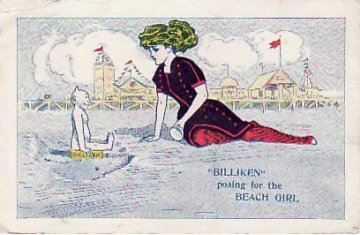 In one of the designs, Billiken appears to be pulling in his normally rotund stomach while flirting with an attractive woman whose old-fashioned swimsuit and hairstyle place her squarely in the context of the early 1900s. In another card, Billiken is again quite the ladies' man and is shown walking along the beach with a pretty woman. He is not naked in this card but is wearing proper beach attire.
Since series of postcards were usually published in sets of six or twelve, I am certain that more cards were issued in this Billiken beach series, but I haven't found them yet.
An unusual item of Billiken ephemera in my collection is a trade card from Singer Sewing Machine Company, which pictures a Billiken doll on the table while a little girl sews clothing for her dolls. Trade cards were issued as giveaways at the turn of the last century to advertise products before the advent of radio and television. Because so many children owned Billiken dolls, this trade card demonstrates how pervasive Billiken was in the popular culture of the early 20th century - so much so that he was incorporated into the advertising of other products. Back then, everyone knew what a Billiken was!
My most unusual and probably most valuable Billiken postcard is a political caricature postcard from the 1908 presidential campaign. Postcards were issued during the heyday of the Billiken craze for both presidential candidates Bryan and Taft. The postcard I own shows the head of William Bryan on Billiken's body with the words, "Off again - On again, BILLIBRYANIKIN, The People's Idol." This is a stand-up card with a crease in the center so the "Billy Bryan" Billiken can be propped up for display.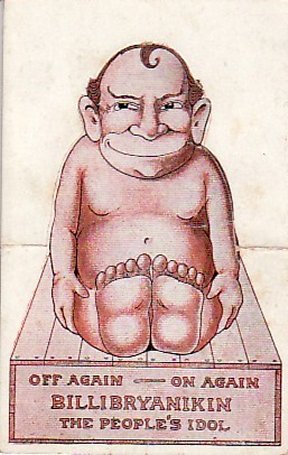 Today, there is a burgeoning Billiken revival in the country of Japan. At the peak of its fame in 1910, Billiken was adopted as the mascot for Osaka's Luna Park in Japan. However, when the amusement park closed in 1923, the Billiken disappeared and was not seen again until 1979, when an Osaka landmark, Tsutenkaku Tower, commissioned a large wooden Billiken statue modeled on the original in Luna Park.
Now, more than one million people annually visit the Billiken statue in Tsutenkaku Tower, sometimes waiting in line for up to three hours for the privilege of rubbing the feet of the "God of Good Luck." According to Kei Iguchi, reporter for the Japanese newspaper, The Yomiuri Shimbun, many otherwise common things are considered to have a godlike status in Japanese culture and it is believed that if you rub the soles of Billiken's feet, one's wish will be fulfilled.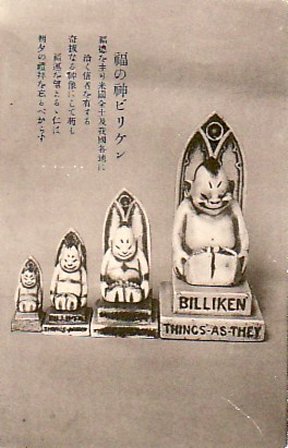 On October 31, 2008, the St. Louis Post-Dispatch published a story titled, "Osaka's revered billiken visits brethren at SLU" which covered Takai Ryuko, vice president of Tsutenkaku Tower, on his recent visit to the St. Louis University campus on October 30. Ryuko is visiting different cities throughout the world, accompanied by the wooden Billiken from Osaka, on a tour commemorating the 100th anniversary of the Billiken's birth. (Japanese visitors to the Tower in Osaka were presented with a note in the statue's place that read: "The Billiken is returning to his birthplace.")
Although 100 years have passed since Billiken's heyday, he has managed to survive the fickle trendiness in pop culture that mercilessly vanquished Beanie Babies, Wishnik trolls and pet rocks. Perhaps the secret of Billiken's success - the key to his survival - is as simple and timeless as one of his quaint mottoes: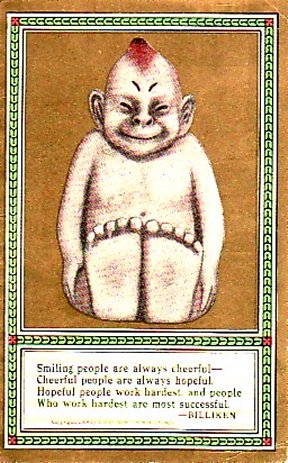 "Smiling people are always cheerful -
Cheerful people are always hopeful.
Hopeful people work hardest, and people
Who work hardest are most successful."
Billiken

If you liked this article, Digg it!

< to previous article to next article >

Questions or comments?
Contact the editor, Craig Stark
editor@bookthink.com

| Forum | Store | Publications | BookLinks | BookSearch | BookTopics | Archives | Advertise | AboutUs | ContactUs | Search Site | Site Map | Google Site Map

Store - Specials | BookHunt | BookShelf | Gold Edition & BookThink's Quarterly Market Report | DomainsForSale | BookThinker newsletter - free

Copyright 2003-2011 by BookThink LLC

<! col. two ends> <! space>

<! col. four begins>