<!spacer>

What We Need Right Now Is A Billiken!
(Cheerful Optimism in a Tough Economy)

by Michele Behan

#130, 6 December 2008
Thanksgiving is a time to reflect on our blessings and cultivate gratitude for the simple pleasures of life. Criticism is easy. Gratitude is hard.
However, those of us who are collectors as well as sellers, appreciate the enjoyment derived from our books and ephemera. Such paper pleasures are often underrated in their ability to keep us smiling, even in the toughest of times.
Case in point: The elusive icon of positive thinking known as the Billiken.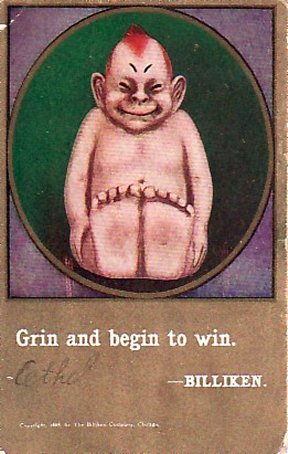 Those of us who graduated from St. Louis University are familiar with the Billiken as the mascot of SLU and the name of its sports teams.
However, Billiken has been around longer than the University's adoption of him as a mascot. He is also the chubby, naked Buddha-like figure which enjoyed national popularity from 1908 to 1912. A myriad of images of this good luck token survive today on merchandise from the early 20th century, and the stories of his origin are as varied as his many marketed images.
The predominant theory traces him to Florence Pretz, an art teacher from Kansas City, Missouri, who patented the design of Billiken on October 6, 1908, after Joss, the Chinese god of "things as they ought to be." Some say that she saw the figure in a dream; others maintain that she was inspired by The Rubaiyat, a collection of ancient poems by Omar Khayyam, to create a figure which embodied hope and happiness.
The Billiken Company of Chicago, which widely distributed merchandise in the Billiken image from Pretz's design, adopted the Billiken name.
According to another theory, Billiken's origin stems from a quote attributed to President Teddy Roosevelt. Purportedly, Roosevelt said that America was made up of two types of people - Billycan and Billycan't. Hence, Billycan (Billiken) became the symbol of optimism, cheer and all other good things.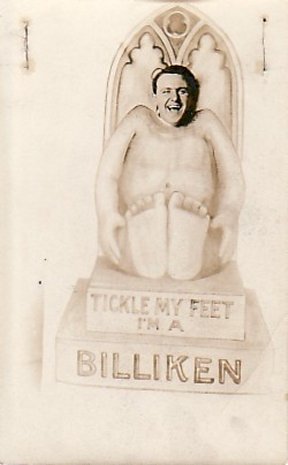 Another version of Billiken's roots revolves around the 1908 presidential contest between William Jennings Bryan and William Howard Taft. With a shared first name of William, both candidates were nicknamed "Billy" or "Billie" by the press and Billiken was adopted as a political caricature during the campaign.
In any event, beginning in 1908, Billiken became the national craze of its day. He was a good luck charm and a vast assortment of products were made in his image, such as plaster and bisque figurines, cast iron banks, watch fobs, paperweights, ice cream molds, toothpick holders and countless varieties of ephemera, including cigar bands, dance programs and postcards.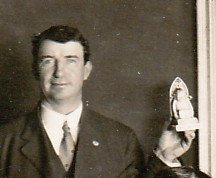 Early in 1909, E.I. Horsman Company entered into an exclusive licensing agreement with the Billiken Company of Chicago to manufacture and sell Billiken dolls. These dolls were immensely popular and over 200,000 were sold within the first six months of production.

The Billiken doll was packaged with a poem that read in part, "Be very sure that you are good and always act just as you should: I love obedient girls and boys, I am KING of all the toys." Such corny little poems and sayings were a part of Billiken's charm.

Billiken became associated with St. Louis University sometime between 1910 and 1911. Legend has it that sportswriter William O'Connor commented on Coach John Bender's resemblance to a Billiken.

One variation of the story states that O'Connor overheard the owner of Billy Gunn's drugstore, located near the University campus, say to Coach Bender, "Bender, you're a real Billiken!"

The other version of the legend maintains that the comment was uttered by sportswriter O'Connor himself who, upon noticing Bender's grin and squinty eyes during a practice session, turned to law student Charles McNamara and said, "Why Bender's a regular Billiken!"

In either case, Charles McNamara subsequently drew a cartoon depicting Coach Bender as a Billiken and Bender's football team - previously referred to as the Blue and White - was nicknamed Bender's Billikens.

<! col. two ends> <! space>

<! col. four begins>