<<< Continued from previous page
About The Dopple Ganger Chronicles Book 1: The First Escape
At Isambard Dunstan's School for Wayward Children, life is trouble for 14-year-old identical twins Sadie and Saskia Dopple and their friend, former thief Erik Morrisey Ganger. But what starts out as a perfectly normal day of food fights, rioting classmates, fires, and (yawn) threats of expulsion goes suddenly and horribly wrong when a mysterious, wealthy woman appears at the school and adopts Saskia ... without her sister.
On her own in a mansion full of dark secrets, Saskia stumbles upon a conspiracy that threatens her very life. Meanwhile, in a desperate attempt to find her, Sadie and Erik escape from the orphanage with a gang of enemies in hot pursuit. Faced with madmen, wild dogs, treasure seekers, and an otherworldly visitor with a secret message, the trio must decide who to trust - and what to believe - if they are to survive long enough to find each other again.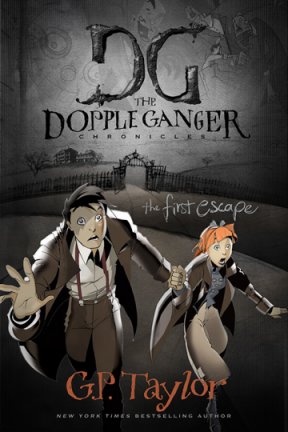 Product details
Hardcover: 288 pages
Publisher: Saltriver (Sep 2008)
Language: English
ISBN-10: 1414319479
ISBN-13: 978-1414319476
Product Dimensions: 23.4 x 15.7 x 2.5 cm

Reviews for The Dopple Ganger Chronicles
One girl said, "When I got your book, I was so absorbed in it that it only took me under two days to read it (I couldn't put it down!). I loved the way it was part graphic novel and part book. That really made me understand what the characters looked like. My favorite bit was when Brummagem and Muzz Elliot were fighting over the donkey! That made me laugh out loud!"
A parent said, "My 8-year-old son, Will, who's been reluctant to read chapter books despite his abilities, devoured the first Dopple-Ganger book, and then his 11-year-old brother Alex did as well. They are very eager to know when the next book will be available! Can you please advise?"
And a teacher put this in an email, "Re The Dopple Ganger Chronicles. It is extremely interesting to me this book was published in that format (comic/novella). I am a fifth grade teacher and have been toying with the idea of a book like that. Then, as I'm shopping in Mardel for new books for my students, I find your book. Needless to say I bought it immediately! I was a reluctant reader when I was a child and comics were about the only thing I would read cover to cover without interruption. I actually read them, not just looked at pictures. I know how important the skill of reading truly is and long to pass this on to my students. Your Dopple Ganger series will be a permanent part of my classroom for sure. I only hope it is the dawn of a new format of book so others can jump on the band wagon. Thank you for your wonderful God-given creativity!"
Collectors Notes:
Printing numbers generally run 5% over to under projections. The approximate number of first editions printed was 20,000 for each book.
Current prices for first printings in fine condition of The Dopple Ganger Chronicles are as follows. If you act quickly, the initial US first print run can still be had on Amazon for $19.99. There are fewer limited edition copies available for £49-£99, and signed copies are £39.99. Mariah Mundi and the Ghost Diamonds first prints can still be had on Amazon for £5.99. There are rarer limited edition copies priced between £44.99-£59.99, and signed copies are £34.99.
So what is on the horizon for G P Taylor? Read the author interview to find out more.
For further details about G.P. Taylor visit:
G.P. Taylor: The Official Website
Manic Mundi
Doggle Ganger Chronicles
Interview
So now I am back fresh and eager to explore the latest on the literary scene. There is no better author to start with than G.P. Taylor whose book Mariah Mundi has been a runaway success.
I am off to interview him now as his sequel Mariah Mundi and the Ghost Diamonds is about to hit bookstores, and the newly renamed Dopple Ganger Chronicles has just been released in the US. I take a back-pack filled with chocolate and head for the seaside.
I get off the train and walk along the cobbled streets. An urchin runs before me up the drive to the house and disappears around the back. I follow him through an open door and make my way towards the sound of voices. The interview is about to begin.
BOOKTHINK: Tell us your latest news.
TAYLOR: I am just so excited about the way in which The Dopple Ganger Chronicles is being received in the USA. I have had some amazing emails. On the film front, E-Motion Pictures are now in charge of all my future projects including The Dopple Ganger Chronicles. Everyone who reads the book is over the moon. I am also now writing horror under a new name, so prepare to be scared.
BOOKTHINK: How did you come up with the new title for The Tizzle Sisters and Erik?
TAYLOR: It just seemed such a good name and I needed to break away from Tizzle.
BOOKTHINK: Are you going on tour?
TAYLOR: I am writing so much that I won't be going on tour. I am not doing store signings and all my books can be found at Doodled Books - that will be one of the few places you can get a signed book; otherwise you will have to come to my door.
BOOKTHINK: How many books are planned for The Dopple Ganger Chronicles?
TAYLOR: There are 6 books with a possible 13. It is just so amazing to be working with Sarah at Tyndale, who is a great editor and inspiration.
BOOKTHINK: Is it true that the film rights have been sold for Mariah Mundi?
TAYLOR: Yes, we are already in pre-production and things are looking great
BOOKTHINK: Who's writing the screen play?
TAYLOR: That is a secret - all I can say is that he has worked extensively with George Lucas of Star Wars fame.
BOOKTHINK: Is the movie going to be set in Scarborough?
TAYLOR: Some of it will be - but a lot will be CG. It is cheaper to do it that way, and you get a better look than being on location.
BOOKTHINK: If you could choose an actor to play Mariah, who would it be?
TAYLOR: There will be open casting for Mariah with a sort of Pop Idol style interview - it may even be a TV show in itself. We are at looking for anyone from a theatre school background; we want real people.
BOOKTHINK: What book(s) are you reading now?
TAYLOR: Stephen King, Carrie
BOOKTHINK: And your current projects?
TAYLOR: I am writing 5 chick lit novels with Claire Connor - a horror story and a new series for Faber called REDEYE - Vampyres in Whitby.
BOOKTHINK: Brilliant. I'm sure we all can't wait for the next update.
It is now time to leave, so we say our goodbyes. The wind starts to howl across the headland. A few holidaymakers huddle together on the sea front. I look at my watch. It is time to go to the train station. I am ushered into a pony and trap driven by the urchin I'd seen before.
"What's your name?" I ask.
"Mariah," comes the reply.
Had I just seen a ghost or was that really Mariah Mundi? I really must stop eating too much chocolate.
Want to read more articles by
BookThink's Contributing Editor, Clair Main?
Click here.

If you liked this article, Digg it!

<! col. two ends> <! space>

<! col. four begins>