<<< Continued from previous page
This is a bench-top (in this case wall-mounted) tape dispenser loaded with 5" wide low-glare tape, which, by the way, meets postal regulations. Since the adhesive side of the tape faces outward in this setup, it's the work of a moment to lay a standard-sized plain paper label face down onto the platform (with the top edge just under the spring), tear off the tape about half an inch beyond the top of the label, and slap it on the package. The addresses are totally protected, and bar codes can be accurately scanned. Zip, zip.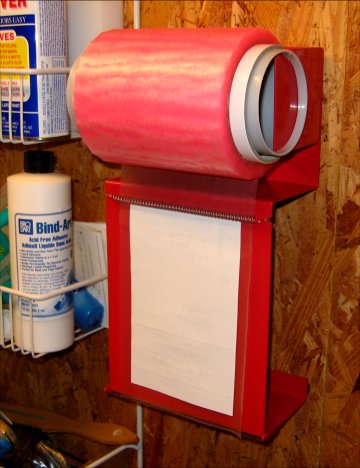 It's possible, of course, to mount this dispenser on a table top, but keep in mind that, since the adhesive side of the tape is face up, it's likely that dust, etc., will accumulate on it between uses. Not good. Also, it's easier, I think, to line the label up between the edges of the tape when it's on the wall right in front of you - and besides, it's better to have it out of the way.
Here's the resulting labeled package: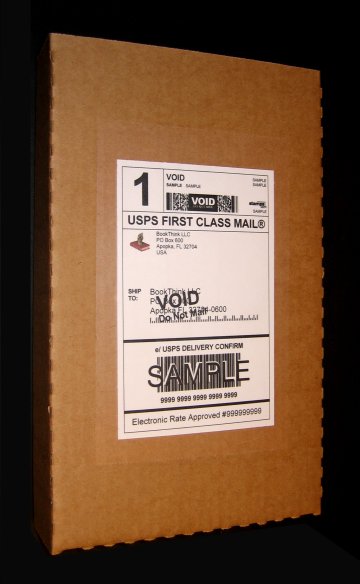 Note that this photograph was taken with a flash. If the label had been attached with ordinary tape, the reflection would likely have made it unreadable. Note also that the appearance of the package is much cleaner than it would've been with six strips of clear tape applied. The first encounter the book will make with your buyer, therefore, will be more professional.
If there's a negative to this system, it's the start-up cost.
To date, the cheapest tape I've found is here.
The minimum selling unit is a case of eight rolls - $136.18 plus $18.67 shipping. However, this is enough tape to cover 2,962 labels - or, at our 150 books per month example, a 19-month plus supply. It works out to about $.05 a label. If it's too much up front, it shouldn't be difficult to find one or two other booksellers to split a case with.
I purchased my dispenser at Uline - Model No. H-158. $35, extra blades @ $5, plus shipping.
A final word: Likely some of you use a thermal printing system, and you may be happy with it. Costs per label are typically low, but there are some significant issues associated with this system, including (but not limited to) an inability to tape over addresses - i.e., they will often disappear or blacken out in short order, depending on the composition of the adhesive, and there have been numerous reports of postal employees taping over them en route, creating the same problem. More about this in a future article.
Want to read more articles by
BookThink's Editor in Chief Craig Stark?
Click here.

If you liked this article, Digg it!

<! col. two ends> <! space>

<! col. four begins>