<!spacer>

Buying and Selling Civil War Ephemera
Part I: Photographic Images

by Michele Behan

#115, 3 March 2008
The Civil War came to Ohio in July of 1863 when more than 1,400 Confederate cavalrymen under the command of General John H. Morgan entered the state near the Hamilton-Butler County line. General Morgan led his men to the outskirts of Cincinnati, where they camped on the night of July 13-14 within sight of the Union Army's Camp Dennison. Morgan's troops spent the next 13 days raiding and rampaging through the towns of southern and eastern Ohio. His goal was to divert Federal troops and create mass confusion and fear in the civilian population.
When Union cavalrymen took up pursuit of Morgan's Raiders, 750 men were captured in the Battle of Buffington Island, while 300 escaped across the Ohio River. Morgan and his remaining soldiers retreated. A contingent of 600 Confederate cavalrymen entered Guernsey County, where they spent the next 30 hours evading Union capture. Morgan and 400 of his men headed north and were finally captured in Columbiana County, marking the end of Morgan's Raid. After his capture, General John Morgan was sent to the Ohio State Penitentiary. However, in November of 1863, Morgan engineered a daring escape through a dug tunnel, airshaft and a rope to scale the wall. Using some of the $1,000 that his sister had cleverly smuggled into the prison within a Bible, Morgan bought himself a train ticket to Cincinnati and, from there, fled across the Ohio River into Kentucky.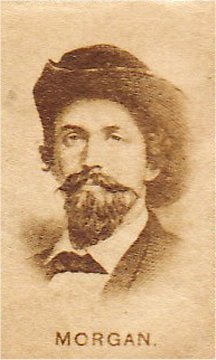 Meanwhile, back in Guernsey County, Ohio, local farm boy Oscar J.R. Hanna couldn't wait to join the Union forces and fight in the War of the Great Rebellion. On February 12, 1864, the young Oscar finally got his chance to enlist with the Ohio Signal Regiment. Like other boys of his era, he found himself away from home for the first time in his life. The battlefield would prove to be a frightening jumble of men and horses and fallen bodies. Arms and ammunition were scarce. Now, nearly 150 years later, his eyes still gaze intently from the stained and creased carte-de-visite photograph into the camera, ablaze with the fiery zeal of a young boy probably no older than the age of fifteen.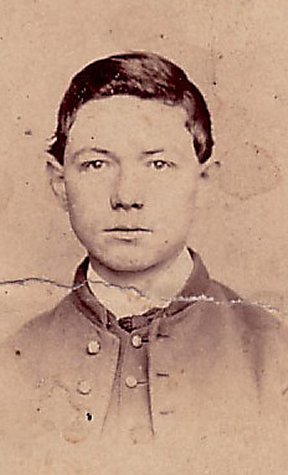 The Civil War was the first conflict in American history to be extensively documented with photographs. These images from the past have effectively preserved in our collective memory the battles, campsites, weaponry and accoutrements of war. But most memorable of all are the faces - those of the common soldiers, as well as the famous Generals and officers under whom they served.

It is this personal connection to the past that passionately fuels the buying, selling and collecting of Civil War ephemera. Unlike other collecting specialties, the field of Civil War ephemera encompasses such a broad spectrum that it is virtually impossible to collect everything. Collectors are forced to limit their focus to a particular theme.

Civil War ephemera associated with the Confederacy, President Lincoln, and African-Americana have traditionally enjoyed the upper echelon status in price and desirability. However, all categories under the umbrella of the Civil War are avidly sought, and eBay allows those of us who deal in old paper an instant access to collectors anxious to deepen their understanding of Civil War history and willing to spend money in pursuit of their dream.

The following is a listing of some popular categories of Civil War ephemera:

Autographs
Bibles
Broadsides
Commissions
Diaries
Discharges
Letters
Manuals
Maps
Memorials
Newspapers
Pamphlets
Photographs
Sheet Music

In Part I of this series on Civil War ephemera, we will examine the buying, selling and collecting of Civil War photographs.

<! col. two ends> <! space>

<! col. four begins>