<! col one starts>
<! col one ends> <!spacer>
<! col two starts>



BookThink is the #1 ranked resource provider for online and open shop book dealers, book collectors, and serious readers. Resources include:
The BookThinker, a free twice monthly newsletter covering a wide range of bookselling and collecting topics.
BookThink's Gold Edition, a monthly newsletter supplying profit-generating insider information to booksellers.
BookThink's Quarterly Market Report of Common, Profitable Books, a market report targeting high-profit, in-demand books that are likely to surface on scouting trips.
Moderated book forums; an extensive library of active and pertinent book-related links; book reviews; interviews with authors and other notables; and intensive tutorials on practical book repair, grading, terminology, buying for resale, selling books online and off, building a personal book collection, and more.
The BookThinker Newsletter


ISSN 1547-9501

#91, 26 March 2007
BookThink Update
2 April 2007>>>




Bookmarking History
"Get Thee to a Nunnery"
Nun Bibliophilia and Some Collectible Nun Books
When I first began selling on eBay, there were entire classes of books that just couldn't go wrong - that is, any title that fell within the boundaries of one of these would sell for a price worth bothering with. Wild turkey hunting (one of my favorites), is a good example - and anything by or about nuns! Today it's much different. There are few topics that consistently deliver profits from top to bottom, and neither wild turkey hunting nor nuns are among them. However, what this early experience taught me was that collectors still hang around in these same places, albeit looking for somewhat less common items to add to their collections. In today's BookThinker, History Editor William Klimon looks at what nun enthusiasts are still paying big bucks for today.


Buying and Selling Children's Books
Never Buy Book Club Editions
Children's Books Editor Guusje Moore returns with some advice that may conflict with what you think you know as you know nothing else: Some children's book club editions are most definitely profitable. Lots of good scouting information is provided, as usual, including - you guessed it - some nun books.


BookThink's Quarterly Market Report of Common, Profitable Books
Subscriptions available now.
A Guide to Understanding
Number Lines in Books
It's Not as Simple as You Might Think
Today's BookThinker starts with an article that has been on my to-do list forever: "A Guide to Understanding Number Lines in Books." If you think that number lines are too simple by half to bother with, I suggest you take the short test included in the article. If you score over 50%, I'll be impressed. Keep in mind, also, that accurate interpretation of number lines can be crucial in determining edition state.
Selling on Amazon
Booksellers Drowning in
Amazon's Rising Tide of Catalog Pages


Also up today is an Amazon seller's lament. Contributing Editor Steve Weber recently looked into the growing Amazon catalog fiasco and reports back with some pointed observations on just how bad it's gotten. Solutions are hard to come by so far, but it's important to be aware of the problems because they could affect your sales significantly.

50/50 Issue #22
Chess Books and Related Items
Now Available
Issue #22 of 50/50 is now available for purchase;
its focus is "Chess Books and Related Items."
Subscribe today here.
Previous BookThinker update-
BookThink Update
19 March 2007>>>
How to Identify
Book Club Editions
Book club edition identification can be a crucial step in the process of identifying first editions. Knowing a handful of publisher's designations for BCE's will help you spot them like the pros. Find out more here.
Collecting the Science Fiction Book Club
If you collect Science Fiction Book Club editions, look here for a detailed examination and chart of gutter codes used to identify the all-important first printings.
<! col two ends> <!spacer>
<! col. three begins>






<! col. three ends> <!spacer>
<! col. four begins>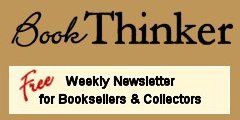 <! col. four ends>