<! col one starts>
<! col one ends> <!spacer>
<! col two starts>



BookThink is the #1 ranked resource provider for online and open shop book dealers, book collectors, and serious readers. Resources include:
The BookThinker, a free twice monthly newsletter covering a wide range of bookselling and collecting topics.
BookThink's Gold Edition, a monthly newsletter supplying profit-generating insider information to booksellers.
BookThink's Quarterly Market Report of Common, Profitable Books, a market report targeting high-profit, in-demand books that are likely to surface on scouting trips.
Moderated book forums; an extensive library of active and pertinent book-related links; book reviews; interviews with authors and other notables; and intensive tutorials on practical book repair, grading, terminology, buying for resale, selling books online and off, building a personal book collection, and more.
The BookThinker Newsletter


ISSN 1547-9501

#90, 12 March 2007
BookThink Update
19 March 2007>>>
How to Identify
Book Club Editions
Book club edition identification can be a crucial step in the process of identifying first editions. Knowing a handful of publisher's designations for BCE's will help you spot them like the pros. Find out more here.
Collecting the Science Fiction Book Club
If you collect Science Fiction Book Club editions, look here for a detailed examination and chart of gutter codes used to identify the all-important first printings.
Bookmarking History
Collecting and Selling the
"100 Best Spiritual Books of the Century"
BookThink's History Editor William Klimon offers up some serious flashpoints today in "Collecting and Selling the '100 Best Spiritual Books of the Century.'" The above referenced list, which originally appeared on the HarperCollins website, includes such unlikely (but perennially profitable) bedfellows as Alcoholics Anonymous, Tolkien's Lord of the Rings trilogy and Jack Kerouac's Dharma Bums. Bill draws from his personal experience with three other titles on this list that also have significant bookselling potential and discusses them in detail.
BookThink's Author Profiles
An Interview with J.C. Hallman
Part II


In keeping with this spiritual theme, if you liked Catherine Petruccione's interview with author J.C. Hallman last week, you won't want to miss Part II - a conversation about Hallman's second book. From Cathy's introduction: "In ... The Devil is a Gentleman: Exploring America's Religious Fringe, J.C. Hallman has a different traveling companion. This time it is the spirit of philosopher and psychologist William James. As Hallman conducts an up close and personal exploration of some of the most unusual religious groups in America, he evokes the words and spirit of James, encouraging the author (and us, his readers) to open our hearts and minds to a broad spectrum of human beliefs."

50/50 Issue #22
Chess Books and Related Items
Now Available
Issue #22 of 50/50 is now available for purchase;
its focus is "Chess Books and Related Items."
Subscribe today here.
Previous BookThinker update-
BookThink Update
5 March 2007>>>
BookThink's Author Profiles
An Interview with J.C. Hallman
Picture, if you will, a tiny, impoverished republic (formerly part of the Soviet Union) on the steppes of Southwestern Asia - Kalmykia. Poor agricultural management under Soviet rule has led to inevitable desertification: Once arable land is gradually degrading into desert sand. Add one dictator, Kirsan Ilyumzhinov, a former chess prodigy whose campaign platform for president included a promise of cell phones for all shepherds, not to mention an assertion that he had been previously abducted by aliens. Intrigued? There's more. Ilyumzhinov is the duly elected president of FIDE (The World Chess Federation). In 1998, with a mind to make chess the national religion of Kalmykia, he completed the construction of a multi-million-dollar complex near the capital city of Elista to host competition - Chess City (or City Chess). Finally, add to this mix two travelers - an itinerant writer and an eccentric African-American chessmaster - and what do you have? A book, of course! Catherine Petruccione interviews the author of The Chess Artist, J.C. Hallman, in today's issue.
BookThink's Top 10 on eBay
January 2007
Pamela Palmer's monthly Top 10 on eBay appears today. Some familiar faces again, but you might not be seeing them for long. Pam explains: "In February, eBay announced testing that may lead to books from UK sellers losing their automatic placement in eBay's US search. UK sellers are advised to list directly on the US site to ensure exposure. Will they - or will this tilt dominance of the Fiction Top 10 away from the UK?"
<! col two ends> <!spacer>
<! col. three begins>






<! col. three ends> <!spacer>
<! col. four begins>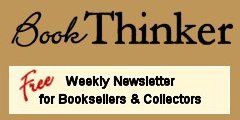 <! col. four ends>