<! col one starts>
<! col one ends> <!spacer>
<! col two starts>



BookThink is the #1 ranked resource provider for online and open shop book dealers, book collectors, and serious readers. Resources include:
The BookThinker, a free twice monthly newsletter covering a wide range of book-related topics.
BookThink's Gold Edition, a monthly newsletter supplying profit-generating insider information to booksellers.
BookThink's Quarterly Market Report of Common, Profitable Books, a market report targeting high-profit, in-demand books that are likely to surface on scouting trips.
Moderated book forums; an extensive library of active and pertinent book-related links; book reviews; interviews with authors and other notables; and intensive tutorials on practical book repair, grading, terminology, buying for resale, selling books online and off, building a personal book collection, and more.
The BookThinker Newsletter


ISSN 1547-9501

#89, 26 February 2007
BookThink Update
5 March 2007>>>

BookThink's Author Profiles
An Interview with J.C. Hallman
Picture, if you will, a tiny, impoverished republic (formerly part of the Soviet Union) on the steppes of Southwestern Asia - Kalmykia. Poor agricultural management under Soviet rule has led to inevitable desertification: Once arable land is gradually degrading into desert sand. Add one dictator, Kirsan Ilyumzhinov, a former chess prodigy whose campaign platform for president included a promise of cell phones for all shepherds, not to mention an assertion that he had been previously abducted by aliens. Intrigued? There's more. Ilyumzhinov is the duly elected president of FIDE (The World Chess Federation). In 1998, with a mind to make chess the national religion of Kalmykia, he completed the construction of a multi-million-dollar complex near the capital city of Elista to host competition - Chess City (or City Chess). Finally, add to this mix two travelers - an itinerant writer and an eccentric African-American chessmaster - and what do you have? A book, of course! Catherine Petruccione interviews the author of The Chess Artist, J.C. Hallman, in today's issue.

BookThink's Top 10 on eBay
January 2007
Pamela Palmer's monthly Top 10 on eBay appears today. Some familiar faces again, but you might not be seeing them for long. Pam explains: "In February, eBay announced testing that may lead to books from UK sellers losing their automatic placement in eBay's US search. UK sellers are advised to list directly on the US site to ensure exposure. Will they - or will this tilt dominance of the Fiction Top 10 away from the UK?"



50/50 Issue #22
Chess Books and Related Items
Now Available
Issue #22 of 50/50 is now available for purchase;
its focus is "Chess Books and Related Items."
Subscribe today here.
Taking Bookselling To The Top
Part IVb: How to Succeed in Bookselling without Really Trying
No more catching up to do. The final installment - Part IVb of "Taking Bookselling to the Top: How to Succeed in Bookselling without Really Trying" - is finished at last - a paltry 19 months after Part I appeared in the BookThinker. My apologies again for the disruptive nature of this series, and my warm thanks go to BookThink forum moderator Gail Rogers for her timely reminders to get this thing wrapped up.
Previous BookThinker update-
BookThink Update
19 February 2007>>>
BookThink's Author Profiles
An Interview with Sue Grafton

Blockbuster mystery novelist Sue Grafton's next alphabet title, T is for Trespass, is scheduled for release on December 4, 2007 - just in time for Christmas. Sue was most gracious to take time out from her busy writing schedule to discuss this and other, never-dull topics with BookThink's Catherine Petruccione.
A Bookseller's Guide to Sue Grafton
Easy as ABC
Up next is my whack at a guide to buying and selling Sue Grafton. Given the plentitude of both titles and print runs, not to mention Grafton's huge, enthusiastic fan base, opportunities for profit are plentiful. This is bread-and-butter bookselling at its best, and once you know what to look for, easy to accomplish.
<! col two ends> <!spacer>
<! col. three begins>






<! col. three ends> <!spacer>
<! col. four begins>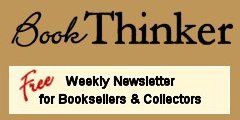 <! col. four ends>