<! col one starts>
<! col one ends> <!spacer>
<! col two starts>



BookThink is the #1 ranked resource provider for online and open shop book dealers, book collectors, and serious readers. Resources include:
The BookThinker, a free twice monthly newsletter covering a wide range of bookselling and collecting topics.
BookThink's Gold Edition, a monthly newsletter supplying profit-generating insider information to booksellers.
BookThink's Quarterly Market Report of Common, Profitable Books, a market report targeting high-profit, in-demand books that are likely to surface on scouting trips.
Moderated book forums; an extensive library of active and pertinent book-related links; book reviews; interviews with authors and other notables; and intensive tutorials on practical book repair, grading, terminology, buying for resale, selling books online and off, building a personal book collection, and more.
The BookThinker Newsletter


ISSN 1547-9501

#87, 29 January 2007
BookThink Update
5 February 2007>>>

What's New at ScoutPal
Instant PDA Scanning Anytime, Anywhere - (No Connection Required)
If you've ever wondered why some products get reviewed in the BookThinker and others don't, I can explain it in one sentence: Products must meet three criteria for us to feature them - significant usefulness to booksellers, exceptional support, and a great price. If any one of these isn't on the table, we pass. I've lost track of the number of ScoutPal articles we've done, maybe 4 or 5 or more? The reason is simple - Dave Anderson. Dave pioneered the cell-phone lookup for booksellers way back when, and ever since he's worked assiduously to improve it and introduce new companion products and services. I'm hard put to think of a single tool that's had a more positive impact on my profits, is better supported or - being careful now to compare apples to apples, features to features, etc. - more reasonably priced. Well, Dave has come up with something new again, and if you've been reluctant to use ScoutPal in the past because of poor cell phone service coverage in your scouting area, there's now a perfect solution.


BookThink's Top 10 on eBay
December 2006
December's Top 10 on eBay is here today as well, and I think Pamela Palmer has summed up what to expect better than I ever could: "Action-packed may not be how you describe most Top 10 on eBay columns, but this one merits the description. December brought drama, intrigue, pathos, and a seasoned bookseller who smelled a rat." Interested?



50/50 Issue #20
Horses, Horses and More Horses
Now Available
Issue #20 of 50/50 is now available for purchase;
its focus is "Horses, Horses and More Horses."
Subscribe today here.

50/50 Issue #21
Out of Africa, Into the Bank
Now Available
Issue #21 of 50/50 is now available for purchase;
its focus is "Out of Africa, Into the Bank."
Subscribe today
here
.
The Whole is Greater
Than the Sum of the Parts
Building a Book Collection for Resale
Why do some book lots listed on eBay do much better than others? It might have something to do with a simple computation: It's cheaper and much less trouble to purchase a group of books all at once than it is to buy them one by one, so, as long as the buyer actually wants most or all of the books in a lot, he or she might be willing to pay a premium for them. However, it might also have something to do with something less measurable. BookThink's History Editor suggests another explanation in our first article today, "The Whole is Greater than the Sum of the Parts: Building a Book Collection for Resale."
BookThink's Bookseller Profiles
Stephen (Steve) Burnside
Bookseller Stephen Burnside is also on board with a Bookseller Profile. Steve is yet another illustration of how bookselling can be a good fit in situations that many professions wouldn't be: "I needed to find a new purpose and interest in life after suffering 2 heart attacks and not being able to work as a Project Manager in Software Engineering anymore. The stress of Project Management was killing me and my cardiologist said no more working." Fortunately, he discovered what many of us have - that bookselling was not only a solution to a problem but his true calling as well.
Previous BookThinker update-
BookThink Update
22 January 2007>>>
From Here to Obscurity
A Bookseller's Guide to Dorothy Lyons
No doubt many of us could list a number of important authors and illustrators or horse books to look for, but my guess is that author Dorothy Lyons wouldn't be cited often among them. Hard to say why. Lyons produced 12 books in her career, all published in significant numbers by a major publisher, all but one illustrated by a collectible artist, and intensely interested fans still pay bookseller friendly prices for every one of them. Whatever the explanation, today's BookThinker showers her with some long overdue publicity. This is one author that booksellers should take special note of.
<! col two ends> <!spacer>
<! col. three begins>






<! col. three ends> <!spacer>
<! col. four begins>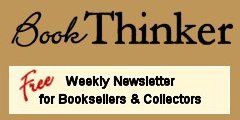 <! col. four ends>