[EDITOR'S NOTE: This is an abridged version of the complete article. Click here to purchase.
BOOKSELLER'S AUTHOR REPORT: SUE GRAFTON
FULL NAME: Sue Taylor Grafton
PSEUDONYMS: None
BIRTH/DEATH: April 24, 1940 -
WEBSITE: www.suegrafton.com
BIOGRAPHICAL AND PUBLISHING NOTES:
Prior to embarking on a career as a screenwriter, Sue Grafton completed seven novels, only two of which were published - Keziah Dane (1967) and The Lolly-Madonna War (1969). Neither made noise at the time, print runs were relatively modest, and both titles have remained out of print since the mid 1970s. Given her later, very substantial success as the author of the so-called Alphabet Books, it's no surprise that both are now intensely collected. Keziah Dane was published in the US by The Macmillan Co. and in the UK by Peter Owen - and several years later by UK-based Sphere Books in softcover. The Lolly-Madonna War was published only in the UK, again by Peter Owen and Sphere Books; and in part this accounts for the fact that The Lolly-Madonna War out-performs Keziah Dane in the US market, often getting into three figures. Still, both titles in whatever format - hardcover or softcover - or printing state, rise to the WBW (worth bothering with) level.
MGM purchased movie rights to The Lolly-Madonna War and released a film re-titled Lolly-Madonna XXX in 1973. Grafton co-wrote the screenplay, and copies are both scarce and valuable. Despite a near-blockbuster cast which included Rod Steiger, Robert Ryan, Jeff Bridges, Gary Busey and Randy Quaid, the movie was widely panned by critics and, like its print counterpart, attracted little interest. (Grafton herself admits that it was a stinker.) No doubt because of this the movie has not been issued in either VHS or DVD format, though in recent years it has developed a resilient cult following that doesn't appear to be fueled by Grafton's mojo. Pirated copies (TV recordings, when they can slip by copyright police) and 16mm copies command a premium, and original Lolly-Madonna XXX lobby cards, movie posters, etc., have some value.
For those with interest, a short documentary on the film, which includes several clips, can viewed here.
No other Grafton books have been adapted for film and, given her less than positive experiences in Hollywood, movie rights will not likely be peddled in her lifetime, perhaps even in her children's lifetimes:
"I will never sell [Kinsey] to Hollywood. And, I have made my children promise not to sell her. We've taken a blood oath, and if they do so I will come back from the grave: which they know I can do." Grafton is adamant, "They're going to have to pass the word on to my grandchildren: we do not sell out our grandma. I just will not let them touch her. I've trashed other writers, I'm not gonna let them have a crack at me."
January Magazine, 1997
Grafton authored numerous movie and television screenplays, leaving Hollywood for good after the publication of "G" Is for Gumshoe in 1990, and copies of these, while not rising to the Lolly Madonna XXX level, are also collected.
Also of relevance to booksellers is Grafton's relationship with her fan base. It would be difficult to find an author of her stature who has been more gracious accommodating fans over the years. Until shortly after the publication of "T" is for Trespass, in fact, she had maintained a policy of signing all books shipped to her (up to six at a time) and would also sign multiple copies for dealers on book tours. She has since rescinded the former policy and has also curtailed the number of dealer copies signed on tours.
What this means to booksellers is that there is absolutely no shortage of signed Grafton's in the marketplace, and values reflect this. Sometimes, in fact, $10 is a struggle. Exceptions include early books signed contemporaneously with their dates of issue. Note that numerous copies of early books with later (sometimes much later) signatures are common in the marketplace - another fallout of her generous signing policy. With respect to Grafton unsigned books of significant value, signatures added years later often enhance values, though this does not carry over to more common titles.
Early on, Grafton began signing books with her now near iconic calligraphy pens, and over the years her crisp, legible signature has remained fairly consistent.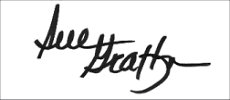 Signatures which pre-date the calligraphy period are significantly more valuable, usually accomplished in ball point pen, and sometimes show a surmounting loop in the "S" of "Sue" not found in later examples.
Grafton's first alphabet book, A is for Alibi, was years in the writing because she was teaching herself how to write mysteries, specifically in the "hardboiled dick" sub-genre. From this point forward new alphabet titles appeared approximately every year, though more recently things have slowed some, and a two-year interval now seems more typical. At the time of this writing, U Is for Undertow is her most recent work, published in late 2009, so the "V" installment is likely about 18 months away from being released. Four additional books would then complete the alphabet and put her at about 80 years old. A note to death-watch booksellers: Assuming she lives to get this done, look for interest in her to heat up hugely in the months preceding the release of "Z." Prepare in advance.
Other Grafton publications of note include a 1991 Bench Press signed, limited edition of Kinsey and Me (a collection of nine short stores) and a few WBW reprints, chief among them a 1999 Easton Press signed, limited edition.
MARKETING ANALYSIS:
Since we're addressing late modern or hyper-modern firsts printed in the hundreds of thousands, later a million or more, condition is critical in determining final values, as is the presence of dust jackets. If at all possible, take care to buy copies in F/F condition to separate yourself from competitors. When marketing, clear visual presentations of condition will carry the day. Compromise on condition only on titles A-E, copies of the UK (Macmillan) K is for Killer with the scarce first state dust jackets (which feature a red hand, not a psychedelic eye), and early proofs, along with the out of series titles already discussed.
Very early unsigned alphabet titles should climb well into three figures, very early signed titles four figures; and for the purposes of most booksellers, the WBW threshold ($30 to $50) will be reached somewhere in the E to G range (with the "K" Is for Killer exception noted above). This can be extended some if copies are signed, but generally the latter half of the alphabet is best marketed in lots. Take pains to detail first edition issue points- most sellers do not - and this will help maximize outcomes. (Refer to bibliography below.)
[Subscribe or purchase this Author Report for more.]
BIBLIOGRAPHY:
3. "A" Is for Alibi
1982. New York: Holt, Rinehart, and Winston. "First Edition" stated on title page verso. Number line begins with "1." "First Edition" is dropped in second and later printings. Dust jacket price: $12.95.
UK edition:
1986. London: Macmillan & Co. Number line begins with "1." No price appears on first state dust jacket. Second and later states bear $14.95 price.
4. "B" Is for Burglar
1985. New York: Holt, Rinehart, and Winston. "First Edition" stated on title page verso. Number line begins with "1." "First Edition" is dropped in second and later printings. "Holt, Rinehart and Winston" appears on first state dust jacket; second and later states bear "Henry Holt and Co." Dust jacket price: $14.95.
UK edition:
1986. London: Macmillan & Co. Number line begins with "1."
5. "C" Is for Corpse
1986. New York: Henry Holt & Co. No statement of edition on title page verso. Number line begins with "1." Dust jacket price: $14.95.
UK edition:
1987. London: Macmillan & Co.. Number line begins with "1."
[Subscribe or purchase this Author Report for more.]
Copyright 2003-2011 by BookThink LLC