BookHunt
Software Designed for
Buying Inventory Online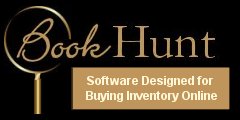 Introduction
BookHunt is a powerful desktop tool designed specifically for locating book inventory online at eBay, though it may be used to locate non-book items as well. BookHunt's search process is similar to searching on eBay with several important differences.
One, BookHunt can be set up to run in the background and "pop up" when new items that meet your search criteria appear online. This allows you to purchase under-priced Buy-It-Now, Fixed Price, and eBay Store items long before many other booksellers could find them using conventional search methods. It also allows you to locate new auction items with low opening bids that you may want to enter hidden snipe bids on or, alternately, confine your searches to auctions with low or no bids that are about to end. Since BookHunt searches for you, you're free to do other things.
Two, BookHunt can run up to 40 different custom searches simultaneously. For example, if you were looking for an under-priced first edition of The Da Vinci Code, you could set up three searches to look for, respectively, Auction (and Fixed-Price) items, Buy-It-Now items, and eBay Store items and a fourth search to look for auctions with low or no bids that are about to close. By then setting the maximum price you would be willing to pay for a copy, you would be ready to take action almost immediately after BookHunt alerted you.
BookHunt software also has a number of refinement options, including searching by category, item specifics, price, ending time, common misspellings and seller ID. You may also choose to search by title or both title and description.
Note that you do not need to be registered with eBay to use BookHunt. However, you will need to register before you will be able to bid on or buy items. It's easy and free to sign up. To make it more convenient, a link - "Register with eBay now!" - has been placed in the "Options" pull-down menu. This will take you to eBay's registration page.
BookHunt is $19.99 and comes with a 30-day money back guarantee, no questions asked. If you decide it isn't for you, your full purchase price will be refunded. Please allow 24 hours for email delivery during business days and up to 48 hours on weekends and holidays.
System Requirements
System Requirements:
Windows™ VISTA, XP, 2000, ME, NT or 98

3MB Hard Disk Space

256MB Minimum - 512MB Recommended

An internet connection
Getting Started with BookHunt
After purchasing BookHunt on PayPal, you will receive a link in an email from BookThink. Click that link and save the program to your computer. Then double-click the BookHunt icon and the installation window will open. Click "Run" if you want to install the software immediately. During the installation, which should only take a matter of moments, BookHunt automatically places an icon on your desktop. Each time you launch BookHunt there will be a short delay while it synchronizes with eBay. When this is complete, you're ready to begin searching.
Additional Resources
BookThink LLC has published the following Gold Edition issues on buying inventory online:
"How to Buy Inventory Online: Part I: Introduction, Overview, and eBay Seller Lists"

"How to Buy Inventory Online: Part II: How to Build and Use Search Strings and Productive Categories to Browse In"

"How to Buy Inventory Online: Part III: Miscellaneous eBay Search Techniques and Sniping"

"How to Buy Inventory Online: Part IV: Buying Inventory on Fixed-Price and from Other Online Sources"
Studying these publications will significantly enhance your ability to use BookHunt. The 4-issue package ordinarily sells for $14.99, but BookHunt purchasers who wish to bundle this series with BookHunt may add it for only $10.

To purchase BookHunt software for $19.99, click here.

To purchase BookHunt software + the "How To Buy Inventory Online" series for $29.99, click here.

<! col. two ends> <!spacer>