So, let's say you've gotten in too deep on some Easton's, maybe paid $10 apiece for a box of ho-hum titles from the 100 Greatest Books Ever Written series, and closed eBay auctions suggest that you will be working hard just to get your money back, even though yours are in fantastic condition. If this is the case, would you be interested in a proven marketing method that will increase your outcomes to $25 to $40 for common Easton titles?
You don't have to take my word for it; if you subscribe to an historical pricing service like Terapeak, Worthpoint, etc., you can watch this happen daily. A title that goes down again and again for $10 to $15 on eBay occasionally sells for much more - as much as $40 or more. On eBay. Sometimes the reason is obvious: The book that sells for $40 is still in the publisher's shrink wrap. Easton collectors will routinely pay a premium for books in this condition. But let's take a lesson from this. If your copy isn't in shrink wrap, it's quite possible that it's in an equivalent condition to a shrink-wrapped copy notwithstanding, i.e., flawless or nearly so. If so, your task becomes one of convincing potential buyers that the absence of shrink wrap doesn't reduce its value. How?
First, let's get something straight immediately: Do not list Easton's on eBay at auction, especially at a low starting bid. If you do, you're asking for - maybe even begging for - a low result. Exceptions are few and far between and usually apply to intensely collectible titles in short supply. In my experience eBay is most certainly the best venue to sell Easton's on, but recognize that there are essentially two types of Easton collectors - those who are looking for a bargain and those who don't have the patience to participate in the auction process and are far more interested in securing copies in As-New or Fine condition, even it means spending a few more bucks. Most of the former collectors realize that scoring bargains requires them to snipe auctions because fixed price listings are almost always priced higher. My advice is, forget about them. You are waiting for the latter buyers - the ones who don't want to wait when they are ready to buy.
Now, the following approach assumes that some things are already in place: Your feedback on all venues you sell on is both well established and perfect (or nearly so), and you offer returns for any reason, preferably up to 30 days or more, with return shipping. There are plenty of fussy collectors who don't want to take a chance with a buyer who doesn't have a generous return policy.
Next, hit buyers over the head twice, once with clear photos that leave nothing to the imagination and again with a clear textual description, which together should disclose any condition issues that affect value. As I mentioned in Part I, some of the more common issues associated with Easton's are rubbed or otherwise damaged gilt on the front or spine panels of bindings, scratching or speckling on the gilt text block edges, and bookplates mounted on the endpapers.
An editorial aside on bookplates: I understand Easton's intent in supplying bookplates to their customers. For some, I suppose, it promotes a sense of pride and ownership, but my gosh, if I set out to design something cheap and offensive, I'm not sure I could come up with anything worse than this glossy, peel-and-stick cartoon of a bookplate: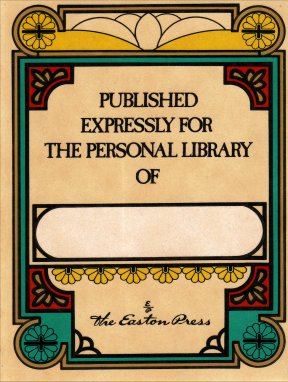 If you haven't handled one before, this photo actually improves the in-person experience. When collectors write their name in the box and slap one of these on the silk-moire' front pastedown, value can head in only one direction - south. Sometimes they can be removed with little remaining residue, but who wants to take the chance?
In any case, condition is huge in the niche, and frankly, if there are any additional issues other than the ones I mentioned - say, bumped corners - or the issues I did mention are severe, the value may well be reduced to a level that won't be worth bothering with.
In the interest of building enough but not too much labor into my listings, I usually supply two large photos. Note that I'm restricted in the size of the photo I can use in this narrow column, so the first two photos have been necessarily reduced in size to fit and thus are meant to be representative of format - and the third shows the level of detail actually present in the original photos.
This angle allows the buyer to see three sides of the book at once whereas a straight on photo or scan shows only one: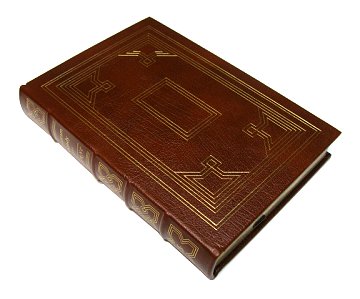 This angle shows the condition of both the text block edges and the bottom corners (a bottom view is important because this is where condition issues usually develop first) - and also note the presence of a tucked-in ribbon, exactly how the book is originally issued. (If yours is untucked, re-tuck it.) Again, this is more efficient than taking several straight on photos: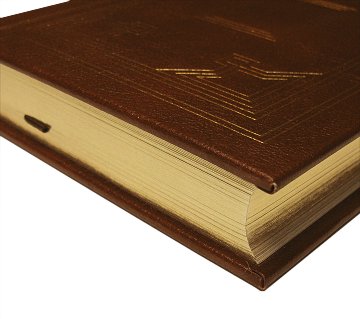 And here is the level of detail in the original photo: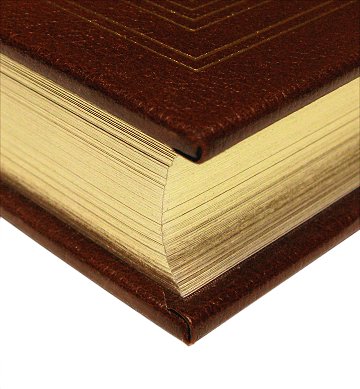 Your textual description of the book can both reinforce what's going on visually and expand on it. Here are a few sample phrases (among many) that would apply to this book, all of which describe what it is in an active voice, not what it isn't:
Tight binding
Crisp extremities
Immaculate
Gilt text block edges flawless
Odor free
Unused Easton Press bookplate laid in
Etc.
If you take this approach and price your Easton's more ambitiously in a fixed-price format, I think you will be pleasantly surprised at what they will sell for. At least some patience is required, of course, but waiting a month or even a few months for a sale to happen at a significantly higher level is almost always worth it.
Click here for Part I of this two-part series.