By Craig Stark
Among dictionaries, there are but a select few that can actually be read with pleasure, as opposed to opening them only when information about a word is needed. An example that many booksellers are familiar with is John Carter's classic, ABC for Book Collectors. It's not only clear, concise and conversational, but also Carter's presence is in evidence throughout, often manifesting as dry wit. Years ago I actually read this book from cover to cover over a few days. How many dictionaries would you want to do that with?
As good as it is, however, my favorite "reading" dictionary is H.W. Fowler's A Dictionary of Modern English Usage. How Fowler pulls off the feat of turning one of the driest topics imaginable into something that leaps off the pages is simply amazing to me - and his success at doing this relies on that same Carter-like presence that's so often missing in most reference books.
There are many passages I could cite as examples, but perhaps a portion of the article on "rhythm" will give you a sense of Fowler's ability to communicate in a manner that both crisply clarifies a term and holds interest:
"RHYTHM. Rhythmless speech or writing is like the flow of liquid from a pipe or tap; it runs with smooth monotony from when it is turned on to when it is turned off, provided it is clear stuff; if it is turbid, the smooth flow is queerly & abruptly checked from time to time, & then resumed. Rhythmic speech or writing is like waves of the sea, moving onward with alternating rise & fall, connected yet separate, like but different, suggestive of some law, too complex for analysis or statement, controlling the relations between wave & wave, waves & sea, phrase & phrase, phrases & speech. In other words, live speech, said or written, is rhythmic, & rhythmless speech is at best dead ...."
The article, after getting into much more detail, concludes with, as Fowler puts it, "a few examples of unrhythmical prose, followed by a single masterpiece of rhythm. And I'm sure you'd rather read the masterpiece:
"And the king was much moved, & went up to the chamber over the gate & wept: & as he went, thus he said: O my son Absolom, my son, my son Absolom! would God I had died for thee, O Absolom, my son, my son!"
And for fun, let's compare the above KJV to the now popular New International Version:
"The king was shaken. He went up to the room over the gateway and wept. As he went, he said: 'O my son Absalom! My son, my son Absalom! If only I had died instead of you--O Absalom, my son, my son!'"
Did your foot stop tapping? Mine did. The first version feels alive, the second approaching dead, as though the translation was done by steering committee in white coats.
To be sure, there's not much rhythm to be had in compilations of book terminology across the board, but I'm spending time with Fowler's example because it helps explain why some of the following books work pretty well - and are reached for often because they're alive - and some don't.
Here are some examples of what's available:
HARROD'S LIBRARIAN'S GLOSSARY AND REFERENCE BOOK. Ashgate Publishing Limited.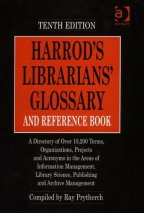 Though marketed as a librarian's reference, this glossary is unusually rich in more general book as well as library terminology. Terms are defined in detail in a clear, no-nonsense manner. 768 pages strong - that is, not much is left out. The current Tenth Edition is somewhat pricey, but if you drop down to the Ninth, you can pick this up for a few bucks and lose almost nothing in content or relevancy.
BOOKBINDING AND THE CONSERVATION OF BOOKS: A DICTIONARY OF DESCRIPTIVE TERMINOLOGY. Library of Congress.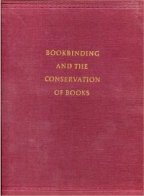 Absolutely a must have. An exceptionally detailed, illustrated dictionary of a myriad of book-related terms, some of them obscure and difficult to find in other references, with an overall strong emphasis on antiquarian terminology. Terms are defined with scholarly precision, and there are numerous cross references. If money is an issue, you can access this book online here, but you'll have to click into the illustrations separately to view them, and you won't get the 373-title bibliography at the end, which, by the way, opens up a new world of potentially useful references. But do get the print book if you can. It fills up half a desktop when it's open, exuding knowledge.
AMERICAN DICTIONARY OF PRINTING AND BOOKMAKING CONTAINING A HISTORY OF THESE ARTS IN EUROPE AND AMERICA, WITH DEFINITIONS OF TECHNICAL TERMS AND BIOGRAPHICAL SKETCHES. Howard Lockwood & Co. Republished by Gale Research Co.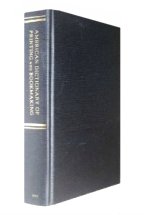 At the time of its publication in 1894, Lockwood's dictionary was about as definitive as it gets. 592 pages of small type, packed with illustrations, with numerous articles running several pages. Read it cover to cover, and you will acquire an extensive education in pre-twentieth century bookmaking and its history. Again, this dictionary contains numerous terms that are difficult to find elsewhere, clearly defined without the more commonly encountered Victorian fanfare of this period. The Gale 1967 reprint is widely available and reasonably priced, and a free e-book is also available at Google or the Internet Archive.
GLAISTER'S GLOSSARY OF THE BOOK: TERMS USED IN PAPERMAKING, PRINTING, BOOKBINDING AND PUBLISHING WITH NOTES ON ILLUMINATED MANUSCRIPTS AND PRIVATE PRESSES. University of California Press.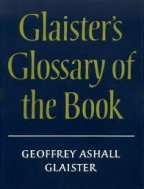 Similar in format and scope to the above book but with a more UK oriented focus - and more up to date. 551 pages, lots of illustrations and another extensive bibliography. This was originally published by Allen and Unwin in 1960, but look for the University of California Press Second Revised Edition published in 1979. Oak Knoll Press issued a later softcover version (also the Second Edition, re-titled Encyclopedia of the Book), but if given a choice, I strongly prefer hardcover over softcover simply because it will survive frequent handling.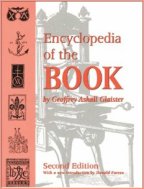 THE BOOKMAN'S GLOSSARY. R.R. Bowker Co.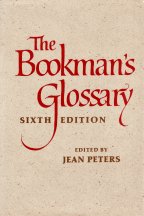 For many years Jean Peters' glossary was the standard bookselling terminology reference. The Sixth (and last) Edition was published in 1983, however, and it's slowly becoming forgotten. Nevertheless, it remains one of the few authoritative glossaries targeted specifically at booksellers, and in my opinion, it's another must-have for talking the talk of the trade - one of the first books you should snag, in fact, if you haven't started to build your reference library. Cheap and widely available.
GLOSSARY OF BOOK MANUFACTURING TERMS. Sheridan Books, Inc.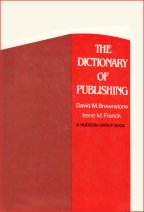 I wouldn't rank this glossary high on a list of must-have's for booksellers. It's relatively short at 113 pages, terms are defined briefly, and there are no illustrations. However, the emphasis here is on modern book manufacturing terms, especially those related to recent technological developments in printing, many of which do not appear in other glossaries. If you specialize in hypermoderns, go for it.
THE DICTIONARY OF PUBLISHING. Van Nostrand Reinhold Co.
A fairly recent publication, again with an emphasis on modern publishing (book manufacturing) terms, but more comprehensive and detailed than the above example.
A DICTIONARY OF BOOK HISTORY. Oxford University Press.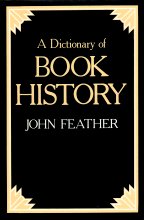 Another UK publication, this time with an emphasis on book history. It features numerous brief biographies of book collectors and other notables associated with the trade, also book terminology with an historical perspective.
ABC FOR BOOK COLLECTORS. Oak Knoll Press.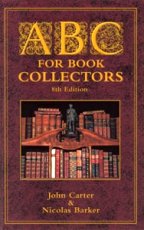 A rare instance when a book can be appreciated not only for its content, which is so solid and insightful that it's stood strong for over 50 years, but also read simply for the joy of being in the presence of the author. Encyclopedic format allows one to open the book at any point, enjoy a few moments, and put it down for another day. Delightful features include the use of bracketed explanatory notes placed strategically to illustrate the parts of a book - e.g., "This is the FREE ENDPAPER," "Above is a BLURB," and the presumably tongue-in-cheek "PRINTER'S BLANK" printed at the bottom of a totally blank page. Buy it. Cherish it.
A BIBLIOGRAPHICAL COMPANION. The Scarecrow Press.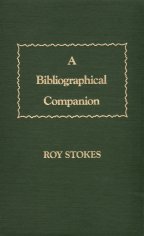 I've saved my favorite for last. In the Introduction, Stokes states that he was a teacher of bibliography for over forty years, and does it ever show up in his definitions of bibliographical terms - that is, it's essentially impossible to walk away from a Stokes' definition without a clear understanding of what the term means. And, if you truly grasp bibliographic language insofar as you can describe accurately and completely any book you're offering for sale, 90% of the bookselling battle is over. This is another example of a book that can be read with pleasure, again because the author is actually present - and another must-have. And something I like especially are the lists of "further-reading" references at the end of many articles.

Questions or comments?
Contact the editor, Craig Stark
editor@bookthink.com
| Forum | Store | Publications | BookLinks | BookSearch | BookTopics | Archives | Advertise | AboutUs | ContactUs | Search Site | Site Map | Google Site Map
Store - Specials | BookHunt | BookShelf | Gold Edition & BookThink's Quarterly Market Report | DomainsForSale | BookThinker newsletter - free
Copyright 2003-2011 by BookThink LLC