A Printing History of Everyman's Library 1906-1982
by Craig Stark
16 January 2012
A Review
There are many knowledgeable booksellers who are ready and willing to teach new or less experienced booksellers a thing or two, sometimes many things - and most of us take advantage of these opportunities. But we booksellers also learn much from collectors; in fact, it's often collectors who are the most generous sharing what they know. Moreover, collectors often author the best reference books, perhaps because their passion for what they collect inspires them to lavish as much attention on writing about their collections as they do on the collections themselves. Such is certainly the case with Everyman's Library collector Terry Seymour. In 2005, Terry published what has now been established as the standard bibliography on EL - A Guide to Collecting Everyman's Library. However, a bibliographer's work is never done, and for the past six years Terry has been working on a new EL resource. Originally conceived as an update to the guide, it evolved into a complete EL printing history.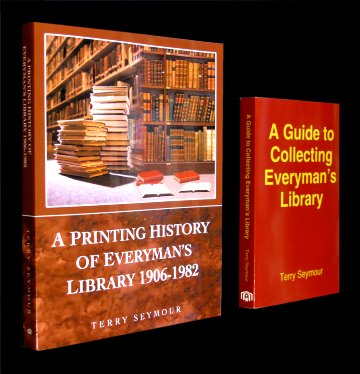 Those of you familiar with EL publications understand that there are many format complexities, and Terry devotes some 70 pages in the original guide to explaining them. It's important to note that he doesn't duplicate this content in the new guide - A Printing History of Everyman's Library 1906-1982. From his foreword: "For the most part I made no effort to repeat information from the 2005 Guide if that information still appears to be complete and accurate. Likewise, the history of the publishing effort and other subjects I have treated elsewhere are not rehashed. Thus, only new subjects or subjects requiring updated information are treated here."
The heart of both guides remains the bibliographic content, but here is a comparison of entries for Crime and Punishment in, respectively the original and new guides: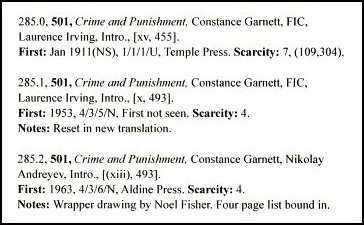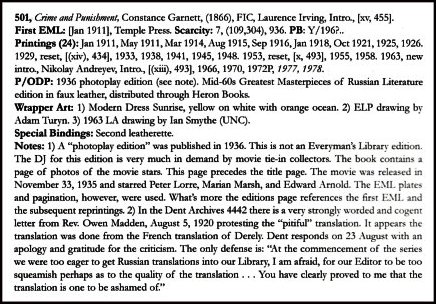 Clearly, the entry has been significantly enriched. Again, from the foreword: "At the heart of the book are some 1200 entries that document every aspect of every book in Everyman's Library. Every printing, binding style, jacket style and artist is included. Additional and updated scarcity information is given for each book. Essentially each entry is a mini-story about a volume in the library, including its predecessors and notes about every facet."
In addition to the expanded bibliography there are 29 color plates, new explanatory content and two user-friendly indices - an index of translators, editors and introduction writers and an index of illustrators and designers. In all, at 8 ½" x 11" and 303 pages, this is a major contribution to EL scholarship.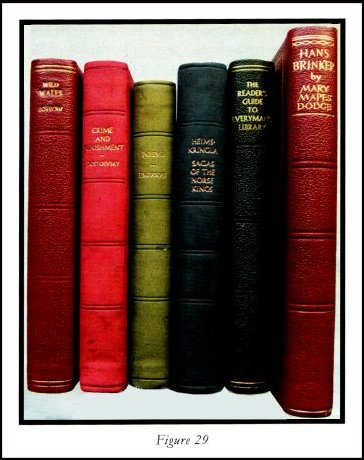 If you are an EL collector or a bookseller who handles EL titles, A Printing History of Everyman's Library 1906-1982 is an essential reference. It's currently available on Amazon for almost $80, but BookThink is going to save you some money and sweeten the pot. For $49.99 you will not only receive the guide but also all of Terry's invaluable Excel format checklists - A complete Everyman's Library checklist with scarcity indications and three J.M. Dent series books checklists: Mediaeval Towns, Dent's Double (and Treble) Volumes and Children's Illustrated Classics. This package will also include Terry's Dent Series Introduction article. Domestic shipping and handling is $6.50 for Media Mail or $14 for Priority Mail. Contact us at editor@bookthink.com for international shipping quotes.

Purchase it here.



Questions or comments?
Contact the editor, Craig Stark
editor@bookthink.com

| Forum | Store | Publications | BookLinks | BookSearch | BookTopics | Archives | Advertise | AboutUs | ContactUs | Search Site | Site Map | Google Site Map

Store - Specials | BookHunt | BookShelf | Gold Edition & BookThink's Quarterly Market Report | DomainsForSale | BookThinker newsletter - free

Copyright 2003-2011 by BookThink LLC

<! col. two ends> <! space>

<! col. four begins>