Prophetic Profits
by Craig Stark
27 February 2012
The Most Visible Books Often Display the Least Visible Opportunities
If I were to ask you to name the third most popular poet ever - and I do mean ever - could you? I'll make it easier for you and name the first two: Shakespeare (the Sonnets) and Lao-Tzu (Tao Te Ching). Need more clues? This poet's most widely read book was first published in 1923, selling just over a thousand copies. Today, 89 years later, many thousands of copies sell weekly.
At sales, I would guess that you would have encountered this book more times than you can count, perhaps not quite as often as you encounter Bibles, and passed it by. Given that it has been re-published countless times in dozens of languages, passing it by is usually the correct choice - but far from always. All early printings extending into the 1930's, special editions (limited, in slipcases, etc.) and sets of this and the author's other books, which are not at all uncommon, can often be very much worth bothering with.
Kahlil Gibran's The Prophet is not what I could call a "book that looks like nothing." The author was also an artist and twelve full-page drawings appear as well as the text, and if a dust jacket is present, there is a haunting image of Gibran on the front panel. However, it is a book so frequently encountered that there is an understandable tendency to assume that it is worth nothing.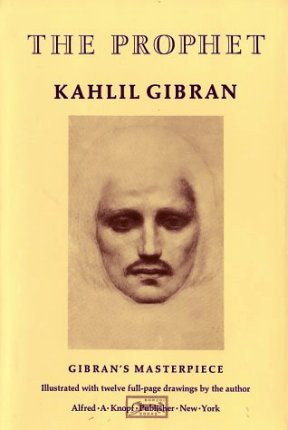 There are two important bookselling principles associated with The Prophet. The first is that any and all books that achieve this level of popularity attract collector interest - and should therefore attract your interest as a bookseller. Collector interest usually focuses on first and early printings but can also extend to other formats and gruopings.

The second principle is one I don't often mention but is significant notwithstanding. The Counterculture Movement of the late 1960's and early 1970's was a watershed period for many publications that supported it either in a practical sense - The Foxfire books/magazines, Mother Earth magazines, Whole Earth catalogs, etc., are good examples - or in a philosophical/spiritual one. Many books and magazines that were sought after then are collected today. It's difficult to put a label on Gibran's work, but there are clearly strong spiritual elements that dovetailed with this movement, whether derived from Christianity, Hinduism, Islam or Sufism. Sales of The Prophet spiked years ago and are spiking once again today, in what we now call the New Age Movement.

Much of Gibran's work took the form of proverbs - proverbist William Blake was a strong influence on him - often characterized by seemingly paradoxical concepts. Example: "Doubt is a pain too lonely to know that faith is his twin brother." In a dualistic sense, this and many of Gibran's other proverbs may seem like patent nonsense, but from an awakened point of view they are readily apprehended. The point is that this species of high knowing has staying power. Many of those same hippies that had interest in spiritual development 50 or so years ago paused to get married, have kids and pay off a mortgage, and now that the kids have left the nest and the mortgage has been paid off - oh, and in some cases a divorce has taken place - have the leisure to once again look within. The Prophet inspires this.

So - on your next scouting trip look for early printings of The Prophet, any special editions or sets, etc., and cash in quickly.



Questions or comments?
Contact the editor, Craig Stark
editor@bookthink.com

| Forum | Store | Publications | BookLinks | BookSearch | BookTopics | Archives | Advertise | AboutUs | ContactUs | Search Site | Site Map | Google Site Map

Store - Specials | BookHunt | BookShelf | Gold Edition & BookThink's Quarterly Market Report | DomainsForSale | BookThinker newsletter - free

Copyright 2003-2011 by BookThink LLC

<! col. two ends> <! space>

<! col. four begins>