<! col one starts>
<! col one ends> <!space>
<! col two starts>



<<< Continued from previous page
The Literary Guild, another major book club, followed BOMC in 1927, but its sovereignty proved to be short-lived. In 1929 Doubleday, Page (soon to become Doubleday, Doran) acquired a partial interest in LG and a controlling interest in 1934. Not surprisingly, however, early LG publications maintained quality standards similar to BOMC, contracting with trade publishers to produce the necessary copies for them. (It wasn't until Doubleday got its grubby hands on the Guild that quality took a sharp turn south.)
There are several interesting facts associated with the Guild's first selection, Heywood Broun and Margaret Leech's Anthony Comstock: Roundsman of the Lord, and I'm bringing this up to illustrate why bookselling is endlessly interesting and never predictable. First, apart from several issue points, the book club edition itself (minus the dust jacket) is materially identical in every respect to the trade edition - binding material and color, paper, size, even the red top stain. The dust jackets, though much different, are printed on the same type of paper. Clearly, the same printer printed both. This is of interest because booksellers often dismiss Literary Guild editions as inferior in quality to trade counterparts.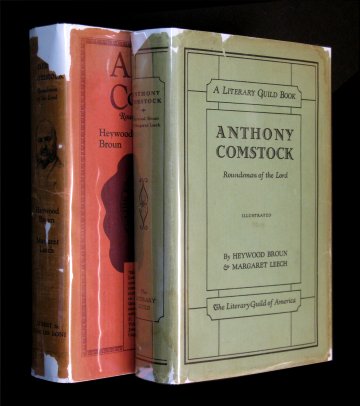 Second, the book club edition is in essence a first edition. Originally it was to have been published by Boni & Liveright, but the publisher released it to the Guild following a large sales guarantee. However, since the Guild had previously declared a policy of not negotiating contracts directly with authors, Charles Boni grudgingly agreed to execute a contract with Broun and Leech and issue the book simultaneously with the Literary Guild edition. Voila! First edition, technically, since the Literary Guild was the first publisher to schedule its release.
Also of interest was the May 1927 Guild selection, Edwin Arlington Robinson's Tristram: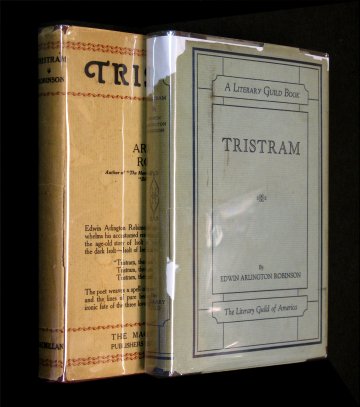 The trade publisher, Macmillan, had originally priced copies at $1.75, but when the Guild again guaranteed significant sales, the price was dropped to $1.50. Note that the dust jacket panel was clipped and stamped $1.50 at the bottom: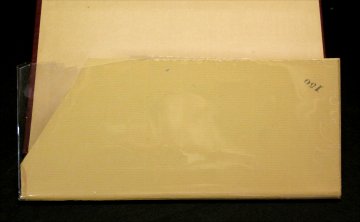 None of Robinson's books had ever sold more than 4,000 copies, and yet early on Tristram's sales, thanks to the Guild's participation, soared past 65,000 copies. Adding fuel to the fire was another interesting, related Guild production, Mark Van Doren's critical study of Robinson, Edward Arlington Robinson, published along with Tristram and shipped free to members. This book was notable because it was published in house, by the Guild, with no trade publisher participation whatsoever. Therefore, the book club edition is, along with being the Guild's first venture into separate publishing, also a first edition: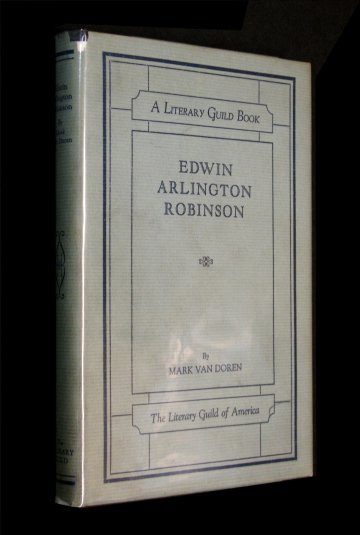 I could tell many other book club tales, but I'll offer just one more before closing. Literary Guild founder Samuel Craig sold his interest in the Guild in 1928 and launched a second club - The Book League of America - with a different program. For $15 annually, members received 12 "new" books - i.e., reformatted previously published titles or new collections of poetry, etc. - in magazine format, and 12 hardcover books with established reputations. The series launched in November 1928 Matthew Josephson's Zola and His Time.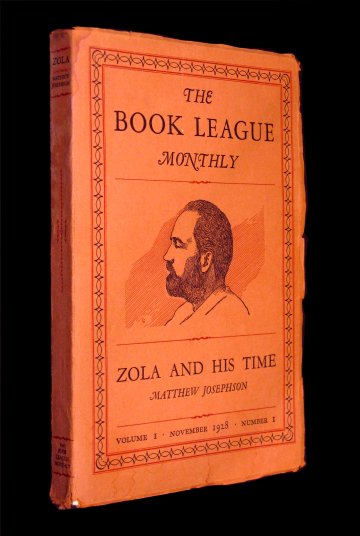 What was notable about early BLA publications was quality - octavo format (Yale Quarterly size), sewn bindings, high quality paper, elegantly designed cover art, text in 12-point Granjon - all expertly accomplished by the Haddon Craftsmen. Ironically, the Guild purchased the Book League in 1932, and it also became Doubleday property in 1934 - and guess what happened to quality standards?

So - are you inspired to start your own book club edition collection? If not, I hope I have at least shown you that book club editions are sometimes of sufficient interest to appeal to collectors. At the very least, knowing more about them can greatly aid in the identification process. This is what we booksellers call deep knowledge. It's how you make money at this.

<! col. two ends> <! space>
<! col. three begins>








<! col. three ends> <!spacer>

<! col. four begins>