Historical Notes on Book Club Editions
by Craig Stark
27 November 2011
Collectible - or Not?
In BookThink's early years there was a running joke, primarily in our forums and entirely at my expense, that I held and treasured a massive collection of microwave cookbooks. My own fault, no doubt, because I often pointed out in articles that there was perhaps no class of books that was more ubiquitous - or more consistently worthless. I suppose similar sport could be had with another class of "worthless" books - book club editions. Most of us know, of course, that not all book club editions are worthless, only most, but who can even imagine somebody who would actually collect them?
Well, let me introduce you to at least one somebody - me. I must tell you that this passion crept up on me slowly. You know how it goes, a BCE here, a BCE there, until one day you wake to an entire shelf of them - a personal collection! In my defense I would answer that many of these acquisitions were for purposes of research, but some of them are just pretty cool in their own right. Take this little number: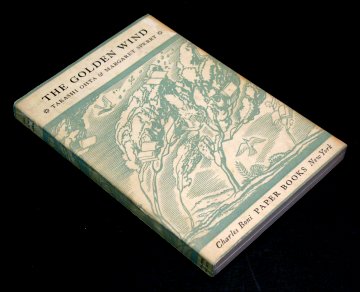 In May 1929 Charles Boni launched the Paper Books Club, offering Takashi Ohta and Margaret Sperry's The Golden Wind as its first selection. Several things are notable about this club. First, binding quality was high - stiff paper wraps and sewn bindings with exceptionally clear print. This accounts for the fact that sound copies are still readily available, by the way, over eighty years out. Second, most of the books issued were first appearances - i.e., first editions (though The Golden Wind wasn't one of them). Third, members had the option of sending the book back to be re-cased as a hardcover. Seemingly, not many did because these are somewhat scarce, depending on the title. And finally - and you may already have spotted this - selections featured striking Rockwell Kent cover designs, and yes, those are books flying through the air on the golden wind! Actually, this cover was used in different colors for several titles, but many of the covers were both unique and gorgeous: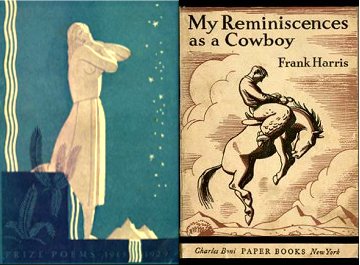 And here's a "rebound" hardcover version of another selection, Prize Poems 1913-1929: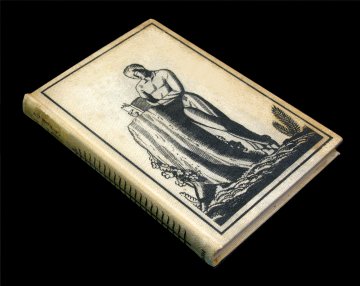 Luck wasn't with Boni, however. The stock market crash soon followed, and at what worked out to be $.42 per book to members, he would have needed to snag over 200,000 of them to make things work - nearly twice as many as the far more solvent and successful Book-of-the-Month Club boasted, launched three years earlier. The club shut down shortly thereafter.
What's in this for booksellers? An opportunity, I think, given that copies for Paper Books Club editions are available at a reasonable cost, but as copies dwindle - and they will - it's very likely that first editions with Rockwell Kent cover art will become increasingly desirable.
Speaking of cool, do you know what this is?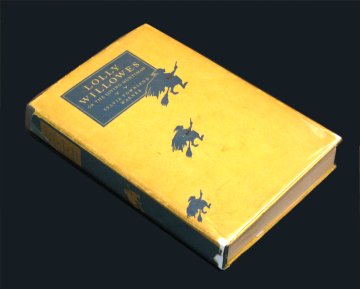 None other than the very first book club edition issued in the US - the April 1926 Book-of-the-Month Club selection, Sylvia Townsend Warner's Lolly Willowes or the Loving Huntsman - and though Viking (the first trade publisher) and Grosset & Dunlap both published editions contemporaneously, copies in original dust jackets are becoming less common. BOMC itself issued only 4,750 copies. Several other factors make this book potentially collectible. This was the author's debut novel, and there is significant evidence of a resurgence of interest in Lolly Willowes and in Warner herself. In the 1970s Virago Press gave new life to several of Townsend's novels, in fact, as it embarked on a mission to advance the cause of women's rights; and several other publishers have issued more recent editions. Reasons for this include: This was an exceptionally bright, humorous and well-written novel that featured, among other intriguing things, brushes with lesbianism and witchcraft - all considerable selling points. Warner herself was a lesbian and later in life became a principle voice in the feminist movement, giving more weight to her early work. And - as if all of this wasn't enough to attract collectors, I think you will agree that this is one gorgeous dust jacket (with the pictorial repeated on the book itself). Again, copies of trade editions and BCE's can still be had for modest amounts, and eBay auctions run shortly before Halloween can often yield good returns.
Here is another BOMC item of interest: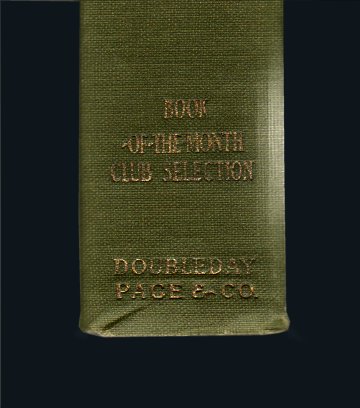 This is the spine panel of the July 1926 selection, Walter Noble Burns' The Saga of Billy the Kid. Experienced booksellers are well aware that the identification of BOMC editions can be difficult at times. Many booksellers assume that most book club editions are inferior in quality to their trade counterparts - this was and remains most definitely the case with BOMC's primary competitor, Doubleday (with some exceptions) - but BOMC editions were different animals in this respect. Even after BOMC took over their own publishing operations in July 1930, they consistently adhered to a policy of producing books that were equal in quality to the original publisher's books. In some cases, in fact, binder's boards were superior in quality. But even when trade and BOMC books were printed in different plants, great care was taken by BOMC to duplicate size, format, etc., in addition to meeting equivalent quality standards.

Regarding Billy the Kid, this BOMC edition is identical in every respect to the first trade edition (Doubleday, in fact, printed it) with two telltale issue points: Doubleday's "First Edition" statement does not appear on the copyright page, and a very obvious gilt-stamped "Book-of-the-Month Club Selection" appears on the spine panel, thankfully nailing identification and distinguishing it from Doubleday second printings, which had identical copyright pages. When BOMC dropped the spine panel stamp in 1927, however, the game changed: 1928 and later BOMC editions were often indistinguishable from trade editions unless an unpriced dust jacket was present or an edition statement was missing - not usually the case unless the publisher was Doubleday.



Questions or comments?
Contact the editor, Craig Stark
editor@bookthink.com

| Forum | Store | Publications | BookLinks | BookSearch | BookTopics | Archives | Advertise | AboutUs | ContactUs | Search Site | Site Map | Google Site Map

Store - Specials | BookHunt | BookShelf | Gold Edition & BookThink's Quarterly Market Report | DomainsForSale | BookThinker newsletter - free

Copyright 2003-2011 by BookThink LLC

<! col. two ends> <! space>

<! col. four begins>