<<< Continued from previous page
And here's the accompanying description: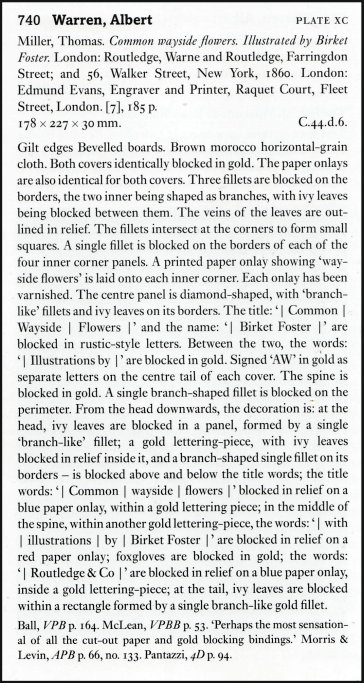 Not much left to the imagination, eh?
Now, I should mention that there are only 41 color plates and 87 monotone figures in Victorian Decorated Trade Bindings with fully 752 books described, but since King used British Library copies to produce this book, additional plates to accompany his descriptions can in many cases be found at the BL Database of Bookbindings. Plenty here to keep us out of trouble for days.
You might be thinking, well, this is all well and good, but what if I need help describing what's inside a book? In fact, internal points of issue are frequently more critical than binding variants. Such are the complexities of bibliography that a brief tutorial won't begin to answer this question, but again, there are tools out there that can speed the learning process, and of course BookThink's Guide gets into much detail about this as well.
But I'll leave you with an example in any case. Here's a page from David A. Groseclose's James A. Michener: A Bibliography: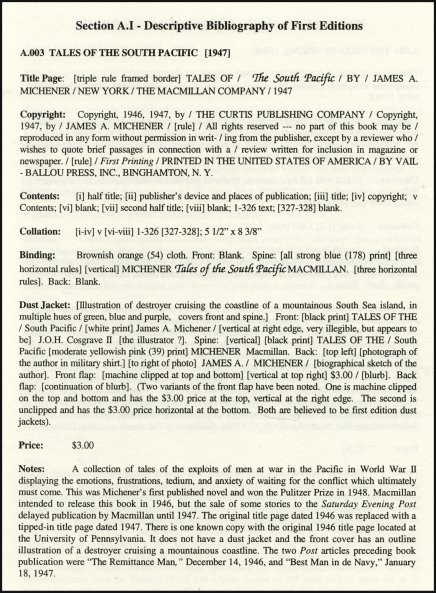 Pretty much nails it, I'd say.
By the way, both books can be had at a reasonable price, so why not start class today? It doesn't take much to outpace most of your competitors.
Want to read more articles by
BookThink's Editor in Chief Craig Stark?
Click here.
<! col. two ends> <! space>

<! col. four begins>