<! col one starts>
<! col one ends> <!space>
<! col two starts>



<!spacer>

Special Annoucements

by Craig Stark

#146, 2 August 2010


Per our announcement several weeks ago, we're re-launching BookThink's Quarterly Market Report tonight as BookThink's Bookseller's Author Reports. If you have an active subscription, you were sent an email recently indicating the number of issues you have remaining. If not, your subscription is either expired or we goofed. Email me at editor@bookthink.com if your records show otherwise.

BookThink's Bookseller's Author Reports will be issued monthly in PDF and optional print format and focus on those authors (and sometimes publishers) who present the most ready opportunities for profit today - in other words, authors whose books are commonly encountered and have good resale potential. These in-depth guides will include biographical information pertinent to booksellers, autograph samples, a detailed market analysis with pricing indications, the author's bibliography with first edition issue points and cover photographs - and more. Annual PDF subscriptions are $79.99 (a savings of $39.89 over purchasing 12 individual issues) and may be purchased here. Click here to purchase individual PDF issues at $9.99 or print issues at $14.99 ppd. Print subscriptions are available at $99.99; click here to subscribe.

The August Report features mystery writer Sue Grafton. An abridged sample appears in this issue of the BookThinker. Click for a BookThink interview.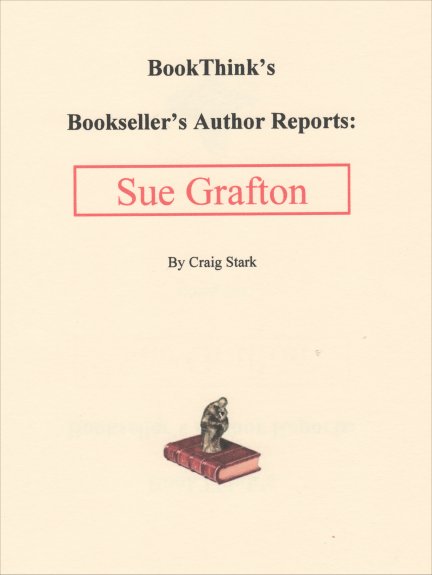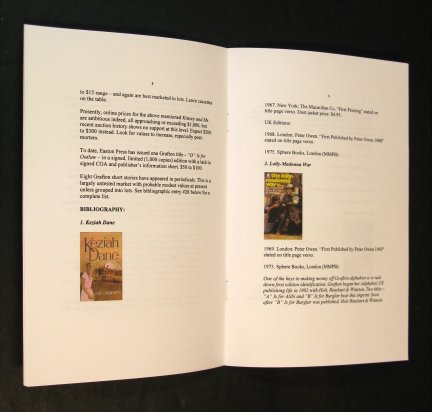 A few reminders. BookThink's new Guide to Online Bookselling was launched last week, and subscriptions may now be purchased here. See the July 19 BookThinker (available on the home page) for more information.

Click here for ongoing BookThink specials.




<! col. two ends> <! space>
<! col. three begins>







<! col. three ends> <!spacer>

<! col. four begins>