<!spacer>

The Evolution of Santa Claus

by Michele Behan

#110, 24 December 2007
Who is that man in red and how did he wind up in my chimney? Since childhood, we have been inundated with stories of Santa Claus. Alternately familiar and revered in the eyes of little ones, Santa Claus represents the jovial arbiter of childhood justice, dispensing toys solely upon a child's designation as "naughty" or "nice."
The myth of Santa Claus is based upon a real life man, Saint Nicholas, who was born during the fourth century. Nicholas was a Bishop of Myra in modern-day Turkey, then a Roman province. His reputation for secret gift giving grew from a famous exploit in which Nicholas helped a poor man who couldn't afford a dowry for his three daughters. According to legend, Nicholas wanted to help the family, while simultaneously preserving their pride. He went to the man's house late at night and tossed three purses filled with gold coins through the open window. The gold purses fell into open stockings drying by the fire, allowing the daughters to avoid an unmarried life of prostitution.
Nicholas was suspected as the benefactor in a large number of other anonymous gifts in the region and his generous reputation outlived him. After he died, anonymous gifts to the poor were often attributed to Saint Nicholas.
Dutch immigrants brought the legend of Saint Nicholas to America when they settled during the 17th century in New York, then called New Amsterdam. The legend filtered through the Dutch communities of colonial New Amsterdam and then on to other American colonies, with the Dutch spelling of Sinterklaas for Saint Nicholas.
Uttered by English children, the name of Sinterklaas took on the sound of Santy Claus and linguistically evolved into today's Santa Claus.
Washington Irving, an American author best known for his short stories, "The Legend of Sleepy Hollow" and "Rip Van Winkle," is credited with the first written description of an American Santa Claus in his satire, A History of New York from the Beginning of the World to the End of the Dutch Dynasty, published in 1809. Using the pseudonym of Diedrich Knickerbocker, Irving narrates his account in the guise of a scatterbrained historian, whose facetious tale of the early history of New York comically blends fact and fiction, and describes Santa Claus as riding over the treetops in a horse drawn wagon "dropping gifts down the chimneys of his favorites."
Irving also gave Santa a long stemmed clay pipe and clad him in baggy breech trousers and a broad brimmed hat. The familiar phrase, "... laying a finger beside his nose ..." made its first appearance in Irving's story.
As is often the case, one literary work is built upon another. Perhaps Clement C. Moore was not even aware that he borrowed Irving's phrase when, in 1822, he scripted his famous poem, A Visit from St. Nicholas, now more popularly known as The Night Before Christmas.
Moore's classic poem is noteworthy for its creation of the Santa Claus persona in the public imagination, including details about Santa's appearance, his annual visits on Christmas Eve, his mode of transportation, the number and names of his reindeer, and his role in bringing toys to children.
Moore composed the poem as a prank for his children in 1822. He is thought to have used a Dutch handyman or gardener in the community as his model for Santa Claus. Tradition holds that a family friend, Miss Harriet Butler, copied the poem in an album and sent it anonymously to the Troy (New York) Sentinel newspaper a year later. Its publication caused Moore, a serious writer known for his scholarly works, such chagrin that he delayed admitting authorship for twenty-two years - a fact cited as evidence by some that the poem was not written by Moore but actually authored by Henry Livingston, Jr., a relative of Moore's wife.
Regardless of its disputed authorship, A Visit from St. Nicholas became immensely popular. The Santa Claus persona in Moore's poem is uniquely American, fusing elements of German and Scandinavian myths with Irving's jolly Dutchman.
For the first time, Santa's travel by sleigh was mentioned, as well as eight tiny reindeer to pull it. Santa "was dressed all in fur, from his head to his foot." Despite being described as a "little old elf," he retained the ample girth of the short and round stereotypical Dutch figure:
He had a broad face and a little round belly,
That shook, when he laughed like a bowlful of jelly.
He was chubby and plump, a right jolly old elf.
Clement C. Moore also ensured that Santa still smoked his clay pipe:
The stump of a pipe he held tight in his teeth,
And the smoke it encircled his head like a wreath.
Early book illustrations of Santa Claus in the 19th century show him happily puffing away on his pipe, even while preparing to descend down a chimney with a sack full of toys.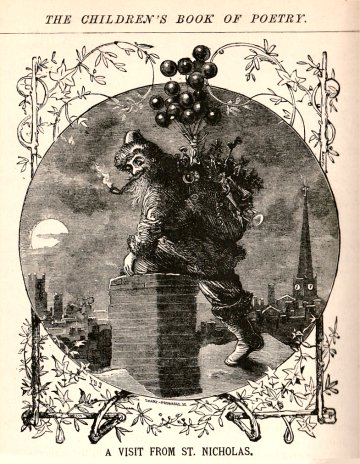 The first known illustration connected with A Visit from St. Nicholas was a woodcut by Myron King done in 1830 that bordered the annual rendition of the poem printed in the Troy (New York) Sentinel newspaper. Thereafter, various artists lent their own artistic vision to the appearance of Santa Claus.

Notable among these was Thomas Nast, a political cartoonist for the New York periodical Harper's Weekly. He drew his first Santa Claus for Harper's in 1863, as the Civil War raged in America. Nast removed most of the religious symbolism that had previously been associated with Saint Nicholas. Rather than religious, Nast's Santa was fiercely patriotic and was strongly identified with the Union Army. Although Nast was a German immigrant, he was determined to transform Saint Nicholas into a 100% American.

<! col. two ends> <! space>

<! col. four begins>