Mary and Darleen have been traveling the world since their retirement from higher education, visiting places I've only read about - Patagonia, Turkey, China, India, Kenya, Tanzania, Iceland, Peru, Chile, to name just a few. They plan to go to Ecuador in September, then to Galapagos. Far from being tourists, they are intrepid explorers, venturing into areas that the usual tourist doesn't see.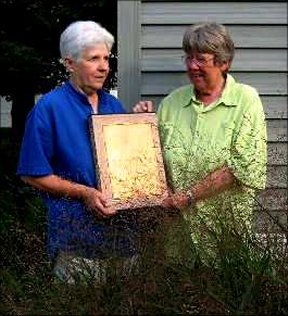 I invited them both back for lunch and an interview with Mary after reading her book The Strangler Fig & Other Tales: Field Notes of a Conservationist (Altamira Press,Walnut Creek, CA, 2004). If you love good travel writing, this book is one you are sure to enjoy. It's an informative natural history of some of the lovely places they have visited around the world, a treasure chest of scientific fact and astute observation written in a lyrical and beautiful style. It is seasoned just right with philosophical thoughts on social justice and humanity's impact on the natural world.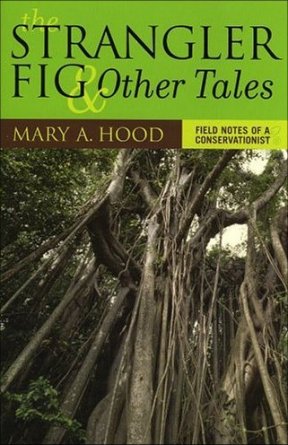 Below is my interview with Mary.
BOOKTHINK: Mary, I have to ask you this - How old are you and how do you stay so young and full of spunk? C'mon, I'll tell you how old I am - I'm 55! (I'm not sure how I let Darlene off the hook on this one.)
HOOD: I'm 63 and Darleen's 65 - hah, she's not off the hook. I think staying active is partially due to hanging around with the right kind of people, those who have enthusiasm and passionate interests in life. That's the one thing I do miss about working at the university. Being around young people is always invigorating.
BOOKTHINK: Mary, tell me a little about your background. Where were you born and raised, when did you become interested in nature and conservation?
HOOD: I grew up in southern Louisiana not far from Baton Rouge. As a graduate student in the 70s, I spent a lot of time in the salt marshes and swamps of Louisiana. A project involving an environmental impact sponsored by several oil companies who planned to build a supertanker terminal and pipeline allowed me to work in the field. I was hired along with a number of other grad students and ecologists to do baseline studies of these wetlands. The stipend allowed me to complete a PhD in Marine Science/Microbiology.
BOOKTHINK: In the first chapter of The Strangler Fig & Other Tales you tell a magical story about your father and your brother being rescued from heavy fog on a Louisiana river by a phantom barge. I was hooked and couldn't put the book down! Tell me a little about your childhood.
HOOD: I grew up where the men were the ones that went out hunting and fishing and the women stayed home and cleaned up the house. I hope this first story sets the stage for what we can define as home. It starts with me at home telling an adventure my father told. In the next stories my travel tales unfold. The final chapter ends with home, but it is a home that I have made.
BOOKTHINK: Tell me a little about the symbolism in the title you chose for this book, The Strangler Fig.
HOOD: The strangler fig is generally considered a parasitic plant by botanists because it entwines around a host plant and eventually kills it. The fig needs the host plant for support. But we might consider the fig a benign parasite because it kills its host so slowly and there is some evidence that the host plant may acquire some benefit from the fig. Ecologists recognize that all creatures exist in a kind of mutual interdependence with others.
We humans think of ourselves as independent creatures, yet more cells in our bodies are microbial than are our own. Every plant and every animal has microbial symbionts or other higher organisms as mutualistic partners. I use the strangler fig as a metaphor for all life's interdependence.
BOOKTHINK: Let's talk about the importance and meaning of home to the traveller, which seemed to be the framework for your book.
HOOD: Most classical travel stories from The Odyssey to The Hobbit begin with going off, having adventures, and then coming home. So that is how I tried to frame the book. It starts at home (my home as a young girl) and ends at home (my home as a mature woman).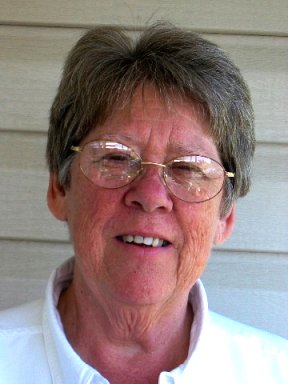 BOOKTHINK: I also want to ask you about the illustrations in the book, mostly done by Eric Hinote, which I really liked! Any story behind these?
HOOD: No story really, except he was a struggling art student who needed the money.