<! col one starts>
<! col one ends> <!space>
<! col two starts>



<!spacer>

by Claire Main

#102, 27 August 2007
Digging for Victory
Gordon & Williams' Tunnels
| | | |
| --- | --- | --- |
| Children's fantasy fiction is a difficult genre to master, but it's perhaps the most rewarding. Dominated as it has been over the past few years by the Rowling/Potter phenomenon, it's widely assumed that there is now a vacuum waiting to be filled by a new author. However, in the UK, authors have been continually developing their work, albeit in the shadow of Hogwarts School, and publishers have been keen to encourage them. A shining beacon among this new talent is the writing duo of Roderick Gordon and Brian Williams, who have risen to prominence recently with their book, Tunnels. | | |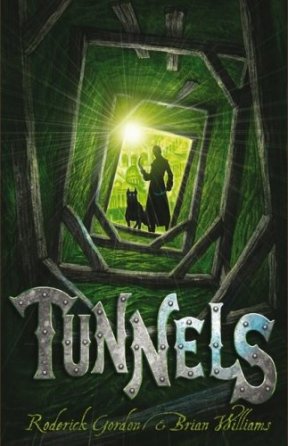 Originally self-published as The Highfield Mole, publisher Chicken House has since capitalized on its early success and reissued it as Tunnels.
Roderick Gordon and Brian Williams started work on The Highfield Mole after Gordon was inspired by a local legend while digging at a 16th-century country house he had purchased in an advanced state of disrepair. The legend, according to a neighbour, spoke of an underground passage linking the church to his property. Later on, whilst digging, Gordon found something in the earth ...
Soon after, Gordon contacted his University friend Brian Williams and told him about his dreams, how this experience had caught his imagination during supper one evening. The pair had very different careers to that point - Roderick an investment banker and Brian an artist. Brian was also an actor and independent filmmaker who had worked on projects with Charlie Higson and Alex Cox. They finally got together to publish The Highfield Mole after Roderick was made redundant in 2001, though they had talked about doing a project in the past at University.
First, they wrote a film script together in 2003 and found it great fun. Then, at supper one evening, Gordon's wife suggested that they write a children's book. Two ideas collided: Roderick's concept of the Will Burrows character and Brian's knowledge of the Williamson Tunnels, which were dug in Liverpool between 1800 and 1840. And The Highfield Mole was born. Amazingly, Gordon sold his house to self-publish the book, but thank goodness he did because soon after, Barry Cunningham, a publishing legend in his own right who discovered J.K. Rowling's first book, The Philosophers Stone whilst working for Bloomsbury, saw the potential success of the series and signed the two authors at Chicken House.

Tunnels is a refreshingly different book that bears little resemblance to Harry Potter. Cunningham has an eye for raw talent, for the next big thing - and this is definitely proving to be a success. Now in its 7th printing, over 50,000 copies have sold in the UK. Also, US-based Relativity Media has purchased the film rights, though oddly it still hasn't been published stateside!

Synopsis (excerpted from Tunnels):

"Fourteen-year-old Will Burrows lives with his family in London. He has little in common with them except for a passion for digging, which he shares with his father. When his father suddenly disappears down an unknown tunnel, Will decides to investigate with his friend Chester. Soon they find themselves deep underground, where they unearth a dark and terrifying secret - a secret which may cost them their lives."

<! col. two ends> <! space>
<! col. three begins>







<! col. three ends> <!spacer>
<! col. four begins>











<! col. four ends>