<!spacer>

The Paper Chase
for Literary Ephemera

by Michele Behan

#101, 20 July 2007
Ephemera is like Einstein's Theory of Relativity: Everyone has heard of it, but few can describe it.
The word "ephemera" conjures visions of ticket stubs, calendars, advertising, packaging materials and other rudimentary fragments of human life manufactured for short term purposes and meant to be discarded after a brief period of time. Derived from the plural of the Greek word "ephemeron," which translates to a short-lived thing lasting only one day (think of the mayfly, an elegant insect whose adult life begins and ends on the same day), "ephemera" has transcended its literal definition to include objects which in many cases have long outlived their human creators.
Of particular interest to booksellers are the ephemera found in books. Beyond the occasional hidden cash that surfaces from time to time, it is always a thrill to discover an item long buried inside a book that may turn out to be worth more than the book itself. The discovery of a carefully pressed five dollar bill laid in a 1960s paperback of The Lion, the Witch and the Wardrobe is a testament to the enduring legacy of the book as an effective instrument of safekeeping. Small items of ephemera such as photographs, religious cards, tickets and postcards often owe their very survival to their secondary use as a bookmark.
While every bookseller is familiar with such accidental ephemera, there exist many categories of literary ephemera specifically manufactured for the book market. Bookplates, bookmarks, bookseller's labels, trade cards advertising published books and booksellers' establishments, postcards depicting libraries ... such types of ephemera are avidly collected by bibliophiles and esteemed for their value as literary tie-ins.
Bookplates are the pasted-on labels used to denote ownership of a book. Commonly found affixed to an endpaper and sometimes designed by famous artists, bookplates have been in usage since the 15th century. They originated with the hand painted marks of ownership in early manuscript books. 15th-century designs often contained graphic warnings of the dire fate that lay in wait for book thieves in an effort to deter anyone contemplating such a deed. With the advent of moveable type, Germany was the country of origin of the first printed bookplates.
The term "bookplate" was first used by John Ireland in his 1791 publication, Hogarth Illustrated. Along with William Hogarth, early engravers of bookplates include such eminent artists as Albrecht Dürer (who designed at least six bookplates from 1503 to 1516), Hans Holbein and Henri de Toulouse-Lautrec. Bookplates enjoyed a revival of popularity in the 20th century and well-known illustrators such as Rockwell Kent designed many examples. Notable personalities who had bookplates commissioned for their libraries include Cardinal Thomas Wolsey, Samuel Pepys, George Washington and Paul Revere, who designed his very own bookplate.
The words "ex-libris" (Latin, meaning "from the books of") frequently appear on bookplates, and the two terms are often used synonymously.
The bookplate's collectibility derives either from its association with the original owner of the book or, as is often the case with found bookplates, from its attractiveness as a miniature work of art.
These true miniature gems may depict elaborate heraldic devices of owners' coats of arms, still-life interior scenes of libraries, pastoral landscapes, images of owls and other animals, portraits of the owners, occupational themes, or stylistic book-related motifs. The owner's name is often engraved on the bookplate or incorporated into the design.
Victorian bookplates sometimes carried genteel versions of the old medieval book curses. The bookplate of Mrs. Prevost found in an 1851 book warns, "Read slowly - pause frequently - think seriously - keep cleanly - return duly - with the corners of the leaves not turned down."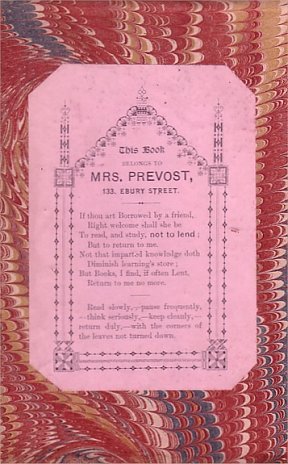 With the onset of Art Nouveau and the concurrent Arts and Crafts movement of the late 1800s and early 1900s, imagery of the bookplate incorporated scrolls and flourishes alongside the book press depicted in Edward L. Palmer's bookplate, dated 1903.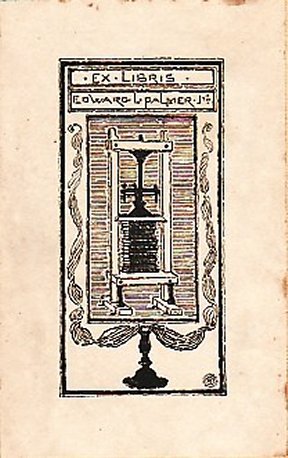 By the early 1900s, the bookplate was a flourishing art form and numerous mass-produced designs were available for sale, along with privately commissioned examples. This World War I design depicting a Doughboy was found loose with its gum intact - apparently left over from the end of the war in 1918.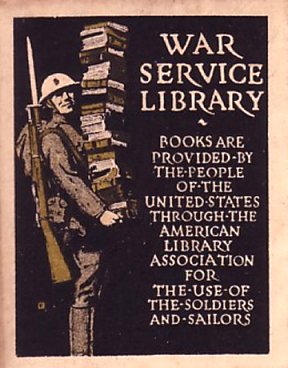 Modern bookplates have their own appeal. The stark simplicity of this design succinctly conveys the occupation of the book's owner: Volkmar Wentzel was a long-time photographer for National Geographic.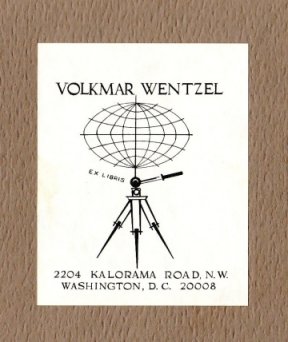 The graphics on this magician's bookplate are striking and the bookplate even incorporates a photo of the magician.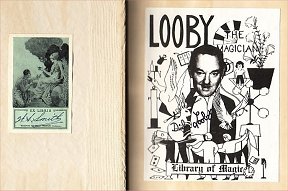 <! col. two ends> <! space>