| | | |
| --- | --- | --- |
| | | #99, 16 July 2007 |
A Profile of William Smith, Hang Fire Books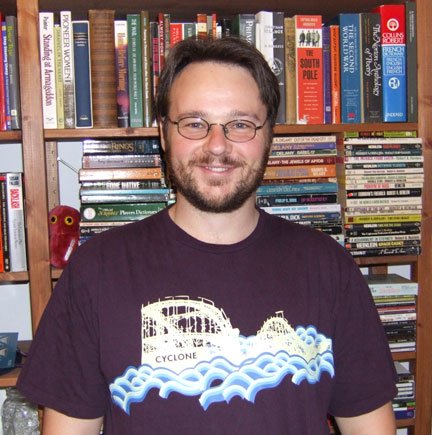 NAME OF BUSINESS: Hang Fire Books
LOCATION: Brooklyn, New York
WEBSITE (if any): Hang Fire Books and Hang Fire Books Blog
NUMBER OF YEARS IN BUSINESS: 2
PART TIME OR FULL TIME: Full Time
BOOKSELLING VENUES USED (in order of importance): eBay, Amazon, ABE, Alibris, Biblio, ChooseBooks
SIZE OF INVENTORY: 3500-4000
SPECIALTIES: Fantasy/Science Fiction, Vintage Paperbacks, Rare, Firsts
WHY I SELL BOOKS: After a series of unsatisfying jobs, I realized the common thread was that I was working for other people. Online bookselling lets me indulge my compulsive tendencies (Shopping! Listmaking! Organizing!) AND make a living at it. When I walk down the street, on a sunny Monday morning, and see a $20 book sitting by the curb for recycling, I know I've made the right career choice. (When I'm choking on dust and cat dander, digging through my third box of damp book club editions, I won't tell you what I think.)
I recently started a bookselling blog - http://hangfirebooks.blogspot.com/ - that shows off my new arrivals, discusses bookselling tools and techniques, and contains lots of photos of the weird objects and ephemera I find in my travels. I want to recreate the feel of a B&M store with an eccentric and chatty proprietor (method acting, I assure you), and it saves my girlfriend from having to listen to all of my bottled-up ranting. Please visit and comment.
ADVICE FOR NEW BOOKSELLERS: Have a speciality. Make a book-buying "jump bag." Keep good records. Don't be afraid of HTML.
BEST BOOKSELLING TIP: Learn a bit about restoration and presentation.
FAVORITE AUTHOR(S): Herman Melville, Patrick O'Brian, Thomas Mann, Alasdair Gray.

If you liked this article, Digg it!

<! col. two ends> <! space>