<! col one starts>
<! col one ends> <!space>
<! col two starts>



<!spacer>

by Claire Main

#98, 9 July 2007
A Modern Day Agatha Christie?
| | | |
| --- | --- | --- |
| Ok, I have to admit it - I'm a sucker for 1920s detective fiction. Cucumber sandwiches cut into triangles, stylish young men with sharply creased trousers and manners to match, elegant Ladies sipping afternoon tea, Art Deco manses, chauffeured Rolls Royce's, formidable aunts (spinster or dowager) - yes, I love it all. It does help if the book has believable, likeable characters and a good plot that moves at a brisk pace. Dolores Gordon-Smith has achieved all this and more with her first novel, A Fete Worse than Death, cracking this difficult genre, dominated as it is by Dame Agatha Christie, Dorothy L. Sayers, et al. | | |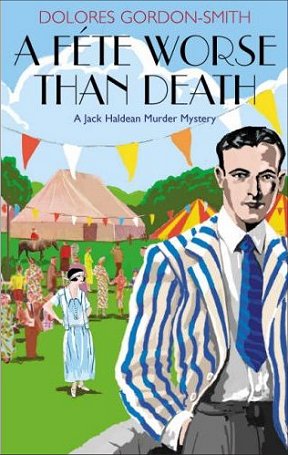 She has at once captured the golden age of the 1920s and couched it in a modern, entertaining style. Jack Haldean is a strong leading character; Dolores has surrounded him with a well-drawn supporting cast, not to mention formatted everything so as to propagate an entire series of Jack Haldean mysteries. It's easy to imagine it being adapted for the small screen.
Constable and Robinson (UK) and Carroll and Graff (US) are the respective publishing houses behind the series. Already they have developed a reputation for discovering authors who have game in this genre. Catriona McPherson is their latest success story, her Dandy Gilver series snatched up by major publishers Hodder and Stoughton just after the second book was published. It seems that Dolores will be following in the footsteps of Catriona, launching a major publicity campaign in the UK this summer.
A Fete Worse than Death can be purchased at Amazon, either publishing house, and most bookshops. So, if you are like me and wish you had the opportunity to step back in time to buy an Agatha Christie first printing, here is a good possibility.
Book Description
In the summer of 1922, Jack Haldean, a young ex-Royal Flying Corps pilot and crime writer, was thoroughly enjoying his day at the Red Cross fête in Breedenbrook, Sussex. It seemed to sum up the dream of the peaceful world which had sustained him through 4 years of war. Then he met Jeremy Boscombe. Boscombe, cynical, rude and abusively tipsy, had been a thorn in Jack's side during the war and hadn't improved since.
When Boscombe is found murdered in the fortune-teller's tent and his equally unsavoury pal, Reggie Morton, is found murdered in the Talbot Arms, it poses a real mystery.
Jack is convinced that the root of the crime goes back to an incident on the Somme, when a party of British soldiers were betrayed, ambushed and killed in the tunnels under the Augier Ridge. The young Marguerite Vayle passionately wants to forget the past, but, along with everyone else, she discovers that old sins have very long shadows indeed. As Jack becomes ever more involved, those old sins flare into life, bringing love, revenge and hatred - and murder.
Jack's search for the truth leads him into the silent tunnels carved out of the chalk of the Somme. Here, surrounded by the dead of that fatal day, the dead themselves lead him to the final solution - a solution which means he must face his deadliest enemy to survive.
Product Details (UK Edition)
Hardcover: 256 pages
Publisher: Constable and Robinson (28 Jun 2007)
Language English
ISBN-10: 1845295951
ISBN-13: 978-1845295950
Product Details (US Edition)
Hardcover: 288 pages
Publisher: Carroll & Graf Publishers (Jun 2007)
Language English
ISBN-10: 0786719850
ISBN-13: 978-0786719853
Product Dimensions: 21.8 x 14.2 x 3.3 cm
<! col. two ends> <! space>
<! col. three begins>







<! col. three ends> <!spacer>
<! col. four begins>











<! col. four ends>