<<< Continued from previous page
You take care - and time - with these kinds of things. Aside from wanting to avoid the books that have been scribbled in, you want to make sure you catch all the scraps and pieces of that life, so you don't have to go back later to return them - photographs, postcards, bits of poetry, drawings and the like.
She'd been an interesting person. Neat - the books were always kept shelved (only dusted on the top edges), and had no spills on them or broken parts. All the dust jackets were there. Yet she'd been an undisciplined and voracious reader - field-expedient bookmarks everywhere; torn strips of college-ruled notebook paper mostly, some folded over to mark two spots. Also, she was more than an accumulator; she'd had the beginnings of a collector in her.
Her first books were the usual - board books and floppy naming books with plastic pages. There were yellow chicks and duckies, fluffy kittens; alphabets made of other, less likely critters. Nothing she'd chosen herself, certainly.
Then I found the book - it's always there, the one she probably learned to really read from. As is not uncommon for those who get read to, it was Alice - that ubiquitous, cheap Random House slipcased set (minus the slipcase) with the Tenniel illustrations colored by another artist.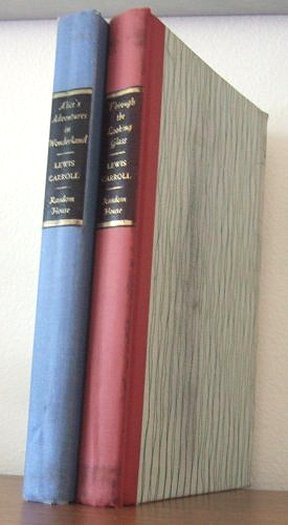 It was the only book(s) in the lot that was really beat up - but it was beat up from reading, and probably from falling asleep on. I found two hairs in two different places in Wonderland.
There was a hollowed-out book safe with a diary and some photos, which I returned.
What I really wanted to do was ask the aunt if I could check the bookmarks on the girl's computer - for such sites as ABE and AddALL - but I didn't. She had an interesting bunch of kid's books - Trixie Belden, Animorphs, and a couple of the better Star Wars serials. They were bagged; and in all cases they were the valuable books in the series (almost always the last few). Once I caught the faintest whiff of Goo-Gone, but maybe it was my imagination ...
There was also a very nice first edition copy of Maurice Sendak's Outside Over There. Almost flawless, really, in a fresh Brodart with a bookseller's price still penciled in - $75.00. Some hustling there, for such a young one. One of us - a book person.
Her tastes had developed into somewhat dark urban fantasy, toward a Francesca Lia Block take on fiction (excellent writer in general, by the way - highly recommended). While examining her books I could watch the little girl falling down a rabbit hole into a world of makeup and the uncertainty of the almost-woman she must have been.
It was a good buy, really. A couple of nice pieces for me, and some excellent shelf stock to trade to the brick & mortar bookstores I do business with.
I also returned the Sendak - I told the girl's aunt that the family might want to hang on to it - along with all of the ephemera, of course. I kept Alice though; call it a tip of the hat from one bookman to an embryonic other. It's on my shelf. Still not sure what I'll ever do with it.
I'm a professional, dammit. I didn't cry 'til later, when I was alone in my car.
BIOGRAPHICAL NOTE:
The author of this piece is an unpublished novelist (thus far, he avers) who was born in Los Angeles and grew up in New York City amid the remnants of the old Book Row - one block north of the storied bookstore owned by Jack Biblo and Jack Tannen. He turned his first profit on a book sold to Mr. Tannen at age nine, in 1960. His father was an artist and his early life was spent among the bi-coastal beat crowd. He claims to have been raised as the male analog of suzuki beane.
He has variously been an asset smuggler in Europe, a used car salesman, an art restorer, a network administrator, a short-order cook, and - in the only constant thread woven through his life - the itinerant owner of several bookstores and a life-long hustler of antiquarian books. He currently resides in Minnesota with a daughter, a cat, several computers, his books, and a mannequin which goes by the name of Audrey.

If you liked this article, Digg it!

<! col. two ends> <! space>