<!spacer>

by Claire Main

#95, 28 May 2007
The Magic Light of Success
Shines on Julian H. Lewis

Summertime is upon us, and over here in the UK the literary community is raring to put pencil to paper and manuscript to publisher.

After the phenomenal reception of my last BookThink article I have been looking for another debut writer's first book with sound investment potential for the future. In fact, I wanted to find a first printing of a book that Book Think readers could buy at the recommended retail price - if they act fast.

<!space>
As I was scouring the UK databases for new books, I came across an interesting title that caught my eye straight away. Actually, I couldn't believe my luck - had I found a title that ticked all of the requirements above with the added bonus that it was a self published?
Noting all the details of the book - The Magic Lantern of Kimbustan - I contacted Pen Press, the self publishing house behind it, almost doubting that such a promising book could be found as easily as this. After speaking with the proprietor of Pen Press, I discovered even more interesting facts that pointed to this book's potential.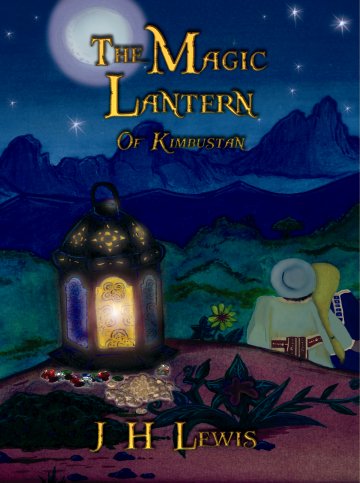 The publishing world can be a hard one to crack, but after Pen Press agreed to share exclusive information with BookThink readers in advance of publication, I was on cloud nine for a week. Some important inside information follows:
WH Smith and Waterstones, two of the largest book retailers in the UK, are promoting The Magic Lantern of Kimbustan nationwide in June, and it will be marketed alongside the final Harry Potter book in July.

Following reviews in Publishers' News and the Bookseller, publicity scouts representing a variety of children's publishers all over the world, including the USA, and film makers across Europe asked for review copies.

Sales and marketing is being handled by Pat Shepherd (ex-Random House Sales Director) and PR by Philippa Perry Associates.
So it seems that Julian H. Lewis's Magic Lantern of Kimbustan will be keeping the literary flag flying in the UK. Intrigued by the publicity surrounding the book, I also researched the author. Julian Lewis was born in 1954, studied at Warwick University, then returned to London to join a family business. He later married, and his three children have served as his inspiration behind the stories. Clearly, Julian is motivated; besides holding a full time job, he is also studying for a degree and writing the sequel to The Magic Lantern of Kimbustan.
Though a resident of London, Lewis' first novel is not set in the bright lights of the big city, but in two very different places. Lewis adeptly transports his characters in time to another world and sets them off to make sense of the secrets they are given to unlock. A rich plot, bright dialogue, and believable characters make this an excellent read. Yes, this boy can write!
Book Description
"Just remember ... nothing in India is as it seems."
A story of love, betrayal and treasure. The magic lantern is an ingeniously crafted children's adventure set in early 20th-century British India and modern-day Scotland. In 1936, two young women, Agnes Moondancer and Irene McTavish, must flee India following the sudden death of Irene's fiancé, Prince Ruhal of Kimbustan. Fifty years later, twins Kelly and Tim McTavish inherit Aunt Irene's battered old oil lantern and her treasure - which is now missing. Two worlds collide when the twins fall asleep with the lantern burning. Transported to another world and time, they must unlock the secrets of the past to discover the full truth of Prince Ruhal's death and find the stolen crown jewels of Kimbustan.
Product Details
Hardcover. 224 pages.
Publisher: Pen Press Publishers, Ltd. (1 Jun 2007).
Language: English.
ISBN-10: 1905621884.
First Edition: 6600.
Collectors Notes
Printing numbers generally run 5% over to under projections. The exact number of first editions printed by Pen Press in Brighton was 6600.
400 review copies have been printed. 300 have been used as review copies, and the remaining 100 comprise an exclusive Limited Edition (see below).
Given that most of the 6600 first printings have already been shipped to WH Smith and Waterstones, few copies remain for purchase in other venues. Also, since most copies sold through bookstores will end up in the hands of children, few copies are likely to surface in the resale market in collectible condition. Collectors can pre-order first editions for a limited time through Amazon UK, but time to act is now. A second printing will likely be produced sometime in July. Signed copies are available through Pen Press.
100 Limited Edition Hardback copies are also available. These have been signed and exclusively stamped and numbered by the author.
Text errors occurring in the review copies were corrected for the hardcover first printings. The hardcovers also feature a map of Kimbustan on the front end papers and character illustrations throughout, neither of which appear in the review copies.
Review copies (published in softcover) are unpriced and state "review copy - not for sale" on the back cover include a hardcover release date of June 2007.
Hardcovers are printed paper case with gold foiled title, author name and spine plus spot UV on lantern design. A flash in the top right corner states "win a PS3 - see website for details."
Approximate current prices for first printings in F (fine) condition are as follows: Exclusive Limited Edition Review copies can be had at about £24.99, Limited Edition hardcover copies at about £29.99, signed copies from £14.99 and unsigned hardcovers from £7.99. Collectors and dealers still have time to snap up bargains before prices increase. Also, profits from the hardcover sales are going to support SOS children in India - a charity close to Julian H. Lewis's heart (see the exclusive author interview for more details).
I thoroughly enjoyed The Magic Lantern of Kimbustan and can't wait to read the next instalment. Word is out that a major publisher is considering the book.
The Magic Lantern of Kimbustan website.
There is a secret competition to win a signed copy of the book and a treasure chest full of surprises! NOTE: The answer is hidden in this article - if you find it, email me at kimbustan@doodled-books.co.uk.
Correct answers will be placed in a drawing to win a special Magic Lantern of Kimbustan prize. The winner will be announced by Editor-in-Chief Craig Stark at the end of the week on BookThink.
So, will this book be a runaway success? That remains to be seen. With prices of first editions available for comparatively low prices, however, there appears to be lots of potential for profit.
Want to read more articles by
BookThink's Contributing Editor Claire Main?
Click here.

If you liked this article, Digg it!

<! col. two ends> <! space>