<! col one starts>
<! col one ends> <!space>
<! col two starts>



<!spacer>

by Claire Main

#93, 23 April 2007
It's Only a Matter of "Thyme"
Before This Title Is
on Everyone's Bookshelf
| | | |
| --- | --- | --- |
| When most people think of modern British children's authors, they automatically think of J. K. Rowling ... and then come to a shuddering halt. But the contemporary British scene is much more than the boy wizard. Britain is brimful of creative talent searching for recognition, and while they may not be the next Will Shakespeare, some of them will be the creative driving force of the future. | | |
During my early book-collecting life I was drawn into the global Harry Potter phenomenon and deluded myself that I'd be able to afford first edition copies of Harry Potter and the Philosophers Stone, (or Harry Potter and the Sorcerer's Stone, as you may know it), in at least VG/VG condition. Although the latter books in the series have become more affordable, the print runs are huge. I realised that, in my naivety, I'd started my collection at the wrong end of the spectrum and needed to develop the knack of spotting potential success early.

So, is there a new series that provides that elusive JK Rowling blend of fantasy, humour, mystery and adventure, not to mention a similarly rewarding investment opportunity? This month's author not only meets all these requirements but cloaks his (or perhaps her) identity in a tantalising shroud of mystery!

Panama Oxridge's Justin Thyme skilfully manages to recreate all the Harry Potter magic, using ingenious technical wizardry instead of wands and spells. Set in a Scottish Castle, this fantastic story has everything - eye-catching cover graphics, a cast of wonderfully eccentric characters, and a plot with more twists than a barbecued boa constrictor! Chapters are interspersed with a scientifically well-informed explanation of time travel - and, although the author strenuously denies hiding cryptic clues throughout the text, observant readers beg to differ. A mini-dictionary at the back of the book, defining more than 450 of the most challenging words in the story, has earned a stamp of approval from teachers and librarians. Even the dust-jacket design prompts gasps of astonishment; the title is an ambigram, (a word that can be viewed from different angles), which means it's always legible ... even if the book is displayed upside-down!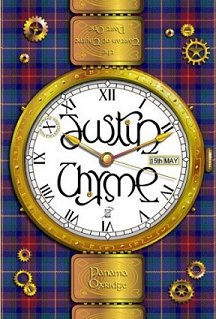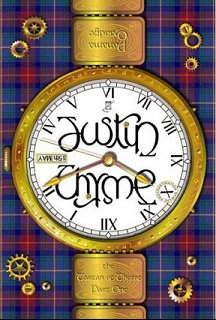 Loath to reveal as few of the book's secrets as possible, the author established an independent press, Interrobang, to publish the first book in the Tartan of Thyme series. While many self-published authors do little of the actual publishing work themselves, opting to pay for copy-editing, type-setting, proof-reading, design, layout, cover graphics and illustrations, what makes this book exceptional is that the author has done everything, even created the ambigram. It's no understatement to say that attention to detail in this book is awesome, yet the author prefers to remain unaccountably anonymous.
So who is Panama Oxridge and why would an established author choose to hide behind such an obvious pseudonym? Perhaps she (or he) prefers that readers divine their own image of the author from the words on the page. Or maybe it's because prior to writing "Justin Thyme", he (or she) was an extremely successful creator of several picture-puzzle books. Either way, the identity of this "Paradox-Enigma" is cunningly concealed somewhere in the book, offering readers a unique challenge - to discover the truth for themselves!
More details about the story:
Justin Thyme is a self-made billionaire living in a castle overlooking Loch Ness. The day he turns thirteen, he receives an anonymous gift - a fabulous watch with a puzzling message hidden on it. When he tells his father of his plans to build a time machine, the Laird of Thyme reveals tantalising fragments of past espionage and warns his son of a ruthless enemy keeping him under constant surveillance. At first, Justin fails to take Sir Willoughby seriously, but when a stranger arrives claiming to be his long-lost grandfather, Justin is wary, especially after his beloved Nanny insists the old man is an impostor.
Justin's TV celebrity mother departs on a Congo expedition with her eccentric film crew and Eliza, a computer-literate gorilla. Whilst returning, Lady Henny is abducted, and clues prove that the kidnapper has inside information; someone in Thyme Castle must be a spy - or possibly it's Sir Willoughby's old enemy in disguise. Everyone is under suspicion - Justin's nervy tutor; their snooping housekeeper; the theatrical gardener; an ex-royal butler; and Mrs Kof, their freakishly strong cook.
Suddenly, the race against time is on. Can Justin convert his vintage motorbike into a time machine, rescue his mum and discover the identity of their resident spy in less than a week ... or will the dreaded Thyme Curse claim another life?
Product Information:
Hardcover: 368 pages. With dust-jacket.

Publisher: Interrobang (1 Sep 2006)

Language English

ISBN-10: 0955357004; ISBN-13: 978-0955357008

Dimensions: 5.8 x 8.3 inches

1st Edition - 1200 copies (announced).
Collector's Notes
Printing numbers generally run 5% over to under projections. The exact number of first editions printed by Biddles of Norfolk was 1239.

The first 100 copies are both book-plated and numbered. The bookplates are divided into nine different designs of ascending prime numbers: 2, 3, 5, 7, 11, 13, 17, 19 and 23. However, all 100 are unique, each one is double-signed by Panama Oxridge and an anagram of the author's pseudonym.

Each book-plated copy is stamped with a letter. All 100 spell out a mystery message!

There are two other special bookplate designs, both numbering 13 copies each. The first design was for 13 books given to the author's family and close friends; the second 13 are prizes for 13 monthly website competitions to discover the author's true identity. Both designs - 26 books in total - are double-signed by the author as both Panama Oxridge and the author's real name.

Unique doodled copies are also available, which have been signed, lined, dated and colour-illustrated by the author. These are wrapped and have the author's fingerprint on the packaging. Only 60 exist to date.
Current prices for first prints in fine condition are as follows: The book-plated copies can be had for about £250, doodled copies £64.99, and an unsigned copy is just £12.99. Apparently, two major publishers are currently looking at the book. Also, Foyles bookshop in London has just agreed to stock the title. So, from a collector's point of view there is still time to snap up a bargain before prices soar. This is the first book of four in "The Tartan of Thyme" series. I loved this book so much I'm counting the thyme until book two comes out. Check out the website too. It's amazing.
So, rather than asking the question "Who will be the next JK Rowling?" ... surely there's a new question all us book fanatics must ask: "Who will be the next Panama Oxridge?"
Want to read more articles by
BookThink's Contributing Editor Claire Main?
Click here.

If you liked this article, Digg it!

<! col. two ends> <! space>
<! col. three begins>







<! col. three ends> <!spacer>
<! col. four begins>











<! col. four ends>