<! col one starts>
<! col one ends> <!spacer>
<! col two starts>



BookThink is the #1 ranked resource provider for online and open shop book dealers, book collectors, and serious readers. Resources include:
The BookThinker, a free twice monthly newsletter covering a wide range of bookselling and collecting topics.
BookThink's Gold Edition, a monthly newsletter supplying profit-generating insider information to booksellers.
BookThink's Quarterly Market Report of Common, Profitable Books, a market report targeting high-profit, in-demand books that are likely to surface on scouting trips.
Moderated book forums; an extensive library of active and pertinent book-related links; book reviews; interviews with authors and other notables; and intensive tutorials on practical book repair, grading, terminology, buying for resale, selling books online and off, building a personal book collection, and more.
The BookThinker Newsletter


ISSN 1547-9501

#88, 12 February 2007
BookThink Update
19 February 2007>>>

An Interview with Sue Grafton
BookThink's Author Profiles

Blockbuster mystery novelist Sue Grafton's next alphabet title, T is for Trespass, is scheduled for release on December 4, 2007 - just in time for Christmas. Sue was most gracious to take time out from her busy writing schedule to discuss this and other, never-dull topics with BookThink's Catherine Petruccione.

A Bookseller's Guide to Sue Grafton
Easy as ABC
Up next is my whack at a guide to buying and selling Sue Grafton. Given the plentitude of both titles and print runs, not to mention Grafton's huge, enthusiastic fan base, opportunities for profit are plentiful. This is bread-and-butter bookselling at its best, and once you know what to look for, easy to accomplish.
You: Fooled Again!
Part I: Anatomy of
A (Hardcover Advice) Best Seller
A new BookThinker series begins this week. The working title is "Bad Bestsellers I've Had the Misfortune to Read." This could change, however, to "Really Bad Bestsellers I've Had the Misfortune to Read" - or worse. If you haven't surveyed the state of bestselling books recently and assumed that classics were getting churned out right and left in this, our new age of enlightenment, you may be in for a surprise.
Previous BookThinker update-
BookThink Update
5 February 2007>>>
What's New at ScoutPal
Instant PDA Scanning Anytime, Anywhere
(No Connection Required)
If you've ever wondered why some products get reviewed in the BookThinker and others don't, I can explain it in one sentence: Products must meet three criteria for us to feature them - significant usefulness to booksellers, exceptional support, and a great price. If any one of these isn't on the table, we pass. I've lost track of the number of ScoutPal articles we've done, maybe 4 or 5 or more? The reason is simple - Dave Anderson. Dave pioneered the cell-phone lookup for booksellers way back when, and ever since he's worked assiduously to improve it and introduce new companion products and services. I'm hard put to think of a single tool that's had a more positive impact on my profits, is better supported or - being careful now to compare apples to apples, features to features, etc. - more reasonably priced. Well, Dave has come up with something new again, and if you've been reluctant to use ScoutPal in the past because of poor cell phone service coverage in your scouting area, there's now a perfect solution.

BookThink's Top 10 on eBay
December 2006
December's Top 10 on eBay is here today as well, and I think Pamela Palmer has summed up what to expect better than I ever could: "Action-packed may not be how you describe most Top 10 on eBay columns, but this one merits the description. December brought drama, intrigue, pathos, and a seasoned bookseller who smelled a rat." Interested?

50/50 Issue #20
Horses, Horses and More Horses
Now Available
Issue #20 of 50/50 is now available for purchase;
its focus is "Horses, Horses and More Horses."
Subscribe today here.

<! col two ends> <!spacer>
<! col. three begins>






<! col. three ends> <!spacer>
<! col. four begins>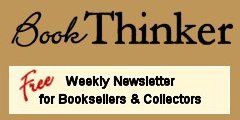 <! col. four ends>