Booksellers are always on the prowl for books. I rarely go to estate sales - normally they begin on Fridays and I have a day job. Here in Houston, the prices tend to be high and the quality spotty. However, a couple of weeks ago I was intrigued by a Sunday-only sale that promised "lots of books." I called my friend Lou and off we went.
The house was an unassuming brick ranch style house, built in the late '60s, with low ceilings and tiny windows. However, just as you can't always tell a book by its cover, so you can't always judge the contents of a house by its exterior. Within those walls was the mother of all estate sales. The former owner didn't own a home; he owned a library. Every room of the four bedroom house was wall-to-wall-to-wall bookshelves; ditto the halls, and even the closets.
They were not all old Readers Digest Condensed Books, Book of the Month Club books or 1970s textbooks either. The bulk of the collection consisted of non-fiction hardbacks of the scholarly persuasion, in like new condition. This was a Renaissance Man, with interests ranging from evolution to geology to art to archaeology with an intense specialty in military history.
We fired up ScoutPal and set to work. 3 hours later, we each had over $1000 worth of inventory.
Not only did the Bookman buy books, he noted when he'd acquired each volume and rated them on style and content. The end papers had such comments as "inadequate maps," "inaccurate information p. 232" or "style 1 star." He also collected ephemera about the subject of each book and tucked these items into the volumes, carefully clipping and dating each piece. The findings ranged from newspaper clippings to articles to maps. A biography of Wendell Wilkie yielded, for example, a Wendell Wilkie postage stamp.
Every clipping but one that I found matched its book. The sole exception was a wedding announcement, which I found in a 1948 geology textbook. The clipping detailed the marriage of Marjorie Cortelyou to Mr. Charles David Allen. A receipt provided the name of the Bookman - Albert, and another the name of his wife - Margaret. Thus, the lady in question wasn't his wife.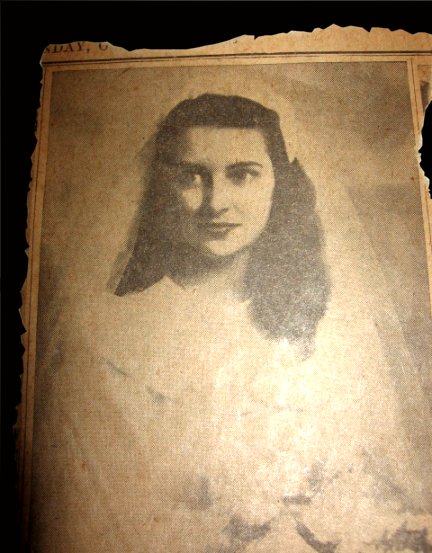 The picture was so fascinating that I did a bit of Goggling and found the obituaries of Albert, his wife and the bride in the clipping. I wrote up the day's adventures in my eclectic blog "Of Life, Education, E-Bay, Travel & Books," and ended the blog post with the following paragraph:
"Marjorie is wearing a full wedding dress and veil, and judging from her hair style she married in the late 1940s. Unlike most brides, she is not looking directly at the photographer and her face isn't aglow with happiness. She is looking to the side and her face is pensive and thoughtful. Who or what was she thinking of, and why did Albert keep the clipping till the day he died?"
That I thought was the end of that. I published my post and began to list the books on Amazon (where they promptly began to sell).
Several days later, a comment appeared:
Amy Singleton said ...
"I wanted to let you know that my family found your blog post about my grandfather. We read a bit of it aloud at his memorial this past weekend, and I believe that everyone was quite touched to hear that others may have seen a glimpse of the man that he was. He was the most intelligent man I knew, and to the day he died, his memory was perfect. Margaret was my grandmother and Martha ("Marnie") was married to my Grandmother's brother. Marnie and my Grandmother were the closest of friends. Al considered her a very close friend and they kept in close contact up until she passed away.
"I really do appreciate reading your words and thank you for them."
I was flabbergasted and tried to find Amy but wasn't able to track down an e-mail address for her, so I added the following:
GuusjeM said...
"Amy, your comment has me utterly speechless. If you read this, would you please e-mail me? I still have the clipping and I would love to return it to you. Your father was indeed an amazing man. I come from a long line of book lovers and book hoarders, and his collection was like nothing I'd ever seen before. I did indeed feel like I "knew" him by the time the afternoon was over with."
The next day another comment appeared.
msingleton3 said...
"Dear All,
"Marjorie Cortylu (married to Charles David Allen) was Albert E. Singleton's sister-in-law by way of his wife (Margret Laura Allen Singleton; Uncle Charlie being Laura's older brother). Maybe Laura put the invitation in the book and there it lived until your discovery.
"Al and Laura were my mother and father in law. They were both to be important parts of my life and my children's, Amy being my oldest. Laura was the best mother-in-law and grandmother a woman could ever hope for herself and her children. And Al was certainly a man of a different cloth. His intelligence and knowledge was far ranging, and my children used him as a resource for many papers. I will always remember fondly many long and interesting conversations with him, before or after dinners, on quick drop-in visits that turned into hours.
"A funny story I just thought of: One morning I was in Houston to attend a press check. The press was delayed, so I went to my father-in-law's to visit until they were ready for me. We talked a while, then each of us read a while, and last of all both of us nodded off in our chairs awhile. Later when we both woke, we laughed a while at ourselves.
"He will be missed.
"Sincerely,
"Mary Jo Singleton"
Amy contacted me, supplied me with a street address, and I returned the clipping to her. I asked how she'd stumbled across the blog. It turned out a family member, while writing the eulogy, did a Goggle search and found my post. One reason why I am a librarian and a bookseller is that connecting people and books is oh so very satisfying. Helping a parent re-discover a childhood favorite or a father find a book written by his great aunt is what makes bookselling more than just a way to earn a living. Realizing that I connected with a stranger and that my words and my book scouting helped a family celebrate the life of a unique gentleman is truly one of the best Christmas presents I've ever received.
Flashpoints: What did I buy? Books published by university presses (the smaller the university, the better!), geology books that went beyond an introduction to the subject, higher mathematics, scholarly books on the flora and fauna of remote countries, and books on specific battles. I left the overview books on the various wars behind, as well as most of the investment, biographies, health, and diet books.